FARE Announces Leadership Roles Dedicated to Diversity, Equity and Inclusion
Food Allergy Non-Profit Expands Organizational Initiatives, Announces Fall Roundtable Event, Suite of Committees Prioritizing Diversity
McLean, Va. (July 20, 2020)—FARE (Food Allergy Research & Education), the world's leading food allergy advocacy organization and largest private funder of food allergy research, today announced a series of initiatives and programs dedicated to diversity, equity and inclusion in food allergy.  As part of this announcement, FARE shared details around key leadership roles relating to these important efforts, including Chief People Officer and Chief Medical Officer for Public Health.
Thirty-two million Americans are affected by potentially life-threatening food allergies, including a disproportionate percentage of persons of color. Lisa Gable, chief executive officer at FARE, took the helm in 2018 and recognized that the organization needed to prioritize conversation and collaboration to ensure each individual's needs would be met and that Black patients and other patients of color had seats at the table.
"FARE's commitment to improving the lives of those with food allergies is woven throughout everything we do, but from the day I joined FARE, I was struck by an overwhelming lack of trust and collaboration among institutions, individuals and corporations in the food allergy space," shared Gable. "As an organization and as a team, we have made meaningful changes and are evaluating areas where we can continue to improve. Today, we are excited to announce details around additional actions that signal more positive momentum within FARE and towards a better, more inclusive future for the food allergy community."
FARE's suite of programs and initiatives are dedicated to advancing FARE's five landmark diversity and inclusivity goals, which are designed to expand access and generate affordable solutions to better support underrepresented communities who face health disparities. These goals are:
Build trust across and within all communities to ensure a more accurate representation of the entire food allergy community.
Better understand the needs and preferences of the diverse patient community, including preventive allergen labeling on the foods they buy for their families.
Tailor FARE's patient-centered research activities to uncover therapies, diagnostics and treatments that are more accessible and affordable for communities of color.
Lead and collaborate on efforts dedicated to improving access and driving affordable solutions for food allergy diagnosis and treatment for underrepresented communities. 
Create leadership paths for Black business leaders, researchers, and advocates in the food allergy patient and public health communities.
"The first steps to engaging diverse communities and families are establishing trust, building relationship, and ensuring that everyone has a seat at the table." said Anita Roach, MS, FARE's Vice President of Education and Voice of the Patient. "FARE's new programs and initiatives will play a key role ensuring that all voices are heard and are working together to improve representation and support for the entire food allergy community."
The following initiatives support the above goals and are set to take flight in 2020:
A FARE Voice of the Patient Roundtable event focused on diversity, equity and inclusion. This event will take place this Fall followed by the development and publication of a study outlining barriers and solutions. While focused on food allergy, the study may become a model for other diseases.
A FARE Diversity Advisory Board that will include patients, caregivers, and other stakeholders and will aim to address matters concerning the food allergy community relating to trust-building and representation.
Unconscious Bias training to be implemented for hiring purposes and enhanced cultural competency among hiring managers, interviewers and department heads.
A new Health and Wellness Leadership Council, comprising physicians and health and nutrition professionals who will directly engage with patients through focused outreach to schools and to recreational and faith-based organizations.
A fellowship program, which will help junior faculty establish themselves as independent federally funded researchers, build their personal "brands" via regularly scheduled meetings with government officials, and elevate their voices through FARE public relations efforts and programming.
A community-centric research initiative that works with community hospitals, Historically Black Colleges and Universities (HBCUs) and faith-based medical systems to better understand disease development and to create new treatment options for the patient community.
FARE has been working to expand its team and build on its internal diversity initiative. Since 2018, the FARE team has become more inclusive and diverse with nearly 70 percent of the organization's roles staffed by women and a third by individuals who identify as a person of color. As the organization continues to evolve, and to further advance its diversity and inclusion strategy, FARE is excited to share details of the following appointments and expanded responsibilities: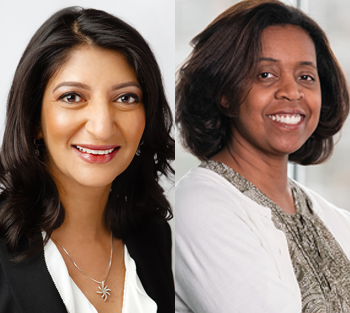 Ruchi Gupta, MD, MPH, has been appointed as FARE's Chief Medical Officer for Public Health. Dr. Gupta has a deep-seated relationship with FARE as a medical advisor for the organization. She is currently the acting spokesperson for the FARE Baby's First initiative dedicated to raising awareness of the potential benefits of early allergen introduction to reduce infants' risks of developing food allergy. Dr. Gupta has pioneered research on health disparities that has proven significant in understanding the prevalence and impact of food allergies. She is a Professor of Pediatrics and Medicine at Northwestern University Feinberg School of Medicine and a Clinical Attending at Ann & Robert H. Lurie Children's Hospital of Chicago. She has more than 15 years of experience as a board-certified pediatrician and health researcher and currently serves as the director of the Center for Food Allergy & Asthma Research (CFAAR).
Dominque Rodriguez-Sawyer has been promoted to Chief People Officer, where she will oversee all aspects of human resource management and industrial relations policies, practices and operations for FARE. Previously, Dominique served as Senior Director of Human Resources and Administration. She has over 15 years of experience in fostering the relationship between human resource management and senior leadership of nonprofits and governmental agencies. 
These strategic leaders will play a vital role in ensuring that FARE and its existing and new employees share our vision for developing an inclusive and dynamic future. FARE's continued commitment to diversity also includes the creation of a Human Resources policy assessment to ensure inclusivity and sensitivity to the various cultures within the organization; and the audit of FARE's website and other social media messaging to ensure best practices are being followed throughout, including in regard to inclusivity and diversity.
FARE is pleased to announce its Advocacy Advisory Committee, which will work closely with FARE's advocacy team to support the organization's grassroots advocacy program and its collaboration with federal government agencies and legislative leaders, and to counsel the organization on all advocacy efforts and events. In addition, the committee will provide strategic guidance on a variety of important issues including access, choice and affordability to safe food and medical care and the impact of food allergies in WIC (Special Supplemental Nutrition Program for Women, Infants, and Children), SNAP (Supplemental Nutrition Assistance Program), and other federally funded nutrition programs.

Members of the committee include:
Kaye W. Cole, PhD - Cole earned her PhD in Counselor Education and Supervision specializing in K-12 School Counseling with a cognate in Sports Psychology from the University of Iowa in 2006. She co-founded The Cole Group, LLC - a consultation practice that addresses mental health and programming gaps in services for the athlete population. She also holds an adjunct lecturer appointment in the Department of Rehabilitation and Counselor Education at the University of Iowa. Additionally, Cole is licensed as a therapist and school counselor and serves on several advisory and accountability boards, including FARE's National Board of Ambassadors.
Michael Frazier - Frazier is the Executive Vice President and Deputy Director for External Affairs at the 9/11 Memorial & Museum. Before joining the organization, he was a journalist at publications including Newsday, the Associated Press, and the Arkansas Democrat-Gazette. Frazier was part of a team that won the Arkansas Press Association Award in 2002 for special election coverage. He was also a 2007 Deadline Club Award finalist and was nominated for the National Association of Black Journalists' Salute to Excellence Award.
Priscilla Hernandez - Hernandez is the Vice President of the Hollenbeck Police Business Council. A nationally recognized organization, the Hollenbeck Police Business Council is a five-decade dedicated provider of safe and quality after-school programming and, most notably, the founding agency of the Inner-City Games (now known as After-School All-Stars). Prior to her current role, Hernandez served as a Deputy Director under Governor Arnold Schwarzenegger in Los Angeles and Sacramento. She serves as a FARE National Ambassador and has developed, initiated, and sponsored state legislation presented by the California Assembly, AB-3064 Pupil Health: Food Allergies: Guidelines, commonly referred to as the Zacky Bill. Inspired by her son Zacky who suffers from life-threatening food allergies, the bill aims to establish uniformed food allergy guidelines and best practices within local education agencies. The bill seeks to help parents whose children suffer from life-threatening food allergies navigate through often complex systems.
Jill Mindlin - Mindlin is an attorney who resides in Port Washington, New York and practices in the area of commercial finance. She received a Bachelor of Arts from the University of Pennsylvania and a Juris Doctor from Brooklyn Law School. Mindlin has been a member of the FARE Outcomes Research Advisory Board and the FARE Advisory Council. She has been involved in drafting legislation and school guidelines for caring for students with food allergies on a county, state and national level; most recently working on the "Voluntary Guidelines for Managing Food Allergies in Schools and Early Care and Education Programs" published by the Centers for Disease Control & Prevention (CDC). Mindlin co-founded the Food Allergy Support and Education (FASE) group of Long Island over 18 years ago and has remained a co-leader ever since. She participated annually on the committee that ran the Food Allergy Walk for a Cure. Jill received the Food Allergy Initiative (FAI) Food Allergy Leadership Award for 2008 and honorable mention for FAAN's Mariel C. Furlong Award for Making a Difference in 2008. She was also a Food Allergy Coordinator for a sleep-away camp in Massachusetts for six years.
Stacey Saiontz - Saiontz is an advocate for food allergy awareness.  Her youngest son has life-threatening allergies to dairy, wheat, egg, oat, rye, barley, tree nuts, sesame, sorghum, millet, teff, quinoa, buckwheat, chia, flax and sunflower seed.  Saiontz was the recipient of FARE's 2018 Excellence in Advocacy Award and has spearheaded the passage of several pieces of legislation in New York State, including a bill that allows school bus drivers to administer epinephrine, a self-carry law, and a law that allows schools to stock epinephrine.  In addition to her work in food allergy, she has served as a founding member of the United States Holocaust Memorial Museum's (USHMM) Next Generation Board. In 2019, she was appointed to serve on the USHMM's Education Committee. She was the recipient of the USHMM Northeast Region Leadership Award in 2017 and the recipient of the National Leadership Award at the 2019 New York Tribute Dinner. Saiontz serves on the Board of Trustees for the Museum of Jewish Heritage – A Living Memorial to the Holocaust. She is a Board Member of the Auschwitz Jewish Center Foundation (AJCF) and, along with her husband, Marc Saiontz, was the 2014 honoree at the annual AJCF Gala. She shares this passion with her children, who were featured in the HBO documentary The Number on Great Grandpa's Arm. Saiontz's newest initiatives as the Co-Chair of the New Castle Holocaust and Human Rights Committee, one of the Founders of the Horace Greeley Student Club E.N.O.U.G.H. (Educate Now on Understanding Genocide and Hate) and the Memorial in town have allowed her to share her passion for Holocaust education and remembrance with her local community.
Anesha Santhanam - Santhanam is the founder of Likeable STEM, an educational company that offers onsite and online technology training. She developed an iOS app for food allergy management and met with legislators on Capitol Hill to advocate for the FASTER Act (H.R. 2117). She received the NCWIT (National Center for Women and Information Technology) Aspirations in Computing National Honorable Mention Award and the U.S. Congressional Award for her work in STEM. Santhanam will pursue a degree in Information Systems at Carnegie Mellon University this fall.
For more information about FARE, visit www.foodallergy.org/our-initiatives/awareness-campaigns/fares-commitment-diversity-equity-and-inclusion. 
---
Media Contact: 
---
About FARE
FARE (Food Allergy Research & Education) is the nation's leading non-profit engaged in food allergy advocacy as well as the largest private funder of food allergy research. FARE's innovative education, advocacy and research initiatives transform the future of food allergy through new and improved treatments and prevention strategies, effective policies and legislation, and novel approaches to managing the disease. To learn more, visit: foodallergy.org.