Tips and Takeaways for Your Teal Thanksgiving
No matter how you plan to celebrate this year, here are some ways to help keep your Thanksgiving celebration safe.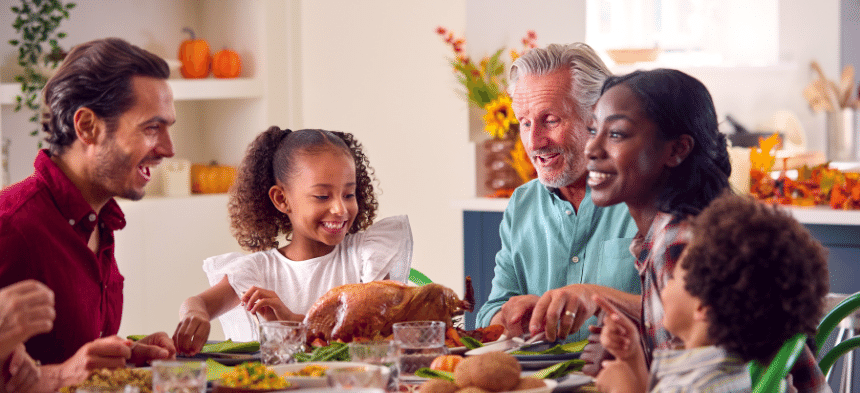 For hosts:
If you're going to host a Thanksgiving meal, ask your guests about any food allergies they may have.
Hang on to packaging, or snap a photo of the ingredients label, so that you can share that information with any guests who ask.
Allergens can hide in the seasonings and juices of many packaged meats, so read every label, every time, especially if you're trying something new.
Make sure to clean all cooking and dining surfaces thoroughly to remove allergens. This has the added advantage of limiting exposure to viruses and food-borne pathogens as well.
Do you plan to serve your guests buffet-style? Let individuals with food allergies serve themselves first to limit the risk of cross-contact. Consider creating ingredient labels so that everyone can see what's in each dish.
For guests:
Call your host in advance to learn about the menu. Explain any food allergies you're managing, and ask about bringing a safe dish for you or your child.
When in doubt, bring a meal you trust, including a favorite treat. A traditional Thanksgiving meal can be a minefield of top allergens, from soy in brines and basting liquids, to milk in potato dishes, wheat in gravies and dressings, eggs in sauces and baked goods, nuts in "special occasion" vegetables, pilafs and stuffing, and all of the above in desserts. 
Don't show up hungry. Eating before you arrive will help you (and, especially, your child) avoid nibbling without first confirming what foods are safe.
Are you bringing enough of a safe dish to feed everyone? Consider a separate container and serving utensil for the person(s) with food allergy to minimize the risk of cross-contact with other dishes. Make sure the separate portion includes enough food for seconds!
As always, don't leave home without your two epinephrine auto-injectors.
For everyone:
Families navigating both food allergy and food insecurity face even greater difficulties. You can find FARE's food assistance resources here, and learn more our partners and teen volunteers who are stepping up to help our neighbors in need.
In this time to celebrate gratitude, we at FARE want to thank our dedicated community and allies who work hard to make the world a safer place for everyone living with food allergy. We wish you a happy, healthy Thanksgiving!