Clinician Resources
Use the free resources below to better support your food allergy patients.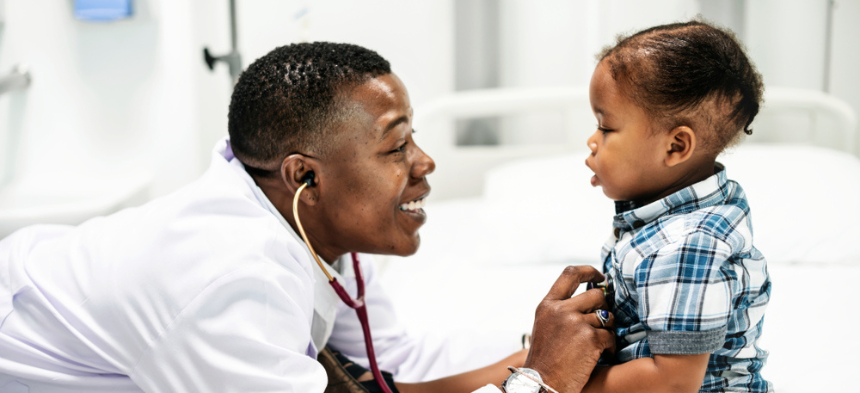 FARE is the largest private funder of food allergy research and the world's leading non-governmental organization engaged in food allergy advocacy.
To date, FARE has invested over $100 MILLION in research while advocating on behalf of the patient to offer hope for a better tomorrow. Learn more about new FARE resources, research initiatives, and training opportunities for you and your patients with food allergies.
---
Resources
Food Allergy Guide and Free Printable Handouts
FARE has relaunched its "Food Allergy Guide" – an easy-to-understand booklet for newly diagnosed individuals – available for order free of charge by health care providers who plan to distribute the guides to their patients and their families. From information on epinephrine to how to read a food label, FARE's Food Allergy Guide is meant to complement the care you provide.
---
Food Allergy & Anaphylaxis Emergency Care Plan
FARE's Food Allergy & Anaphylaxis Emergency Care Plan outlines recommended treatment in case of an allergic reaction, is signed by a physician and includes emergency contact information.
---
FARE Patient Registry
Learn more about the largest food allergy registry, encourage your patients to join, and use registry data to accelerate your research.
---
Clinician Education
FARE believes every food-allergic individual deserves access to clinicians trained in the most up-to-date information for diagnosis, treatment, care and nutrition. To provide a roadmap for optimal care, FARE has developed professional education opportunities.
---
FARE Community Access Program
FARE is committed to reducing health inequities in food allergy, a potentially life-threating disease impacting 32 million Americans. Studies have shown health differences in food allergy that are linked with economic, social, and/or environmental disadvantages among people of color, and inadequate access to specialty care impacts individuals living in many urban and rural communities. Our FARE Community Access Program seeks to address the barriers to food allergy research participation, education and access to care.
---
FARE Diversity Scholars Program
As part of FARE's Health Equity Initiative, we have partnered with National Medical Fellowships (NMF) to launch the FARE Diversity Scholars Program. The program is designed to provide mentorship and financial support to graduate-level students of color interested in food allergy research and community engagement. FARE is committed to helping build a pipeline of racially and culturally diverse physicians and researchers interested in investigating, evaluating, and addressing the socioeconomic factors that impact healthcare access for under-resourced patients with food allergies. Learn more about becoming a FARE Diversity Scholars host site and mentor.
---
Impact Report
The FARE team is proud to present this Impact Report highlighting the overwhelming successes achieved in 2021. Thanks to the leadership of our Boards, support from our generous donors, and the advocacy of our grassroots communities, we have made tremendous strides towards meeting our goal of securing a future free of food allergies and intolerances, one breakthrough at a time. 
---
Donate
As the world's largest private funder of food allergy research, FARE has become the preeminent advocate for the 32 million people and their families living with the disease.  As food allergy research and treatment are at a critical turning point, there is much work to be done and every gift in support of FARE's vital work is needed. Please consider making a generous tax-deductible donation to help drive the food allergy community towards a new, more promising future. 
---
Become an Advocate
FARE Advocates employ their collective voice and personal stories to influence public policy that supports the food allergy community. Whether it meant making sure sesame got labeled making sure kids with food allergies are safe in school or increasing the money spent on research to find treatments and cures, we need you help to make these things happen. Sign up to receive emails about advocacy action alerts, opportunities to engage on issues that matter most to you, local advocacy events and other food allergy related content.