Food Allergy & Anaphylaxis Emergency Care Plan
Get to know this document, the cornerstone of personalized treatment for anyone with a food allergy.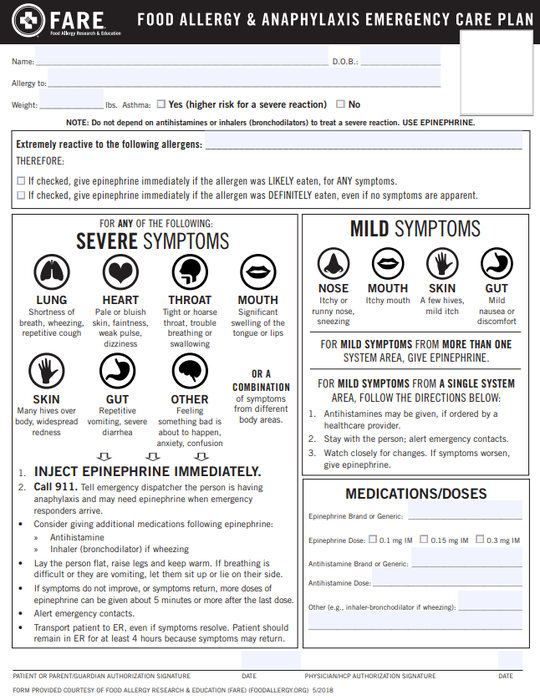 FARE's Food Allergy & Anaphylaxis Emergency Care Plan, formerly the Food Allergy Action Plan, outlines recommended treatment in case of an allergic reaction, is signed by a physician and includes emergency contact information.
Keep your plan in a place where others can find it, and make sure you and others understand what to do in case of an emergency. 
This plan was revised by FARE's Education Working Group, a multidisciplinary group of food allergy experts that includes support group leaders, two members of FARE's Medical Advisory Board, experienced parents of children with food allergies, an adult with food allergies, a dietitian, psychologist and a school nurse. The plan was approved by FARE's Medical Advisory Board.
The document presents critical information including allergen(s), symptoms and treatment instructions in an easy-to-follow format—critical in an anaphylactic emergency. Download the write-able PDF to see what the plan looks like, and please let your physician, school nurse, or other parents know it is available. The write-able PDF also allows the user to upload a photo. The plan is also available in Spanish.
Food Allergy & Anaphylaxis Emergency Care Plan