CDC National School Food Allergy Guidelines
Ensure your school's policies are in line with federal and state laws that protect children who live with food allergies.
On October 30, 2013, the Centers for Disease Control & Prevention (CDC) published "Voluntary Guidelines for Managing Food Allergies in Schools and Early Care and Education Programs" - the first national comprehensive guidelines for school food allergy management.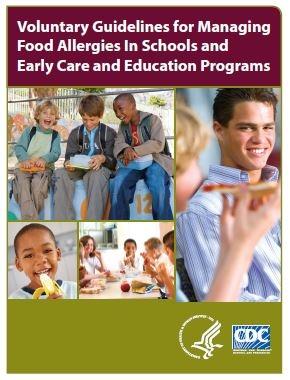 The CDC guidelines seek to protect the physical and emotional health of students with food allergies by providing practical information and strategies for schools while reinforcing federal laws and regulations. The guidelines are intended to support the implementation of school food allergy management policies in schools and early childhood programs, and guide improvements to existing practices. Implementing these guidelines may help schools reduce allergic reactions, improve response to life-threatening reactions, and ensure current policies are in line with laws that protect children with serious health issues.
The guidelines were created as the result of the Food Allergy & Anaphylaxis Management Act (included under the FDA's Food Safety Modernization Act), which was championed by FARE and signed into law on Jan. 4, 2011. The law required the U.S. Secretary of Health and Human Services to develop and make available to schools a voluntary policy to manage the risk of food allergy and anaphylaxis in schools. FARE, the National Association of School Nurses and other groups collaborated with the CDC on the development of these guidelines.
CDC Guidelines: The Gold Standard for Food Allergy Management in Schools
Highlights and overview of the CDC Guidelines