10 Spectacular Halloween Ideas You Need to See
These 10 Halloween Ideas Are Scary Good!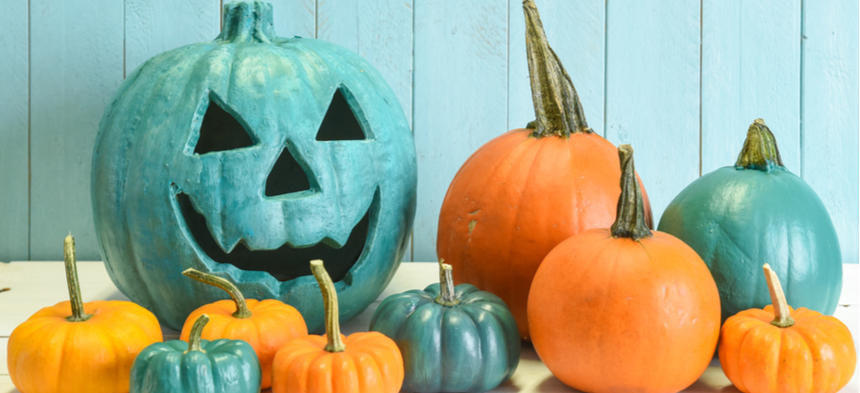 If trick-or-treating is not in the cards for you this year, or you are simply looking for new fun ideas, there are hundreds of fun and inventive ways to celebrate this festive season while remaining safe and spreading Teal Pumpkin Project awareness. We asked the community, including our network of Support Group Leaders, for alternative ideas that are just as fun as trick-or-treating, and you are going to love them! 
Decorate Your Door – It's time to paint your neighborhood teal! Well, maybe don't do that, but you can grab some teal pumpkins and festive decorations and transform your door. It's easy, it's fun, and it's a great way to show off your Teal Pumpkin Project pride! You can even get your whole neighborhood involved in a door decorating contest! 
Virtual Halloween Party – If you're staying inside this year, why not plan a virtual Halloween party so kids can dress up and show their friends their costumes? You can make your party more interactive by playing fun games online together like bingo or trivia. 
Virtual Teal Pumpkin Party – Get creative with family and friends as you decorate your teal pumpkins online together, in real-time. At the end of the party, show off your teal pumpkin and take a vote; the most imaginative pumpkin wins a prize! 
Family Activity Night – Set up a craft and activity station and let the kids loose! From coloring sheets to word matches, FARE has printable resources for getting kids excited about Halloween no matter how you end up celebrating!
Halloween Scavenger Hunt – Scavenger hunts are a great way to get your kids outside and moving. Once your neighbors have decorated for Halloween, take a walk or hop in the car and try to spot some spooky sights! See any teal pumpkins?
Boo Your Neighbor – Get your neighbors involved by secretly "boo'ing" them! Gather your non-food treats, download and print a "We've Been Teal Pumpkin Boo'ed" sign, leave it for your neighbor – then run! 
Scary Stories – For those who love a scare, gather online to read Halloween stories about ghosts, witches, monsters and more! Tales can range from the slightly spooky for the younger kids to the frightfully fearful for older children. Enjoy, and try not to get too spooked! 
Spooky Allergy-Friendly Recipes – Having food allergies doesn't mean your family has to miss out on the Halloween sweets. Cook up some creepy creations, and be sure to share the recipe!
The Great Teal Pumpkin Hunt – Inspired by our favorite allergy-friendly Easter egg hunts. Grab some plastic teal pumpkins, fill them with non-food items and hide them in various places around your house. If you want to add some safe snacks to the hunt, grab an orange pumpkin and fill it with appropriate snacks for your kiddo. 
Scary Movie Night - If you have a white or cream sheet and some tape you can easily transform your wall or garage into a movie screen! Invite your friends or neighbors over, set up chairs or blankets six feet apart and project your favorite Halloween movie for everyone to see! Don't have a projector? No problem, there are many DIY phone projectors for which you can find instructions online.
How will you be celebrating Halloween this year? Let us know on @foodallergy on Instagram or in our Facebook Group, Friends of FARE.
Teal Pumpkin Project
The Teal Pumpkin Project is a simple way to make trick-or-treating safer and more inclusive. Placing a teal pumpkin on your doorstep signals that, in addition to candy, you offer non-food trinkets and treats that are safe for all trick or treaters.
Learn More