Miami Dolphins and FARE Team Up
to open first sports venue with allergy-friendly concession kitchen
TACKLING FOOD ALLERGIES TOGETHER
The Miami Dolphins and FARE agree that everyone and anyone should be able to go to an event and ENJOY IT without the anxiety or fear of a food allergy reaction, which is why they have partnered up to raise awareness of food allergies and provide equitable access to options free from the Top 8 allergens throughout Hard Rock Stadium!
The allergy-friendly offerings, prepared in a dedicated FARECheck-certified kitchen, will be available across most Hard Rock Stadium events, including Miami Dolphins and Miami Hurricanes football games, the Formula One Miami Grand Prix, concerts, international soccer games, and the Miami Open.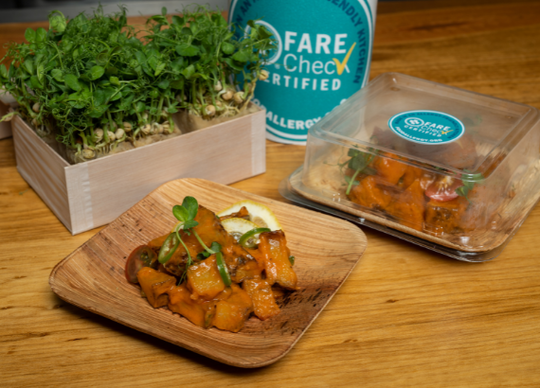 For the first time ever, families and fans can relax and just enjoy the game, knowing FARE and the Dolphins are putting the needs of the 85+ million Americans impacted by food allergies and intolerances front and center. 
The dedicated FARECheck-certified kitchen staff will receive instructor-led training provided by FARE, with an emphasis on restricting the use of common food allergens.
To ensure all fans can access these allergy-friendly concessions, Hard Rock Stadium will distribute these options with four grab and go, and four concession stands on the 100, 200 and 300 levels. These options will be available to suite holders as well.
Read the full press release for details on the partnership and Miami Dolphins x FARE events throughout the year.
Learn more about FARECheck
The FARECheck program offers education, training and awareness around food allergies and anaphylaxis to hundreds of thousands of workers across the country who serve the food allergy community, promoting a safe and inclusive environment for dining.
Learn More