FARE Blog
October 25, 2023
FARE Food Allergy Summit Draws Enthusiastic Community to Orlando
Nearly 600 patients, caregivers, and allies came together this month to forge friendships and celebrate community.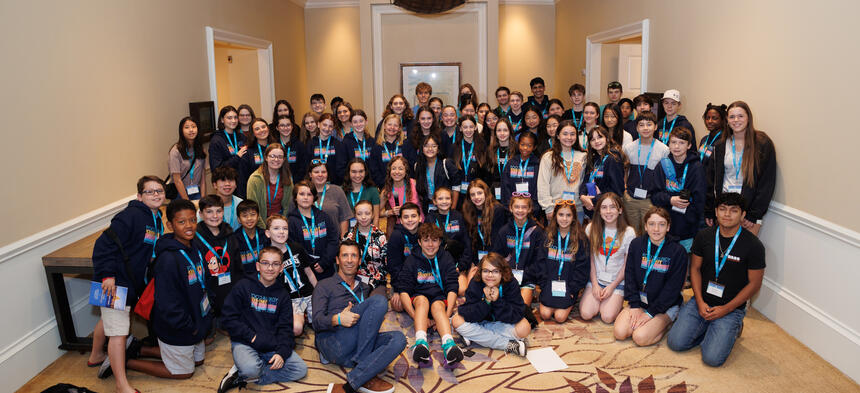 First-time attendees and returning supporters met at the JW Marriott Grande Lakes in Orlando, Fla., Oct. 13-15, to learn, connect, and build community at FARE Food Allergy Summit 2023. Engaging with the Summit's Stronger Together theme, close to 600 participants embraced empowerment and creativity as they explored how to live safely and well. Over 70 speakers shared their expertise in 40 sessions for teens, adults and general audiences on topics ranging from disease biology, drug development, clinical care, and health disparities to anxiety and psychosocial impacts, advocacy and public policy, and thriving while managing food allergies.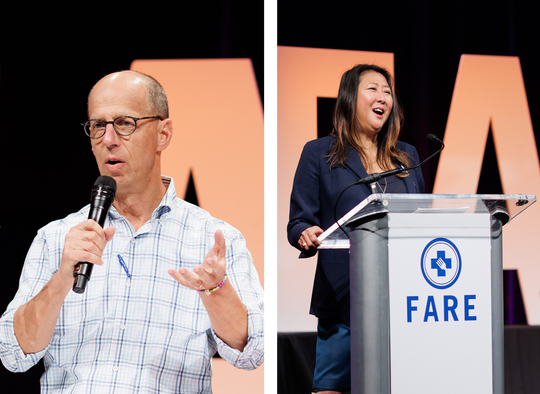 The Summit kicked off on Friday night with opening remarks by Chair of the FARE Board of Directors David Jaffe, followed by FARE Feud, a gameshow contest to test participants' knowledge of food allergies. Lucky audience members were invited on stage to compete against food allergy experts on the topics ranging from sources of cross-contact and favorite things to include in your teal pumpkin bucket, to ways food allergies have made contestants stronger and things they wish people knew about food allergies. To close the evening, attendees mingled with new friends and renewed enduring relationships at the teen social or adult reception.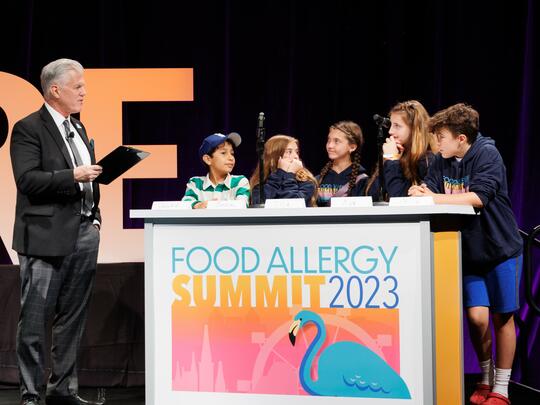 The next morning, FARE CEO Sung Poblete, PhD, RN, welcomed attendees with a message of inclusion and encouragement. She shared personal experiences as a food allergy patient and highlighted key developments this year, ranging from the creation of the Scientific Advisory Council to support innovation in FARE's research program, the establishment of millions of dollars in research funding, the launch of a food allergy prevention initiative, and the recent successes of food allergy advocates, with the passage of nine new state laws that make life safer and easier for members of our community.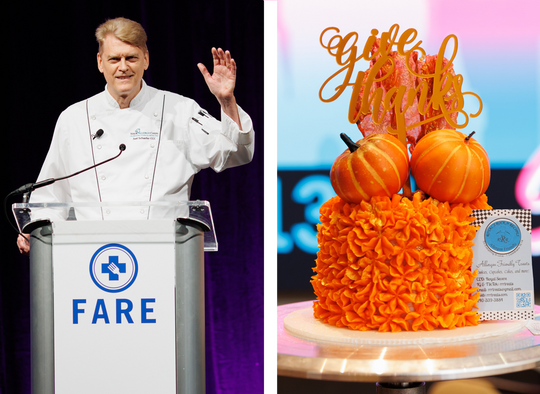 Delicious, allergy-friendly food, prepared and served using best practices to identify ingredients and prevent cross-contact, made Saturday's lunch special for many attendees. Organizers were thrilled to witness second and third helpings from the delicious lunch menu created by Chef Joel Schaefer, which included short ribs, Applegate sausage and peppers, chicken breast, and vegan meatloaf. Chef Joel also helped train the staff at restaurants throughout the resort on food safety and assisted the restaurants in developing Top-9-Free options. Another food-focused activity was the birthday party planning workshop led by Chef Royal Severe and food allergy moms Elani Wiest, PhD, and Paige Ma, where tips and tricks for the perfect inclusive birthday event were topped off with a cake decorating demonstration.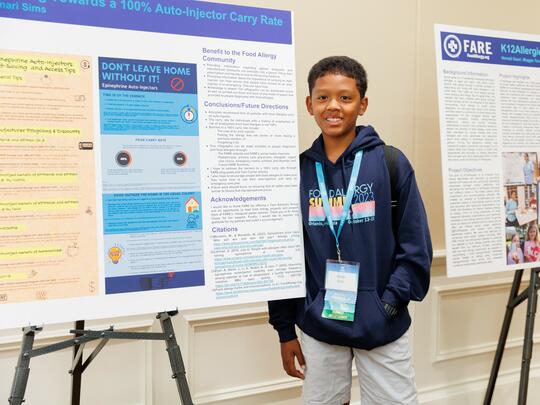 Members of the FARE Teen Advisory Group (TAG) also had the opportunity to develop and refine new skills. During the year, they developed and implemented projects with topics that ranged from increasing awareness in schools, to securing allergy-safe foods for shelters, to creating a patented epinephrine auto-injector case. These TAG members' hard work culminated at Summit with a poster session modeled on the poster presentations held at academic conferences.
During Saturday's lunch, FARE announced awards honoring remarkable members of the food allergy community who are dedicated to making a difference. FARE Board of Governors member and Mothers of Children Having Allergies (MoCHA) support group co-founder Denise Bunning presented the Denise Bunning Community Leadership Award to Melissa Engel, a food allergy advocate and doctoral candidate in clinical psychology at Emory University. Melissa's research and clinical interests include the unique psychosocial challenges adolescents with food allergies face, and she currently serves as FARE's Lead Programming Developer for Teen Outreach. Denise also presented the Young Leader Award to Carlo Steinman, a lifelong food allergy advocate, whose work in giving a keynote speech at the first Teen Summit, forming the Teen Advisory Group, and contributions to the Rising Leaders Committee has been invaluable.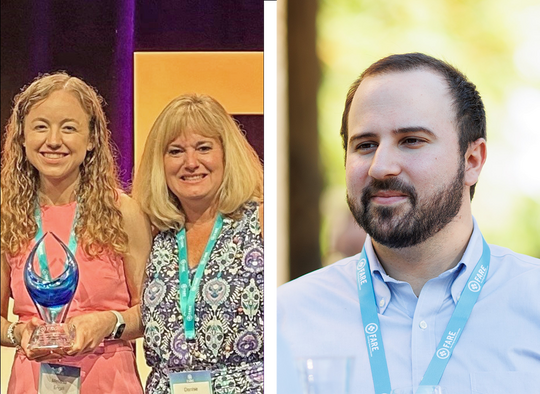 Social activities rounded out Saturday evening. Adults has a chance to relax together in a supportive setting, while the teens played games and danced at a pajama party.
The Summit concluded with Team Work Makes the Dream Work! Building the Perfect Food Allergy Care Team. This moderated panel featured allergist and Food Allergy and Your Kiddo podcast host Alice Hoyt, MD; licensed clinical professional counselor and founder/CEO of the Food Allergy Counselor Tamara Hubbard; professor and registered dietitian nutritionist Carina Venter, PhD; nurse scientist, educator, and entrepreneur Olga Kagan, PhD RN; professor and allergist/immunologist David Fleischer, MD, and nurse manager Susan Kelly. Highlighting the relationships between food allergy patients and their health care practitioners, the discussion explored topics including the interprofessional model of care, current barriers and opportunities in patient care, the burdens food allergies pose on patients and caregivers, and how clinicians strive to provide comprehensive care.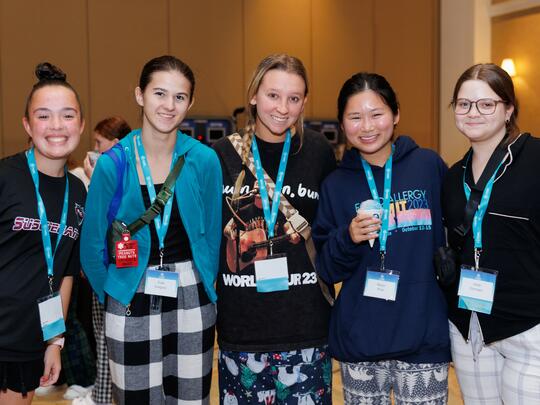 As Summit 2023 came to a close, many participants shared heartfelt goodbyes with friends, new and old. But whether you missed this year's Summit or attended and are already missing the camaraderie, there's good news ahead. We can't wait to see you next year in Washington, DC! 
FARE extends special thanks to our premier sponsor, DBV Technologies.
We thank our sponsors Novartis, ARS Pharma, Applegate, Aquestive, Kaléo, and Nestle Health Science.
Thanks also to our in-kind sponsors Abe's Vegan Muffins, Applegate, CVS Pharmacy, Enjoy Life, Go-Be, Lorissa's Kitchen, MoCHA, Partake, and Sunshine Charitable Foundation, as well as our exhibitors Abe's Vegan Muffins, Applegate, Aquestive, ARS Pharma, Auvi-Q, DBV Technologies, Free to Feed, Genentech, Nutricia, OWYN, Partake Foods, Pixie Lizzie, Red Sneakers for Oakley, and That's It.