FARE Blog
November 11, 2021
2021 Contains: Courage® Research Retreat Explores Leading Edge of Food Allergy Science and Patient Care
Top investigators and clinicians from academia, industry and government shared findings and insights in a three-day FARE conference, available on-demand through Nov. 18.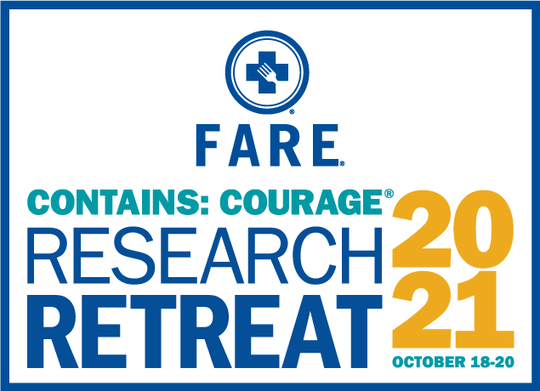 Since 2013, FARE has hosted an annual research conference in which academic and industry investigators, healthcare providers, government officials and patient advocates come together to share findings, spark collaborations and spur advances in food allergy science. With the coronavirus pandemic, the Research Retreat moved online in 2020, opening the conference to new audiences.
Presented online for a second year in 2021, the ninth annual Contains: Courage® Research Retreat drew more than 400 registrants. Held Oct. 18-20, the three-day virtual event featured top academic researchers and clinicians, industry leaders in biotechnology and pharma, members of the food allergy community, and committed allies in the public sector. Highlights included:
Welcoming and concluding remarks from the Chair of FARE's Board of Directors, Mary Weiser
Special updates on the programs of research at Stanford University, King's College London and the National Institute for Allergy and Infectious Diseases
Recorded talks and live panel discussions addressing recent findings in disease development, diagnosis, immunotherapies, new approaches and prevention
News of how FARE's developing research infrastructure will integrate patient care, collaborative clinical studies, and exceptional data and biospecimen resources
Of particular interest to the food allergy community were three fascinating panel discussions among clinicians that shed light on important issues they encounter in delivering patient care:
Implementation of Peanut Oral Immunotherapy: Peanut OIT is being reshaped by U.S. Food and Drug Administration approval and market availability of Palforzia, even as the coronavirus pandemic impacts access to care.
Implementation of Prevention: Recommended strategies to encourage food tolerance include educating families and pediatricians about how and when to add food allergens to an infant's early diet, identifying and resolving barriers to early allergen introduction, and prioritizing effective eczema care to support a healthy skin barrier.
Do Something Now or Wait?: Families must weigh benefits and constraints in deciding whether to seek food allergy treatment now or wait for options that might arise in the future. Patient age and preferences, single vs. multiple food allergies, integration of a daily regimen into family routines, and treatment goals and outcomes are among the factors that allergists emphasize in their conversations with parents and children.
This is the final week that members of the food allergy community can register to access the online 2021 Contains: Courage® Research Retreat, which includes more than 17 hours of content. On-demand access to the Research Retreat content ends on Thursday, Nov. 18, 2021, at 11:59 p.m. ET. Click here to learn more.