Workplace Lunches and Parties
You don't have to miss out on business lunches and celebrations because of food allergies. Learn ways to plan events that are both fun and safe.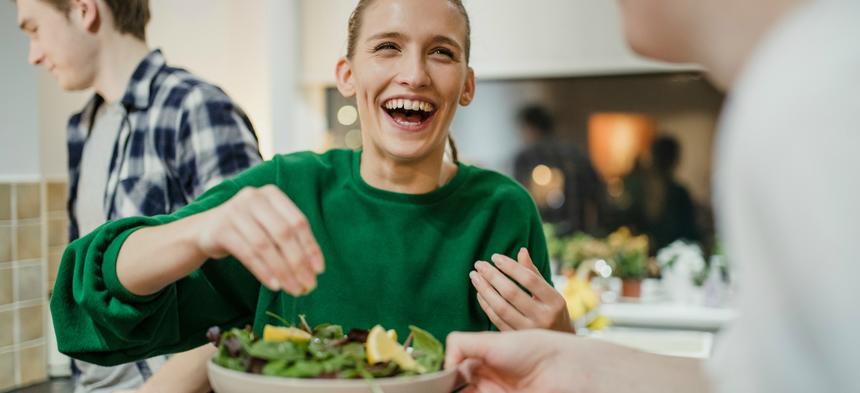 Many important workplace moments happen away from the offices and conference rooms. Lunches and parties are great ways to celebrate personal or professional milestones. They can also help maintain or improve team morale.
These social events almost always involve food—but that doesn't mean you should miss out because of your food allergies. You can manage these opportunities like you do other parts of your life.
Work Lunches
Having lunch with clients, coworkers or your supervisor is a common way to build rapport and conduct business.
Provide the office manager or meeting coordinator with a list of restaurants that you are comfortable eating at or ordering from. You can also offer to schedule the lunch or make restaurant reservations so you can plan ahead with the restaurant staff.
If the meeting is spontaneous or previously planned, don't be afraid to speak up if the restaurant cannot accommodate you. If you would prefer to not eat out at all, suggest coffee or happy hour drinks instead. These smaller-scale outings can be easier to manage with food allergies.
Parties and Celebrations
Birthday parties, retirement parties, baby showers and other celebrations happen regularly in most offices. Speak with your supervisor about how the company can host events that will be both fun and safe for you to attend.
Recommend foods that you know are allergy-friendly. For potlucks, you can always bring a safe one-dish meal so you will have something to enjoy. Serve yourself first to avoid cross-contact with serving utensils used in other dishes.
You can also suggest that special occasions incorporate non-food-related activities. Games or contests—think board games, trivia, word games, scavenger hunts and team-building activities—are popular options. Your colleagues may even welcome the chance to get up and move and focus less on food, for their own personal reasons.
Know that recreational workplace parties are not considered an essential job task. For this reason, the law does not require that parties include safe food or other accommodations.
As colleagues become friends, you will find that they want to include you. They will ask for more information to keep you safe and ensure you can enjoy the celebration, too.
Even when your colleagues try hard to keep you safe, mistakes may happen anyway. Appreciate their efforts, but always ask for what you need to stay safe with food allergies.