Webinars & Training
August 25, 2021
WEBINAR: Back to School: Managing the Social & Emotional Effects of Food Allergies in the Time of COVID
This webinar will discuss the social and emotional effects of managing food allergies in the time of COVID.
August 25, 2021 1:00 p.m. – 2:00 p.m. ET
This webinar will discuss the social and emotional effects of managing food allergies, explore how these may show up during back-to-school season after a year in which many students attended school virtually, and address ways for caregivers, teachers and school administrators to support students during this transition. Research that validates the emotional toll of managing a food allergy will be briefly reviewed.
Participants will learn about helpful skills, including:
strategies to feel more confident in managing students' food allergies and the accompanying social/emotional effects
ways to practice navigating difficult social situations
tools for calming down if/when anxiety is heightened
There will be time at the end for questions.
FARE is a Continuing Professional Education (CPE) Accredited provider with the Commission on Dietetic Registration (CDR). CDR Credentialed Practitioners will receive one Continuing Professional Education unit (CPEU) for completion of this course.
Register for a free FARE Food Allergy Academy account to view the webinar
About the Speaker
Claudia Shapiro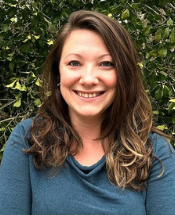 Claudia Shapiro is a licensed clinical social worker in North Carolina. She owns a private practice where she provides psychotherapy and play therapy to children, adolescents and families. She frequently collaborates with schools, where she supports teachers in the management of students' social/emotional development and the creation and implementation of personalized behavior plans. Claudia has also lived with severe peanut/tree nut allergies and has firsthand experience in the toll that managing severe food allergies can have on both the individual and the family system. She is passionate about continuing to bring awareness to the needs of families managing food allergies and developing more tools to provide social/emotional support to the food allergy community.