Traveling As a Teen
Whether you're traveling for school, with friends or with family, planning ahead is key to making your trip safe and enjoyable.
We asked FARE Teen Advisory Group for their top travel tips, and here's what they said:
Communication is key! Tell the airline, restaurants, etc. about your food allergies so they can properly accommodate you.
Travel with sanitizing wipes so you can wipe down your seat, table, etc.
Research restaurants and grocery stores at your destination in advance so you know where your safe food options are.
Locate hospital nearest your destination in case of an emergency.
Bring safe food with you when you're traveling, both to eat while traveling and in case your options are limited at your destination. Some countries have restrictions on the type of food you can bring in, so if you're traveling internationally, double check the regulations of the destination country.
If you're traveling internationally, learn how to say "I am allergic to _____" in the language of the country you're visiting. Bring written cards with those words translated as well.
If you are traveling with a group, educate them about your food allergies and where you keep your epinephrine.
Carry a note from your doctor about your need to bring food and epinephrine with you in case you run into problems with airport security.
Let TAG Be Your Travel Guide
School trips, whether they are simple day trips, overnight trips, trips around the country, or even international trips, bring a lot of joy, memorable times, and new experiences.
Follow these tips and tricks from TAG to ensure ample fun and safety on your adventure abroad.
Flying with Food Allergies
Air Travel with Epinephrine
When you travel, you must always be prepared for a severe allergic reaction. It is critical that you carry two epinephrine auto-injectors with you at all times.
You may wonder what this means for airport security and other points during air travel.
First Things First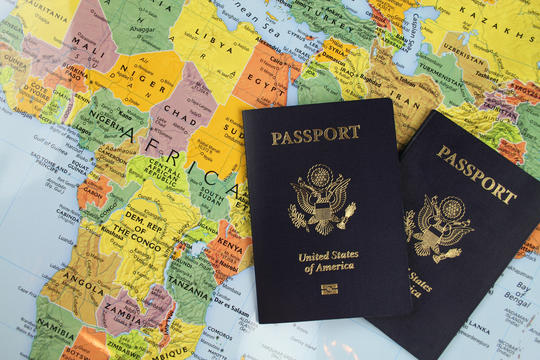 Always carry your Food Allergy & Anaphylaxis Emergency Care Plan. Put it with your epinephrine auto-injector and other prescribed medication.
Keep your epinephrine with you. Do not put it in your checked luggage or store it in the overhead bin.
Let your traveling companions know about your allergies. Make sure they know what to do in case of an emergency on the flight and where your auto-injector is.
Taking Epinephrine Through Airport Security
FARE's medical advisers recommend sending your epinephrine auto-injectors through the x-ray machines and scanners used to screen carry-on luggage. While research on this topic is limited, there is no scientific evidence that these machines will change the effectiveness of the medication. The amount of radiation produced by an airport x-ray machine is similar to the amount of ambient radiation everyone experiences in a typical day on planet Earth.
Furthermore, FARE recommends using the x-ray machine over allowing a Transportation Security Administration (TSA) official to visually inspect your device. Such inspections may increase the risk that the device is accidentally activated, damaged or lost.
You can find more information about traveling with medications and the effects of airport x-ray systems on medication from the U.S. Food and Drug Administration and Transportation Security Administration (TSA).
Taking Epinephrine on a Flight
According to the TSA, passengers are allowed to bring their epinephrine on board a flight.
However, you may need to show the printed label that identifies the medication (e.g., Adrenaclick®, Auvi-Q™, EpiPen®). You should also be prepared to show the prescription label from the pharmacy.
It also helps to have a note from your doctor that confirms your food allergy and your need to carry medication. 
More About TSA's Policies
This information is provided by the International Food Allergy & Anaphylaxis Alliance.
TSA security currently permits over-the-counter liquid medications. However, volumes larger than 3.4 ounces must be declared to a TSA officer. A declaration can be made verbally, in writing or by a person's companion, caregiver, interpreter or family member. TSA may also allow gels or frozen liquids needed to cool medically related items.
Bear in mind that there is always a subjective element to airline security. Much is left to the individual screener's discretion.
If you have questions, call TSA at (866) 289-9673, email TSA-ContactCenter@dhs.gov or go online.
Are to-do lists more your thing?
Check out our handy checklist infographic—perfect for road trips or anywhere the travel bug takes you!
Download Infographic