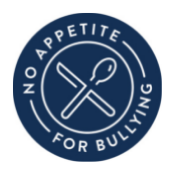 While bullying in any form is unacceptable, when it's targeted at children with food allergies it can escalate from emotional to physical bullying—even life-threatening. Food allergies affects 1 in every 13 children in the U.S.—or roughly two in every classroom—and is a serious, potentially fatal condition. 
No Appetite for Bullying is an anti-food allergy bullying initiative that raises awareness of food-allergy bullying with the goal of creating solutions and encouraging food allergy acceptance.  

Developed by kaléo along with national food allergy advocacy organizations, Allergy & Asthma Network (the Network), Food Allergy & Anaphylaxis Connection Team (FAACT), Food Allergy Research & Education (FARE) and Kids With Food Allergies (KFA), No Appetite for Bullying aims to make a positive, lasting impact on the lives of children with food allergies, by encouraging them, their parents, teachers and peers to be voices against food allergy bullying. 
Learn more at noappetiteforbullying.com