First Steps for the Workplace
The workplace is critical to your food allergy management plan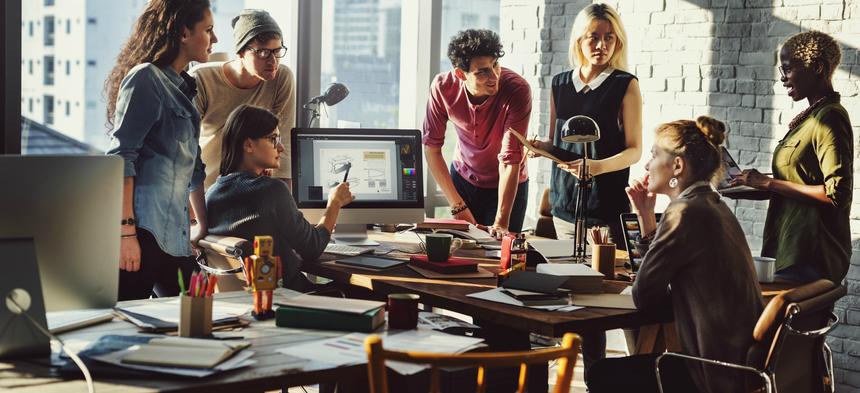 The workplace is critical to your food allergy management plan—especially if you spend eight hours per day there. (And many Americans do!)
Whether you are new to the workforce or changing careers, entering a new workplace gives you the chance to advocate for your rights. It's also an opportunity to educate others about food allergies.
Follow these tips to help you stay safe on the job.
When You Are Hired
As soon as you start a new job, speak to your supervisor about your food allergies. Discuss any reasonable accommodations you may need to perform your job. Maybe you would like to have a separate kitchen space to store your lunch food and utensils. Or perhaps you'll need some extra time off to attend doctor's appointments. Your manager can tell you if your Human Resources Department requires documentation to support such accommodations.
If you have not already, familiarize yourself with your workplace rights under Section 504 of the Rehabilitation Act of 1973, Title I of the Americans with Disabilities Act of 1990 and the ADA Amendment Acts of 2008. This information will help if you need to advocate more strongly to have your needs met.
Keep in mind that employers must keep employees' medical information confidential, except at times when you need emergency treatment. You have a legal right to choose to keep your food allergies private. But if you seek accommodations, you will need to disclose your food allergy.
Telling Others at Work
As you get to know your new colleagues and clients, you may choose to tell them about your food allergies. Share what you're comfortable with, when you feel the time is right.
Here are a few ways you can help your coworkers better understand food allergies:
Tell your story. Speak about your specific food allergies and how you manage them.
Let them know it's serious. Tell them where you keep your epinephrine auto-injectors, how to recognize the signs of an allergic reaction and what to do in case of emergency.
Offer ways they can help. Share how your office mates can help you prevent a reaction at work. Examples include checking with you before planning events with food involved and making sure the foods they bring to the office are packaged and labeled so you can review the ingredients.
Post gentle reminders. Consider hanging a food allergy awareness poster in a common area, or a note that your office or cubicle is an allergen-free zone. An interesting or humorous sign can be a great conversation starter and help reinforce the importance of taking your allergies seriously.
Invite them to ask questions. Offer yourself as a resource for any questions they may have about food allergies. This is a great way to break down common food allergy myths and misconceptions.
Say thanks. Make sure your colleagues know that you appreciate their support.
This presentation can also be used to increase food allergy awareness in your workplace.

Taking Precautions
Despite your best efforts, accidental exposures can still happen at work, just like anywhere else. Be prepared in case of an emergency:
Keep your epinephrine auto-injectors with you at all times.
Consider wearing medical identification.
Make sure someone in your office knows what to do in case you have a severe allergic reaction at work.
Be Prepared
Make sure someone in your office knows what to do in case you have a severe allergic reaction at work.