Food Allergy Guide Order Form
A resource for individuals and families who have been newly diagnosed with food allergies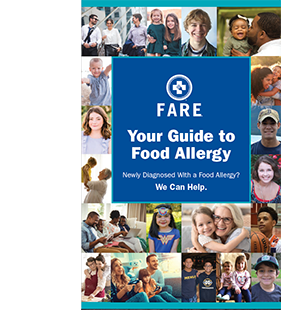 FARE's Food Allergy Guide
A food allergy diagnosis is life-altering. There is a lot to learn, and it can be tough to know where to start. FARE's Food Allergy Guide – an easy-to-understand booklet for newly diagnosed individuals – are available for order by health care providers who plan to distribute the guides to their patients and their families. Food Allergy Guides are shipped free of charge in boxes of 25. Boxes also include a tearpad of FARE's Emergency Care Plans and additional materials for use in your practice along side our extensive website resources. 
If you are ordering for more than one office, please complete this form for each office and FARE will gladly ship additional boxes to each location.
By completing this form you are opting into FARE Communications. You may opt-out via any FARE email.
Please allow for up to four weeks for your order to be processed and shipped.
For questions about the Food Allergy Guide, please contact the FARE Education Team
Additional Resources
Get the facts on what food allergies are—and what they aren't—plus how to recognize the symptoms and seek testing from a healthcare professional
If you are a physician, nurse, dietitian or other health professional, FARE is here to help you help your patients. Explore our many materials and find information about our Patient Registry and clinical trials in your area.
No one understands food allergies better than those living with them every day. Encouraging your patients to join the FARE Patient Registry can help drive food allergy research forward.