A Safe Return to School With Food Allergies in the Time of COVID-19
The pressing question on the mind of all parents right now is how and when will our children safely return to school during COVID-19.
Guest post by Nicole Ruffo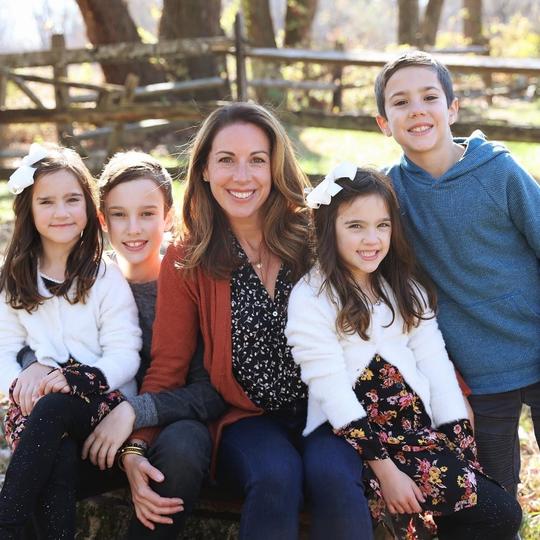 Nicole Ruffo is a former elementary school teacher with a M.S. in Elementary Education. She is a certified yoga instructor and an advocate for food allergy awareness. Nicole is the mother for four children, three of whom live with life-threatening food allergies.  Her advocacy work is focused on education, legislation, and innovations on behalf of the allergy community.
The pressing question on the mind of all parents right now is how and when will our children safely return to school during COVID-19? The answers vary for each state, district, and family. For food allergy families, we have even more concerns than the importance of face masks and social distancing. We also need to ensure that our children with life-threatening food allergies have a safe learning environment. How do we do that? How do we advocate for students with food allergies during a pandemic? My words of advice come from my time as a teacher and a mother of three children with life-threatening food allergies. 
This is a moment in time when, as a parent, you must be your child's #1 advocate. I learned this valuable lesson early on in my parenting journey. Our school district did not have an allergy management policy, and we were dealing with the unsafe consequences. After sharing our personal story, policies from other districts, and food allergy facts with our superintendent and Board of Education for a continuous year, things finally changed. Our school district finally adopted the "Management of Life-Threatening Allergies in Schools" policy due to the advocacy of many food allergy families.
When advocating for our children, my best recommendations are to be present and be kind. Ensure that the decision makers know your story and remember allergy families when planning for the return to school during COVID-19. When you advocate for your child with food allergies, you are advocating for all children with food allergies in your district. 
First, you can start by writing an email to your Superintendent and Board of Education and introduce yourself and your food allergy child(ren). Share your story and let them know the hardships of being a parent managing food allergies in a school setting. Then, ask the important questions about how students with food allergy will be safe given the modifications being made for COVID-19. Follow up by attending the next virtual or in-person board meeting and speaking during public comment. If you feel nervous about public speaking, that is perfectly normal. Remember that if you don't tell your story, no one will. When you get that butterfly feeling in your stomach, it means that you are about to do something brave. We can do brave things, especially in the name of protecting our children.
The Centers for Disease Control and Prevention (CDC) have issued voluntary guidelines for managing food allergies in schools and early care and education programs, which are included in the interim guidance for reopening schools. Since these guidelines are voluntary, it is necessary that parents advocate for their children with life-threatening food allergies to ensure a safe learning environment.
Questions that need to be addressed by each school district include:
Where will students be eating and who will be monitoring?
Who will be trained to identify an allergic reaction and administer epinephrine?
Will the nurse's room location be changing?
How will the district support teachers in managing food allergies and COVID-19 at the same time?
Will students be leaving their classrooms?
It is also important to share expectations and needs that must be addressed for a safe return for students with life-threatening food allergies:
Desks/chairs must be cleaned with a disposable paper towel or wipe and cleaning solution. A reusable sponge or rag can spread allergen proteins and must not be used.
Hand sanitizer does not remove allergen proteins; ALL students must wash their hands with soap and water before and after they eat.
Allergen-free desks must be identified in each room, especially in older grades where students might be rotating classrooms during the day.
Students with food allergies should never be the ones cleaning the classroom surfaces.
A Zoom meeting with the teacher and the food allergy family should occur before the first day of school to ensure an understanding of the child(ren)'s allergies, past reactions, expectations, and needs.
A detailed allergy plan/folder should be created for each allergic student with a photo attached for substitute teachers. 
There should be a "no food sharing" policy for all students.
My 10-year-old son Jack and I attended FARE'S Courage at Congress event in early March. The most inspirational speaker to prepare us for advocating on the Hill was Donna Brazile, an American political strategist, campaign manager and political analyst. She spoke with such conviction about the importance of telling our stories in order to effect change. Brazile said "This is a country that you can help shape. This is a future that you will help make. Why you? Because there is no one better. Why now? Because tomorrow is not soon enough. So, we need you to lift your voices."
Please advocate for the students in your school district and lift your voices by sharing your expectations for managing food allergies in the classroom. This will ensure that all students living with life-threatening food allergies can learn safely in our schools. All students deserve access to a safe learning environment.