May 2023 Leadership Spotlight: Justine Asante
Meet South Ward Promise Neighborhood's Justine Asante, an advocate and Allergy Ally partnering with FARE's Community Access Program (CAP) in Newark, NJ!
What's your name, where are you from, and what is your connection to FARE?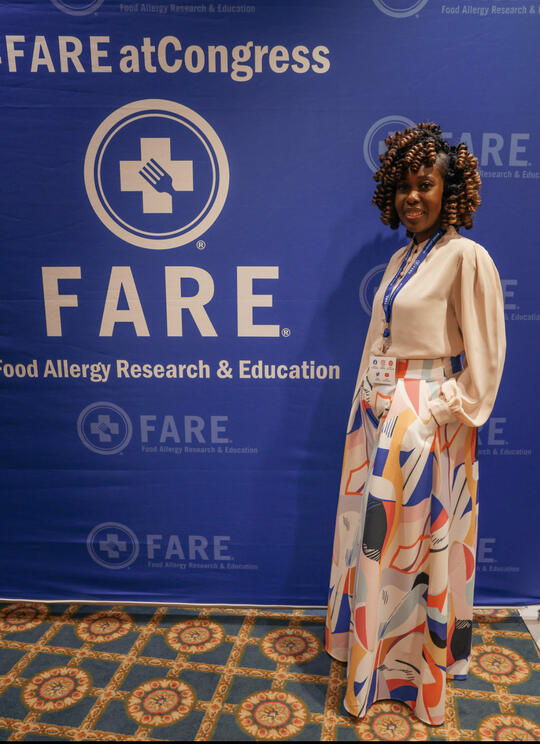 I'm Justine Asante, MS LMFT, and I'm the Director of Collective Impact & Partner Operations for South Ward Promise Neighborhood, located in the South Ward of Newark, New Jersey. FARE is one of our Promise Neighborhood partners bringing the Community Access Program to address needs identified by South Ward families, including access to life-saving epinephrine, information to help with the daily anxiety of living with food allergies, and access to safe foods.
What are some of the impacts and challenges faced by individuals and families in your community who are living with food allergies? How is your organization's partnership with FARE making a difference in the South Ward?
More than a quarter of the South Ward community surveyed by FARE reported having food allergies, yet had limited understanding of how to cope with or manage their food allergies, as well as limited access to epinephrine due to cost. Families also struggled with access to foods, especially allergy-safe foods located in the community.
During May, as part of our 2023 Food Allergy Awareness Week celebration, FARE has honored allies of the food allergy community. What has inspired you to become an Allergy Ally?
As a person with food sensitivities, and with the data showing that people in the community have severe food allergies, I believe the work FARE is doing is critically important. FARE is providing the families we serve with the knowledge to be empowered to manage, advocate, and change policies that impede their health. At the South Ward Promise Neighborhood, we work collectively to break down barriers, and with our partnership with FARE we are doing just that by providing the community with the necessary resources.
Thank you for participating earlier this year at FARE's Courage at Congress: Advocate for a Cure event in Washington, DC! What did you take away from meeting with other food allergy advocates and with New Jersey legislators?
There were many important points made at the event in DC. The takeaway that aligned with our prenatal/early childhood work was making early introduction part of the WIC Program's Infant Food Package. FARE hosted a workshop with our early child care centers and continues to provide important information to prenatal and early childhood providers on early introduction of certain foods to reduce the likelihood of children developing food allergies as they age. By taking this preventative approach, the community can begin to change the onset of food allergies developing.
Have there been recent food allergy awareness events in the South Ward?
On May 24, FARE with South Ward Wellness Center hosted a workshop, "Managing Food Allergies to Avoid Stress." Also on May 24, FARE with Clinton Hill Community Action hosted a training on Helping Clients with Food Allergies Navigate Food Assistance Programs, FARE also distributed food allergy posters to the 30+ partners in our pipeline.
What is your favorite hobby or pastime?
My favorite hobby is reading.