How FARE's Community Access Program Supported One Family's Food Allergy Care Journey
FARE collaborates with a broad network of Community Access Program partners to connect under-resourced families to patient education, nutrition support, and food allergy care.
By Adeela Abbasi, Assistant Director of Health Equity
Building on an approach piloted in Newark, NJ, FARE expanded the Community Access Program (CAP) to Chicago, IL, in 2022. CAP brings food allergy education and care to Chicago's Ward 15, which is made up of majority Black and Latino neighborhoods. In collaboration with Mobile Care Chicago and FARE Clinical Network centers within the Midwest Allergy Research Initiative, including The University of Chicago, Lurie Children's Hospital, and the University of Illinois – Chicago, CAP supports in-person and virtual educational events and provides hyper-local access to allergy care.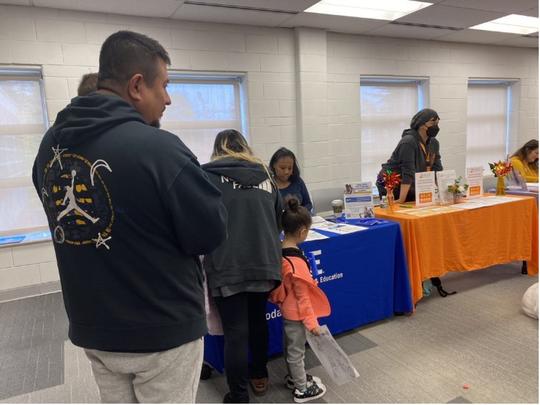 How does CAP support food allergy families in under-resourced Chicago neighborhoods? One family's journey illustrates the program's approach to providing patient-centered services and care through teamwork and community engagement.
On October 14, 2022, FARE and its partner Mobile Care Chicago provided information on food allergy and conducted intakes (registrations for clinical services) at a community healthcare resource event for caregivers of young children. The event was held in the Back of the Yards neighborhood and hosted by Metropolitan Family Services, another FARE Community Access Program partner.
B. stopped by the table with her family to learn about the resources offered by FARE and Mobile Care Chicago. During the intake process with Mobile Care Chicago, she shared that her oldest child is living with a food allergy. She also suspected that she along with her husband and infant might also have a food allergy.
B. was able to access multiple resources through this single point of contact. She made an appointment for her children to be seen at the mobile clinic at a time and location that was most convenient for her and her family. FARE staff informed B. about an opportunity to receive a $150 allowance each month for three months to order home delivery of allergy-safe, healthy foods through another CAP partner, Free From Market, which provides inclusive community access to personalized, nutritious groceries for people with chronic health conditions. Using a tablet at the FARE table, she was able to complete the application for this Free From Market opportunity. FARE also provided printed handouts and helpful links to take home. Finally, B. registered for the FARE Food Allergy and Nutrition Information Session and Cooking Demonstration, held at the Primo Center on October 19, 2022, in partnership with Teamwork Englewood.
The following week, B. attended the information session and participated in an allergy-friendly cooking demonstration. Products free of the top 14 allergens were used to make chicken strips and vegan potato waffles. The kids loved the chicken and waffles, and the parents were at ease knowing the ingredients were safe for their children to eat. During the demonstration, the family learned how to read labels, gained a better understanding of Contains statements in ingredient lists, and received instruction on how to find nutritious substitutions for the foods their children were unable to eat. The family also received a $50 gift card for Go Green Community Fresh Market and a gift bag filled with important food allergy resources, top-nine-free treats, and other food allergy goodies.
Shortly after, the family began receiving regular clinical care for food allergy through Mobile Care Chicago.
By helping B's family and other families connect to patient education, nutrition support and care, the Community Access Program advances FARE's mission to improve the quality of life and health for those living with food allergy. To learn more about CAP's projects in Newark, Chicago, and Washington, DC, visit foodallergy.org/CAP.
While FARE does not endorse products, we support and appreciate enterprises and organizations that are committed to serving the food allergy community.
​