FARE Blog
October 03, 2022
How to Be Food Allergy Safe This Halloween
1 in 13 children suffer from food allergies, which means you'll likely be visited by a few food allergy kiddos on Halloween night. That's why it's so important to act as a food allergy ally. For parents and allies alike, let's dive into some helpful tips to stay food allergy aware and safe this Halloween.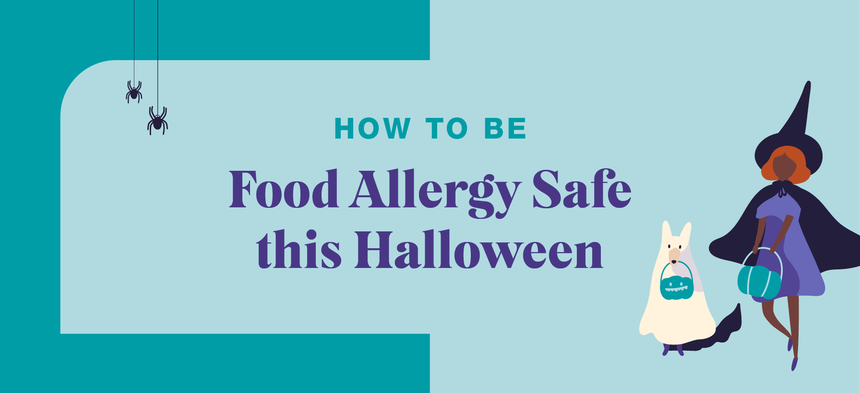 1) Stay informed and up to date on allergy testing
Allergies change over time and new technologies have allowed parents and healthcare providers to better understand food allergies. For example, allergen component testing can provide insights into whether a child can tolerate baked or raw forms of milk and eggs. Which means some kids this year may be able to enjoy Halloween cookies, but not Milk Duds. Learn more about how to get allergy blood tested today.
2) Schedule an appointment with your healthcare provider
Before the trick-or-treating starts, it may be best to schedule a check-up and gain greater knowledge of you or your child's allergies, such as information on new or existing symptoms, emergency action plans, and allergy blood testing options. Any healthcare provider who normally orders laboratory tests can order allergy blood testing, like allergen component testing. Most of the time, you simply have to ask. 
Check out these 5 tips on how to prepare for a food allergy appointment
3) Gift safe Halloween treats 
Allergens can hide in the most unexpected places, so if you are handing out treats this year or checking your child's trick-or-treat bag this year, you may be wondering which treats are food-allergy friendly. 
The obvious answer is any non-food toys like stickers, bouncy balls, art supplies, etc. And at about $20 online for a mixed bag of Halloween toys, these "goodie bag" treats are a great alternative to candy.  
But let's be honest, kids love sweets. If you do plan on handing out candy, be sure to check candy packaging to be sure there's no hidden allergens. Keep in mind, the FDA only enforces that milk, wheat, egg, peanut, tree nuts, fish, shellfish, and soy be declared on the packaging. It's important to do your research on "food allergy friendly" candy that you plan on handing out or giving the green light for your child to eat. 
If you decide to have other candy that is not allergen friendly, it's vital you keep your allergy friendly treats in a separate container away from them to avoid cross contact.
4) Become a Teal Pumpkin Project Ally
Once you have your treats, it's time to let the neighborhood know that you are a safe place for families with food allergies. You can do this by registering on the Teal Pumpkin Neighborhood map so families know to stop by your house for non-food treats. 
Also, be sure to print off or create a teal pumpkin sign so that other neighbors know that you're participating in an inclusive Halloween. Transform your home into a food allergy inclusive stop this Halloween and sign up to be a Teal Pumpkin Project Ally today.
For more information about allergies, follow Allergy Insider and FARE to stay up-to-date on food allergy information and resources. 
---
While FARE does not endorse products, we support and appreciate enterprises and organizations that are committed to serving the food allergy community.