FARE Blog
October 12, 2022
Finding Togetherness, From FARE Food Allergy Summit 2022 to Monthly Teen Talks
"Remember, you are not alone! We truly are Stronger Together!"
Guest post by Teen Advisory Group (TAG) member Chad Seals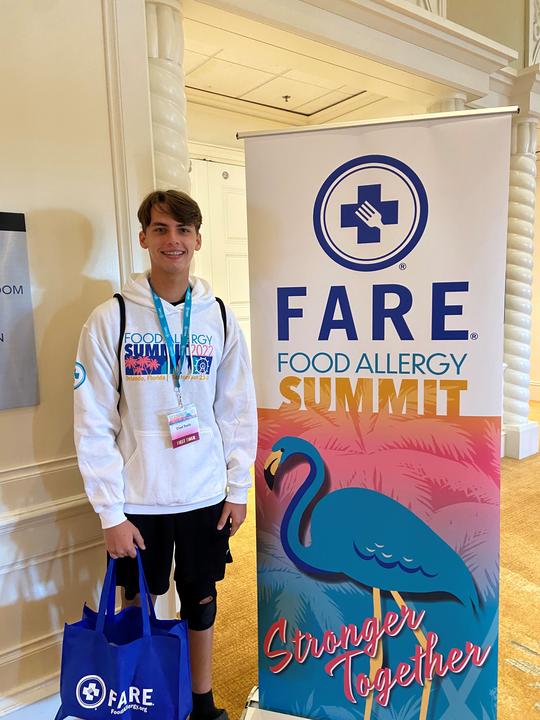 Last month's FARE Food Allergy Summit 2022 in Orlando, Florida was a big success. Being surrounded by people who really understand what it is like to live with food allergies was amazing! Even though most people were strangers, it was nice to be with people who share a common struggle.
As a teen, I went to the teen peer networking event and instantly made friends that I connected with and had things in common. They were from different parts of the United States, and it was fun meeting them. I have been a TAG (Teen Advisory Group) member for almost three years and this was a wonderful opportunity to meet some other TAG members as well as Melissa Engel, who is in charge of the Teen Talks. FARE teens have monthly meetings online and it was exciting to meet in person. At the Summit we had some in-person teen talks and some interesting conversations about a variety of food allergy-related questions.

I also had the opportunity to go to some of the workshops that were open to everyone. I learned about how to navigate travel with food allergies and college with food allergies. Both are big concerns for teens and their parents.
There were so many vendors who carried allergy-safe products. It was great being able to talk to them about their products and for them to understand the severity of food allergies.
Lunch was allergy-friendly. All of the items were labeled with the ingredients and allergens listed. None of the Top 9 allergens were used. It was so nice to be able to eat out and not have to worry! The bonus was I ate with my new friends and the food was delicious.
Thank you, FARE! The conference taught me and others how to advocate and empower ourselves. Most teens don't want to feel different, and FARE Food Allergy Summit makes you feel welcomed and comfortable.
And, to all the teens, join us for our monthly Teen Talks. Remember, you are not alone! We truly are Stronger Together!
Teen Talks are open to pre-teens, teens and young adults with food allergies or their siblings/friends who are between the ages of 11-22. These talks feature moderated topics, small breakout rooms and ice breaker activities to help participants get to know their peers. Ciick here to sign up for the next Teen Talk, scheduled just in time for Halloween on Saturday, October 29, 5:00-6:00 p.m. ET. Costumes are highly encouraged!