FARE Blog
November 19, 2020
FARE Leadership Spotlight - November 2020
Meet Jake Shirian, a member of FARE's Rising Leadership Committee, and learn a little more about him!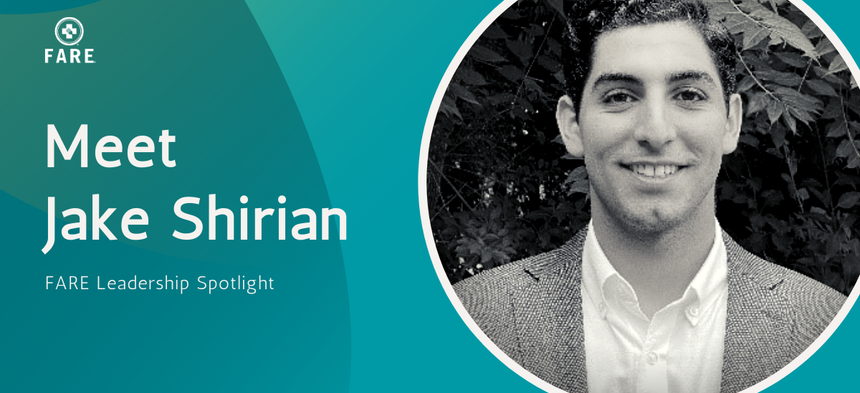 Next in our Leadership Spotlight series we're thrilled to feature Jake Shirian, a member of FARE's Rising Leaders Committee. In this Q&A, Jake shares what drew him to FARE, the best food allergy advice he's received and what he's thankful for this year!
What's your name, where are you from, and what is your food allergy connection?
My name is Jake Shirian, and I'm from Great Neck, New York. I've dealt with allergies to tree nuts and sesame seeds my whole life. My interest in helping others with food allergies, though, was sparked by my younger sister's tree nut, mustard seed and fish allergy. I've always felt responsible for making sure she feels safe and uninhibited despite her dietary restrictions.
What drew you to FARE? Why do you support FARE?
When I speak with people about how best to help those with food allergies, the conversation is often narrowly focused on research and incident prevention. While those are crucial, and FARE is a leader in those respects, FARE understands that the conversation must push further. From childhood to adulthood, from parents to educators, from summer camp to nightlife, FARE provides resources that help people comfortably manage food allergies in their day-to-day lives.
When you think of FARE, what first comes to mind?
Gratitude. I come from a big, extended family and was the first child of several to grow up with food allergies. My experiences paved the way for my younger sibling and cousins, but I was mostly learning on the fly. It wasn't until college that I discovered everything FARE has to offer and breathed a sigh of relief to learn of an organization so committed to the same goals as I am.
What is one thing you would tell any food-allergic person or parent/guardian of a food-allergic person?
It doesn't pay to panic. Remain calm, always.
What is the best food allergy advice you ever received?
Never travel to a country where you don't speak the language without food allergy cards. FARE's Food Allergy Chef Cards are a phenomenal resource. Trust me!
What is your favorite hobby or pastime?
There's no better way to spend a day than a hike or nature walk in good company.
In the spirit of the Thanksgiving holiday, who or what has helped you through this year?
My brother's new baby boy has been an adorable bright light in this gloomy year!