FARE Leadership Spotlight - June 2022
Meet Jeff Burman, a member of FARE's Board of National Ambassadors, and learn a little more about him!
What's your name, where are you from, and what is your food allergy connection?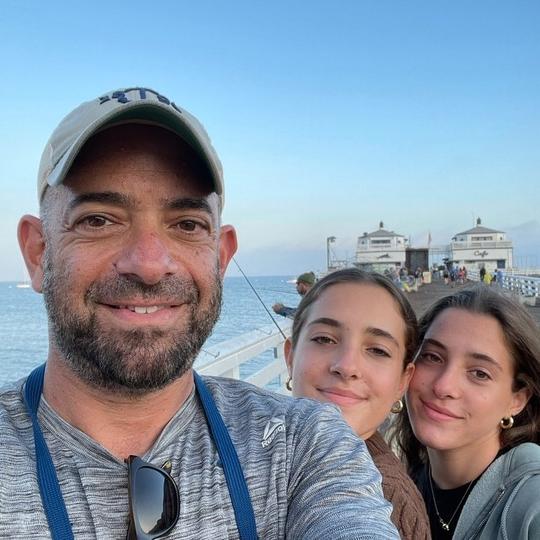 My name is Jeff Burman and I'm from New Jersey. The genesis of my food allergy connection, as with so many others, is that I am a parent of children with significant food allergies.
What drew you to FARE? Why do you support FARE?
Food allergy was unfamiliar to me prior to the birth of our twin daughters. When we first learned – during their infancy – that our girls had serious food allergies, I knew we needed to find a community of experts and advocates to help provide us the education we needed to protect our children as best as we could. I support FARE because FARE lives its mission of improving the life and health of people with food allergy. This is apparent in the myriad resources and support FARE provides, from sharing relatable anecdotes about other members' experiences to the national meetings and everything in between.
When you think of FARE, what first comes to mind?
Community. FARE is a shining example of the whole being greater than the sum of its parts. To me, being part of FARE means giving and receiving empathy; learning firsthand about cutting edge research projects; and connecting to so many other critical resources that would not be otherwise practically accessible.
What is one thing you would tell any food-allergic person or parent/guardian of a food-allergic person?
Take action. Participating in the fight against food allergy serves two vital purposes for me. First, the food allergy community depends on its members to pull one another along; FARE is only as strong as its membership. Second, I have found that participating, no matter how small my contribution, is critical to overcoming the powerlessness I felt when we first discovered the girls' food allergies. And FARE makes it easy to participate in a broad variety of ways. I was fortunate to have chaired the Jersey Shore FARE Heroes Walk, to be able to provide pro bono legal support in the formation of FARE's Teal Pumpkin Project, and now I am extremely privileged to serve on the Board of National Ambassadors. I am awestruck by the dedication and commitment that so many FARE families demonstrate.
What is the best food allergy advice you ever received?
Speak up and advocate for your children and yourself. Find businesses and restaurants in your community that understand and are willing and able to work with food allergies and support them.
Earlier this month we celebrated Father's Day. How has being a food allergy dad influenced your approach to fatherhood?
Being a food allergy dad helps remind me how incredibly fortunate I am to be Avery and Ariel's dad. As they prepare to begin college, I find myself reflecting on the indescribable courage and grace that they demonstrated from a very early age in managing their food allergies. They never seek special attention or accommodation. They fearlessly began oral immunotherapy treatment as pre-teens, and continue to manage their food allergies with a quiet persistence and tenacity. I find a source of strength through them that I would never have without them, and if there is a gift to this adversity, it is that.