FARE Blog
February 23, 2023
FARE Leadership Spotlight – February 2023
FARE Diversity Scholars Hang Nguyen and Sydney Butler, MPH, have been invited to present their food allergy research findings at this year's annual meeting of the American Academy of Allergy, Asthma & Immunology (AAAAI).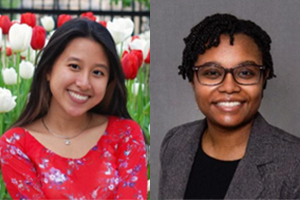 In partnership with National Medical Fellowships, the FARE Diversity Scholars Program provides one or two years of mentorship and $10,000 in annual financial support to graduate-level students historically underrepresented in medicine to engage in food allergy research and community engagement. In the program's first year, six FARE Diversity Scholars have conducted research at outstanding food allergy centers within the FARE Clinical Network.
Two scholars from the program's inaugural 2022-2023 year have been selected to present their FARE-supported work at the 2023 annual meeting of the American Academy of Allergy, Asthma & Immunology. Sydney Butler, MPH, is a fourth-year student in the School of Medicine at, University of North Carolina, Chapel Hill. Hang Nguyen is a second-year student at Yale School of Medicine, Here we learn more about their research and what drew them to the FARE Diversity Scholars.
How did you learn about the FARE Diversity Scholars program?
Sydney: As I was looking for scholarships to help finance my last year of medical school, I came across the FARE Diversity Scholars Program on the National Medical Fellowships (NMF) website. I thought the program would be a great fit, as I had just finished my Master of Public Health degree, during which I completed a research practicum with pediatric allergists at University of North Carolina. I was excited to continue to explore the field of allergy and immunology through this new program.
Hang: I learned about the FARE Diversity Scholars Program through Dr. Marietta Vazquez, the Associate Dean of the office of Diversity, Inclusion, Community Engagement, and Equity (DICE) at my school, the Yale School of Medicine. 
What inspired you to focus your research on food allergy?
Hang: I was inspired by the welcoming community of food allergy physicians and researchers, who dedicated their career to improving care for those with food allergies. This condition affects people from all walks of lives and has the potential to drastically alter one's quality of life, so I am eager to contribute to this effort.
Sydney: My younger brother's experiences with allergic diseases sparked my interest in the field of allergy and immunology. In the past, I had primarily focused on research and clinical work related to asthma. During this program, I was excited to explore a different aspect of the field and do research related to food allergies, particularly among pediatric populations.
What findings are you presenting at AAAAI 2023?
Sydney: Adolescents with food allergies are at increased risk for experiencing both psychosocial difficulties and severe allergic reactions. At the 2023 AAAAI Annual Meeting, I will be presenting our findings from a project that explored the risk factors for perceived stigma about food allergies among adolescents and their caregivers. I was mentored by Dr. Yamini Virkud, a pediatric allergist with the UNC Food Allergy Initiative. The project was also a collaboration with Dr. Alayna Tackett of the Keck School of Medicine at University of Southern California and researchers from the Center for Pediatric Psychology at Oklahoma State University.
Hang: I will be presenting on the preliminary findings of my research project on prevalence and phenotype of food allergy in cystic fibrosis patients. This is a collaboration between three institutions: Yale, Emory University, and Washington University in St. Louis, MO. I will only be presenting on Yale's preliminary results at AAAAI 2023. So far, we found that, at our institution, few CF patients and CF carriers were labeled as having a food allergy without convincing symptoms, but referral to allergists for formal evaluation and management could be optimized. I'm very grateful to my research mentor, Dr. Stephanie Leeds, for involving me in this project and supporting me thus far. 
What is the most interesting thing about food allergy that you've learned or experienced during your time as a FARE Diversity Scholar?
Hang: There are so many interesting things about food allergy, but I am very excited about the different ways that food allergy manifests in different patients. This variability in symptoms and severity of food allergy also makes this condition challenging diagnostically. There is so much to learn and understand! Last but not least, being a FARE Diversity Scholar also introduces me to many passionate people who are working hard to improve the lives of those with food allergies
Sydney: During the 2022 FARE Food Allergy Summit, I attended several sessions that focused on the experiences of teens and young adults as they navigated living with food allergies. I found these sessions very interesting, both as a family member of people with food allergies and as a future pediatrician. Listening to the stories that were shared about the difficulties of transitioning to college and adulthood while having a food allergy made me realize that there is a lot more we can do to as healthcare professionals, school administrators, family members, and members of the community to better accommodate those with food allergies.
What are your plans for the future?
Sydney: I am graduating from medical school in May and will start Pediatrics residency this summer. After that, I plan to pursue fellowship in Allergy and Immunology. My ultimate career goals are to remain involved in direct patient care while continuing to pursue research and mentorship opportunities.
Hang: In the future, I would like to split my time seeing patients, doing research, and mentoring/teaching students! As a first-generation and low-income medical student, I am also particularly passionate about leveling the playing field for students that come from disadvantaged backgrounds. I hope to center my work in the future to best support this cause.