FARE Blog
February 18, 2021
FARE Leadership Spotlight - February 2021
Meet Dr. Kaye W. Cole, a member of FARE's Board of National Ambassadors, and learn a little more about her!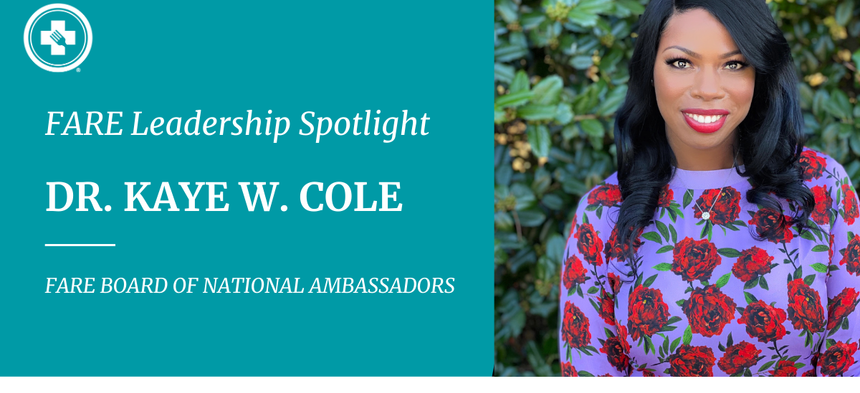 Kaye W. Cole, PhD, LMHC, NCC, BC-TMH, is the co-owner/senior consultant of The Cole Group, LLC - a consultation practice that addresses mental health and programming gaps in services for the athlete population. She also holds an adjunct lecturer appointment in the Department of Rehabilitation and Counselor Education at the University of Iowa. Dr. Cole is a practicing mental health therapist and a licensed school counselor. She is recognized by the National Football League Players Association (NFLPA) as a Preferred Mental Health Clinician for players and their families. Dr. Cole currently serves on a number of advisory and accountability boards. She has served on leadership councils for three NFL teams: the Green Bay Packers, Seattle Seahawks and Carolina Panthers.
What's your name, where are you from, and what is your food allergy connection?
My name is Kaye W. Cole, and I'm from South Carolina, but I live in North Carolina. My daughter, my husband and I all have food allergies. My daughter is my WHY!
What drew you to FARE? Why do you support FARE?
I discovered FARE shortly after my daughter was diagnosed with food allergies at nine months old. She'll be 12 soon (*insert ugly cry)! I recall feeling incredibly alone and afraid, and my husband and I literally had nowhere to turn until we discovered FARE. Discovering FARE was a game changer for us regarding education, advocacy, research and support, which is why I support FARE's mission and endeavors.
When you think of FARE, what first comes to mind?
Advocacy. Dedication. Equity. Hope.
What is one thing you would tell any food-allergic person or parent/guardian of a food-allergic person?
Locate the silver lining in your food allergy journey. Food allergies are not the "end." They're the beginning of the development of life skills in areas such as self-advocacy, collaboration, nutrition exploration, proactive planning and creativity.
What is the best food allergy advice you ever received?
Do not apologize about your food allergies.
What is your favorite hobby or pastime?
I love traveling, working out, spending time with my family, and learning random information.
What FARE initiatives do you believe will help directly impact access to care for Black, Indigenous and People of Color (BIPOC) communities, and what do you believe will drive this impact, not only for the food allergy community, but also for health care in general?
In the wake of COVID-19 and racial injustices, an enormous gap in health equity and access was exposed in areas such as housing, education, the criminal justice system, the economy and healthcare. In response to inequities and disparities, FARE provided space for extensive discussions – the "Voice of the Patient" Roundtable – with thought leaders from various diversity, equity, inclusion and access (DEIA) spaces to discuss patient advocacy in communities that lack critical resources and services. I believe the Blueprint for Access from our Roundtable discussions will make a significant impact on how the medical community addresses healthcare disparities in communities that face insurmountable challenges related to specialized care, affordability and overall trust. FARE has also created a fellowship program that provides mentorship and financial support for emerging Black healthcare leaders, with particular emphasis on food allergies and barriers to care and access. Representation matters, and I'm incredibly excited about the fellowship program as it will create a pathway for racial diversity in food allergy and asthma health care.