FARE Leadership Spotlight - April 2021
Melissa Rubel and her husband Matt are members of FARE's Board of National Ambassadors. Meet Melissa and learn a little more about their family!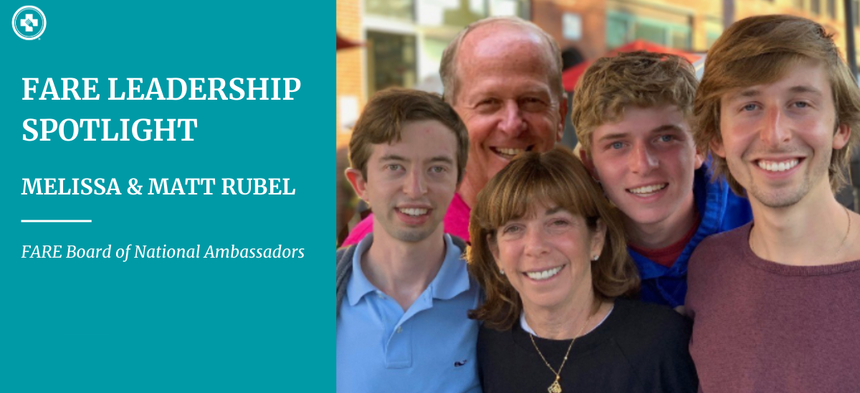 What's your name, where are you from, and what is your food allergy connection?
My name is Melissa Rubel and I am from Dallas, Texas. We have three kids with severe food allergies. Jeffrey (25) is allergic to peanuts and kiwi, Michael (24) is allergic to sesame seeds and Josh (17) is allergic to wheat, dairy, egg, tree nuts, peanuts, mango and other foods.
What drew you to FARE? Why do you support FARE?
When our children were first diagnosed with food allergies, our allergist Dr. Hugh Sampson recommended we look to FARE for support in understanding how to manage everyday life. We've continued to support FARE because there is no better advocate for those with food allergies, from their work in government advocacy to medical advances to family support and beyond.
When you think of FARE, what first comes to mind?
Insights, help and support. From the Emergency Action Plans, to education and travel forms, to advocacy in government, the resources FARE offers for the food-allergic family are incredible. Our son, Josh, has become active in the Teen Advisory Group and as an avid tennis player last year worked on a project to provide lists of snack food for teen athletes to eat on the road as they travel. Watching him lead, create a forum for others and share has been enlightening for us and great for Josh. One of the hardest times is traveling for sports and knowing where one can get food in between matches.
What is one thing you would tell any food-allergic person or parent/guardian of a food-allergic person?
Food allergies should never stop you from doing what you want. You need to be prepared, do your research and adjust, but never let someone or anything tell you "you can't."
What is the best food allergy advice you ever received?
The best food allergy travel advice I've received is to email and call in advance to any restaurant or hotel prior to your visit. Early preparation on the establishment's side is key. In our experience, working with the hotel or restaurant early enough allows them to devote a small part of the kitchen to be food allergy-safe for Josh.
What is your favorite hobby or pastime?
My favorite pastimes are spending time and traveling with our family, cooking and adjusting recipes so our entire family can eat the same thing, reading, paddle boarding and pickle ball.
As the world beings to open back up, do you have any tips or best practices for eating at local restaurants and traveling with food allergies?
Advance preparation is the best way to eat out. We call in advance to a restaurant, speak to a manager, and make sure they both understand the severity of the food allergy and can cook for us without cross-contact.