FARE Blog
August 30, 2023
August 2023 Leadership Spotlight: Siona Shah, Hometown Hero
High school junior Siona Shah recently organized and led a Hometown Heroes Walk for Food Allergy in her community. Hear what inspired her to raise food allergy awareness through this volunteer-driven event and learn how you can be a Hometown Hero, too!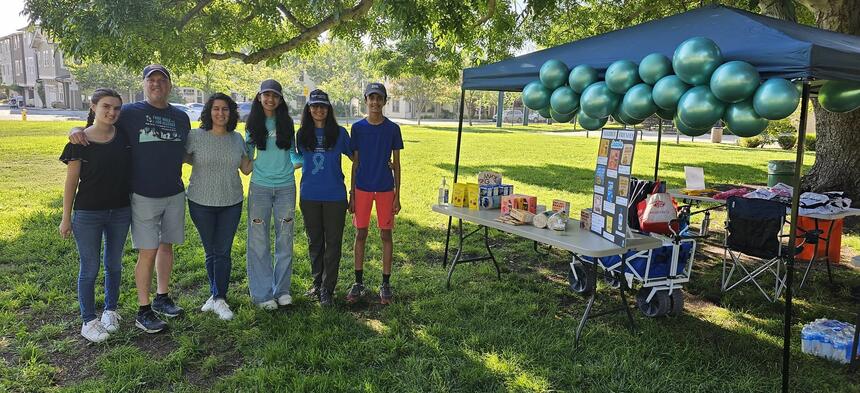 Walk organizer and leader Siona Shah (in teal) is joined by FAST-EB (Food Allergy Support Team of the East Bay) support group leader Lori Green (in grey) and members of their families at the Bay Area Hometown Heroes walk held Aug. 26, 2023. Siona developed the walk to raise awareness and funds, build community, and share her experiences with allergen oral immunotherapy (OIT). During the 10 months of event planning, Siona connected with Lori, who kindly provided giveaways and helped promote the walk.
Siona Shah is 15 years old and a junior in high school. She's been allergic to peanuts, sesame, and all tree nuts since age 3. Siona participated in FARE Food Allergy Walks in the past, and she recently organized and led a Hometown Heroes Walk for Food Allergy that drew 40 participants to Warm Spring Community Park in Fremont, CA. Here Siona shares the steps she took to create a Hometown Heroes Walk and encourages others in the food allergy community to become Hometown Heroes like her!
What inspired you to create a Hometown Heroes Walk?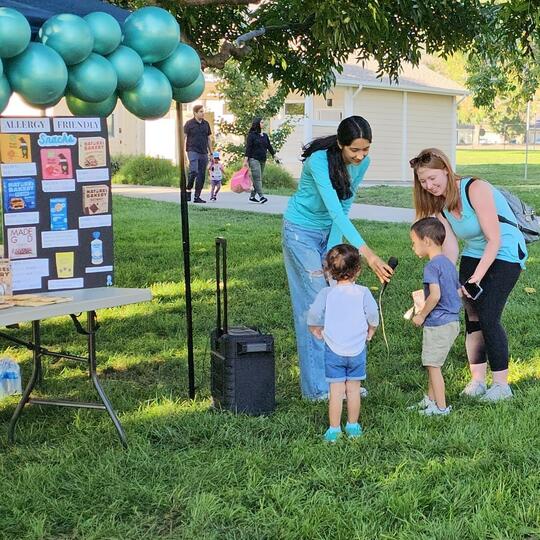 I wanted to restart the community driven awareness campaign and build on top of the momentum FARE already has. I believe we all can play a role in being force multipliers when it comes to allergy awareness. Every step towards educating and supporting our community is a step towards building a more inclusive and accessible future.
Additionally, through the walks I attended, I had the privilege of forming connections with individuals and families who had undergone similar experiences to mine. I aimed to facilitate change by providing this opportunity to others.
Lastly, my experience with OIT, or desensitization, has been life-changing, and I'm able to live a better quality of life. However, it's not as widely known or tried as it should be, and spreading awareness about this treatment and others like it could hopefully change someone else's life.
What steps did you take to make your Hometown Heroes Walk happen?
Here's an overview of the steps I took over the course of 10 months to bring this event to the food allergy community: 
Reached out to FARE, expressing my interest to get more involved and host my own Hometown Heroes Walk 
Communicated with Patrick Evans, FARE's Senior Manager of Individual Giving, about the possibilities of this event and the best course of action  
Established my outcome goals for the event and event details such as date, time, location, and agenda 
Applied for a permit to host the event in a public park. 
Created a website with event details, contact information, registration form, and donation page 
Created publicity materials to distribute physically and digitally 
Contacted local stores and businesses requesting in-kind or monetary donations 
Spread the word about the event through various platforms, including allergy support groups on Facebook, FARE's Instagram, friends and family, and other contacts 
Prepared and arranged posters, tables, allergy-friendly snacks, water, tents, t-shirts, pens, flyers, and raffles for the actual day   
Held the event, met with amazing families, walked 1 mile, delivered a speech, and raised money through a game of bingo
Lastly, reached out to all attendees and donors to thank them for their support
What steps did FARE take to support your Walk?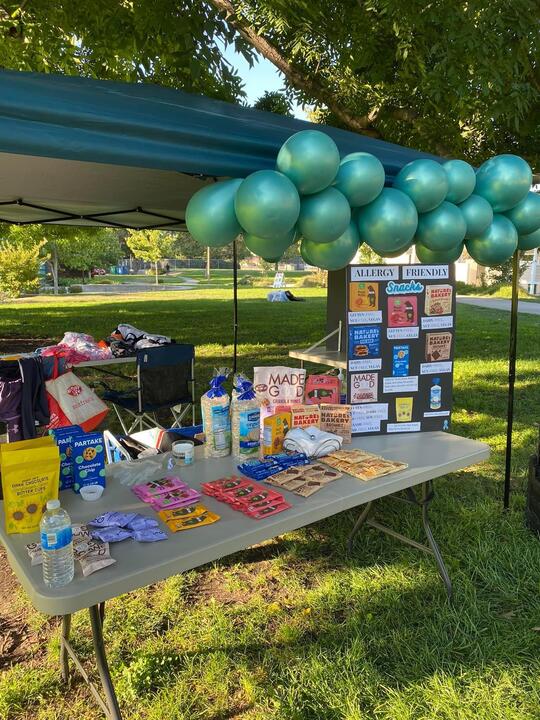 FARE's support was very helpful. Patrick offered guidance on how to approach possible sponsors and gave me the necessary tax-exemption materials for the donations, as well as FARE pens and info sheets to use as promotional materials for spreading the word about the walk. Most importantly, he guided me through the process of organizing the walk. This included helping me plan logistics and navigate challenges that arose during the planning stages.
FARE also provided a platform for fundraising and a goal for the money we raised to support finding long-term solutions to food allergies. In addition, FARE promoted the event through their Instagram, so we could reach a wider audience and attract more participants and donors. The assistance I received from Patrick and FARE contributed significantly to the success of my event and the impact I was able to make.
What is your advice to readers who may want to create their own Hometown Heroes event?
I strongly suggest hosting your own Hometown Heroes event. Don't let the fear of potential "failure" deter you. Mistakes are bound to happen, but they're stepping stones to learning and growing. I initially anticipated no more than ten participants, yet the turnout reached an unexpected 40 participants. Just go for it, and you'll find it a rewarding experience, being able to bring a community together for a meaningful cause. Connect with others in the food allergy community who can help support and guide you through your journey. And you can always reach out to me!