AAAAI 2023 Highlights: Research Presented by FARE Diversity Scholars
Five members of the inaugural cohort of FARE Diversity Scholars traveled to San Antonio, Texas for the annual meeting of the American Academy of Allergy, Asthma & Immunology (AAAAI). Diversity Scholars Sydney Butler, MPH, and Hang Nguyen presented their research, summarized here.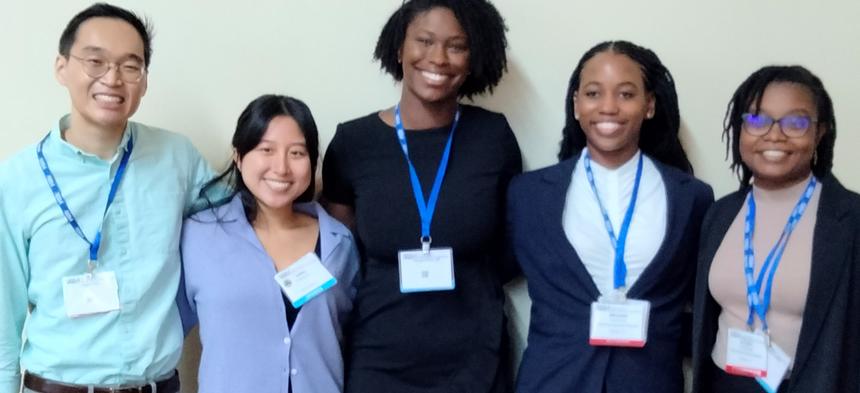 In partnership with National Medical Fellowships, the FARE Diversity Scholars program provides one or two years of mentorship and $10,000 in annual financial support to graduate-level students historically underrepresented in medicine to engage in food allergy research and community engagement. In the program's first year, six FARE Diversity Scholars have conducted research at outstanding food allergy centers within the FARE Clinical Network.
Five scholars from the program's inaugural 2022-2023 year attended the 2023 annual meeting of the American Academy of Allergy, Asthma & Immunology. Two of the scholars, Sydney Butler, MPH, and Hang Nguyen, presented their FARE-supported work at the conference.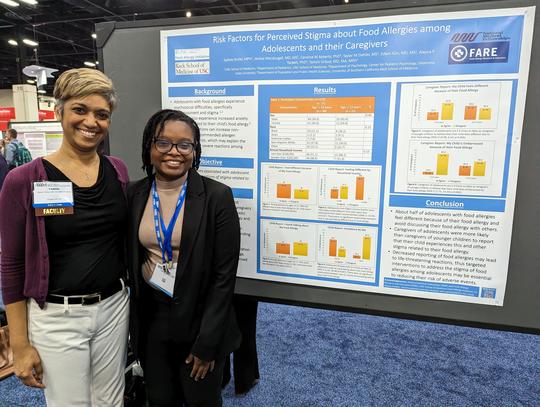 Sydney Butler, MPH, is in her fourth year of studies in the School of Medicine at University of North Carolina, Chapel Hill. Her research with Yamini Virkud, MD, MPH, focuses on adolescent experiences of stigma associated with food allergy. These negative perceptions can make teens less likely to follow doctor's recommendations for avoiding their allergens and may explain why food-allergic teens are at greater risk for severe reactions.
As part of a survey of food allergy patients and caregivers conducted at a Midwestern allergy clinic, 20 adolescents aged 13-17 completed questionnaires that captured their demographic information and beliefs about food allergy. Sixty percent of the adolescents felt different from their peers because of their food allergy, and nearly half (45 percent) reported not talking about their food allergy and keeping their food allergy a secret from their peers. Female gender and higher household income were significantly associated with perceived food allergy stigma. Girls were 4.3 times more likely than boys to report keeping their food allergies a secret. While small and preliminary, this study suggests that targeted interventions to address food allergy stigma among adolescents may be key to reducing their risk.
I entered medical school with an interest in allergic diseases, so when I came across the opportunity to apply to the FARE Diversity Scholars program, it really seemed like the perfect opportunity to get an in-depth look at what allergy and immunology research might look like. My participation in the FARE Diversity Scholars program has definitely increased my interest in the field of allergy and immunology, and I plan to continue clinical research in residency and beyond. – Sydney Butler, University of North Carolina School of Medicine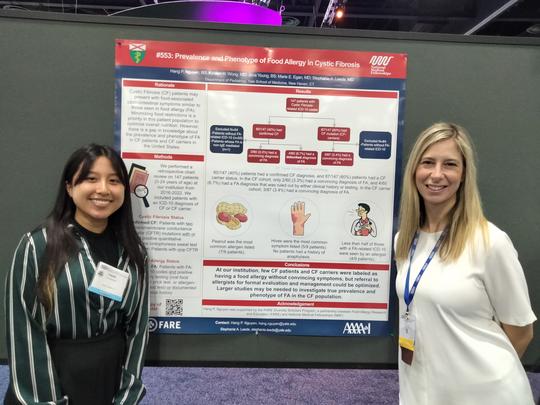 Second-year student Hang Nguyen attends the Yale School of Medicine. For her research project with Stephanie Leeds, MD, she reviewed medical records for 147 patients aged 0-24 years seen at Yale Medicine during 2016-2022. Forty percent of the patients had been diagnosed with cystic fibrosis (CF), a genetic disease in which lung function and digestion are impaired as a result of mutations in both copies of the Cystic Fibrosis Transmembrane conductance Regulator (CFTR) gene. The remaining 60 percent of the patients were CF carriers who have a loss-of-function mutation in one of their two CFTR genes.
Food allergy is not well studied among patients and carriers of CF. Digestive symptoms of CF can mimic those of food allergy, but it's important for CF patients to avoid unnecessary restrictions when choosing nutritious foods. This retrospective review of patient charts found that the prevalence of food allergy in CF patients and CF carriers might be lower than the estimated food allergy prevalence for the general pediatric population, which is roughly 8 percent. In this small study, only two of the 60 CF patients (3.3 percent) and three of the 87 CF carriers (3.4 percent) had a convincing diagnosis of FA; an additional four CF patients (6.7%) had a food allergy diagnosis that was ruled out by clinical history or testing. Within these three groups, peanut was the most commonly listed allergen (78 percent), and hives were the most commonly listed symptom (56 percent). Larger studies would be needed to confirm the true prevalence and phenotype of food allergy in the CF population.
The Diversity Scholars program aims to increase representation of historically underrepresented groups in the field of allergy and immunology. FARE is also very generous with providing scholars with support to attend conferences, making these academic and professional opportunities more accessible to students historically underrepresented in medicine like myself. – Hang Nguyen, Yale School of Medicine