Taekwondo Allergy Story
By Teen Advisory Group (TAG) member Jake DeGuzman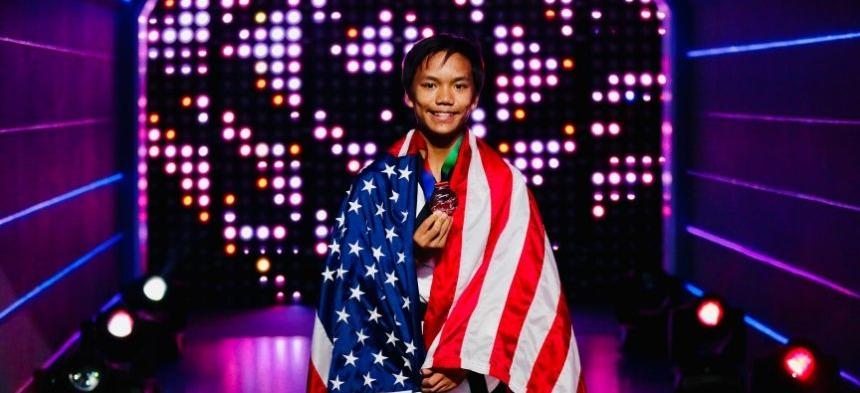 Hello fellow martial artists, Jake here! I am a teenager with multiple food allergies. I started taekwondo 10 years ago, and currently, I am a Team USA national team member competing in recognized and freestyle Poomsae discipline. Food allergies present many challenges when you are an athlete. I have to pay extra attention to my nutrition and keep all my medication updated and handy with the constant traveling involved. It takes practice and vigilance to manage this disease, and sometimes it can be overwhelming trying to stay on top of everything.
However, I do not let food allergies limit or stop me from pursuing my love for the sport.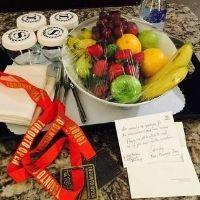 Over the years of training and competitions, there were several tournaments where I had serious food allergic reactions mostly from hidden allergens. Other times, I had issues securing safe food while away from home. Then there are team dinners, lunches, celebrations or trips, or just any time I have to eat and travel as an athlete. How do I make sure I can eat safely, and compete on top of my game? Here's what happened the last time I had a serious food allergic reaction a few days before an international event.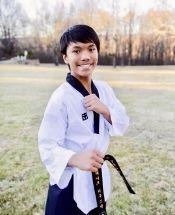 It was Friday night. I just finished my usual three-hour training and I was famished. I tried the new hot dog place in town. My dad and I went through all the ingredients of my order with the restaurant staff.  They double checked everything and assured us it was safe. I wolfed down the entire thing. After a few minutes, I felt something wasn't right. Another 5 minutes I had hives down my back and I was nauseated. I used my first EpiPen and another 10 minutes later I was in an ambulance. I was going into anaphylaxis and all I could think about was my upcoming competition. I didn't want to let my coaches and teammates down. My blood pressure dropped and I got another dose of epinephrine, some IV fluids, and steroids. The nurse had called for extra help and the room was suddenly filled with doctors and nurses hooking me up to machines. I felt helpless and scared. A couple of hours later, the reaction was finally under control. I stayed at the hospital overnight for observation.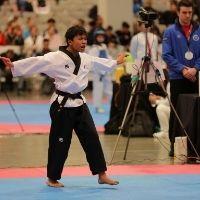 At this point, my parents had contacted my coaches and got guidance on the next steps. The tournament was a few days away. Can I still go? Athletes could be subjected to mandatory drug tests and the substances that helped me with my anaphylaxis were prohibited drugs. I could, therefore, be in violation and fail this drug test. As an athlete representing my country, I have to follow anti-doping regulations. A huge amount of paperwork and documentation was done with the help of doctors and I had to wait for their decision to see I was still eligible to compete.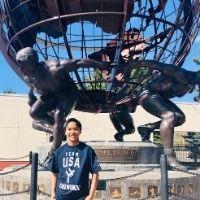 The worst part of the whole ordeal was the stress on my mind and body. I had to continue taking medication and I was extremely fatigued. I had trained so hard for months, made so many sacrifices balancing work and school, everything was going so well until I ate those fries. I could get disqualified! I was feeling defeated, just like in the past, I had to deal with the aftermath of a food allergic reaction. And once again, I told myself this was not the time to fold and give up. With my coaches' encouragement, I got on the plane to meet my team. Luckily I was cleared to compete. The next several days were hard. I tried to perform to the best of my abilities but inside I was mentally drained, felt weak and lost a few pounds. My coaches and teammates were behind me the whole time and that really made me persevere. 
Upon returning home, I found out from the owner of the restaurant that the fries I ate used wheat as a coating.
I think it is very important to speak up and let any restaurant or food product company be aware of food allergic reactions. Food allergy training and strict labeling are necessary. It can help prevent another incident, and it can save someone's life. 
Sharing this story with my team and friends helps bring awareness too. Most people don't realize how serious a food allergic reaction can be. It took a few weeks before I regained my strength and the confidence to manage my food allergies again. After the psychological impact of surviving an anaphylactic reaction, I am weary of trying out new restaurants. My allergist helped me come up with extra steps to minimize risks, and we continue to make adjustments to my action plan when anaphylaxis strikes.