Shelter-in-Place School Emergency
Parents have expressed concern that such emergency plans may not take into account the special needs of children with medical conditions, including food allergy.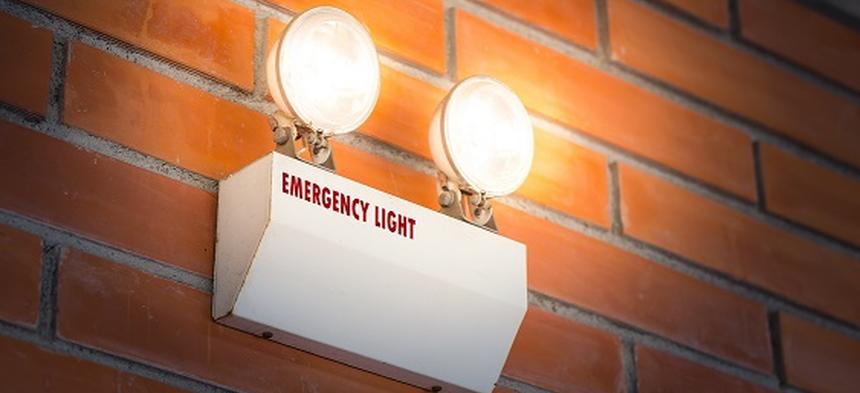 School districts and schools across the country, along with the federal government1, are developing emergency plans in the event of an occurrence that would shelter children and staff in place rather than evacuating them. Some schools may refer to this as a "lockdown" or "shelter-in-place" where no one is permitted to leave the premises for a period of time (one to three days, perhaps).
Such emergencies may result from a disaster involving hazardous materials outside of the school building(s), a threat of terrorism, or an act of God (earthquake, tornado, hurricane). Clearly, the safety of all children during a lockdown is paramount; this document, however, pertains to an increasing medical concern among our nation's children: life-threatening food allergies.
Parents have expressed concern that such emergency plans may not take into account the special needs of children with medical conditions, including food allergy. Of particular concern is the risk posed to children with food allergies when the emergency food supply could be harmful to them, for example, peanut butter sandwiches for children with peanut allergy. Food Allergy Research & Education (FARE) offers the following suggestions to those planning for emergency situations to ensure the safety of all food-allergic children during the event of a lockdown situation. Several of these suggestions would be applicable to students with other medical conditions that require access to specific foods and medications.
For further assistance or information, please contact:
American Academy of Allergy, Asthma & Immunology (AAAAI) |
611 East Wells Street |
Milwaukee, WI 53202 |
Tel: (414) 272-6071 / E-mail: info@aaaai.org
The American College of Allergy, Asthma & Immunology |
85 W. Algonquin Road, Suite 550 |
Arlington Heights, IL 60005-4425 |
Tel: (800) 842-7777 / E-mail: mail@acaai.org
National Association of School Nurses
Western Office:
1416 Park Street, Suite A |
Castle Rock, CO 80109 |
Tel: (866) 627-6767 / E-mail: nasn@nasn.org
Eastern Office:
P.O. Box 1300
Scarborough, ME 04070-1300 |
Tel: (877) 627-6476 / E-mail: nasn@nasn.org
National Association of Elementary School Principals |
1615 Duke Street |
Alexandria, VA 22314 |
Tel: (800) 386-2377 / E-mail: naesp@naesp.org
National Association of Secondary School Principals |
1904 Association Drive |
Reston, VA 20191-1537 |
Tel: (703) 860-0200
National School Boards Association |
1680 Duke Street |
Alexandria, VA 22314 |
Tel: (703) 838-6722 / E-mail: info@nsba.org
American School Food Service Association |
700 South Washington Street, Suite 300 |
Alexandria, VA 22314 |
Tel: (703) 739-3900 / E-mail: servicecenter@afsaa.org
Food
Schools should work with the parents of children with food allergy (and parents of children with other medical conditions) to ensure an adequate supply of safe, non-perishable foods for that child, and an ample supply of medications needed in case of an allergic or other physiological reaction.

Every effort should be made to have all children wash their hands with soap and water or use commercial wipes (not antibacterial gels alone) before and after each meal/snack.
Parents of students with food allergies should provide a three-day supply of safe food from home in case the food at school is not safe or supplies of certain safe food run low during the emergency.
Schools should educate the staff about food allergies and make the necessary arrangements to ensure that each student have an adequate supply of safe food, as well as, action plans to address any physiological reactions. School emergency planners should consider placing stickers on the food containers identifying the presence of particular allergens, and schools should request that the parents of children with food allergies help assure that the allergen stickers are appropriate and visible.
Medications
An individual student action plan that includes all medications provided to the school by the student's parents/guardians should include written instructions, signed by a physician, indicating how and when the medicine is to be administered during a reaction.

The school's emergency plans for addressing medical emergencies need to consider where medication is to be kept, how medical treatment can quickly be given, and by whom, in case a food-allergy induced reaction or other medical emergency occurs. Schools may wish to hold scheduled documented drills to ensure the safe care of students experiencing a medical emergency.
Many children with food allergy also have asthma. Battery-powered nebulizers may be needed to treat asthma.
Proper disposal methods of an exposed needle, such as an EpiPen® auto-injector, should follow current OSHA standards.
Where allowed by state laws, rules and regulations and not in violation of union contracts, an emergency bag filled with the student's individual action care plan, medications, and written instructions should be created for students with special medical needs. The bag should be assembled in collaboration with the parent, student, private health care provider, school personnel and the school nurse. This bag would need to travel with the child at school and to school-related activities.
---
1. The National Advisory Committee on Children and Terrorism (NACCT) has been meeting since March 2003 to develop recommendations to HHS Secretary Thompson about ways to assure that children are reflected in preparedness, response and recovery plans related to terrorism. Moreover, the U.S. Department of Education has released a new guide, Practical Information on Crisis Planning: A Guide for Schools and Communities, to help schools plan for any emergency, including natural disasters, violent incidents and terrorist acts.