Peanut Early Introduction Guidelines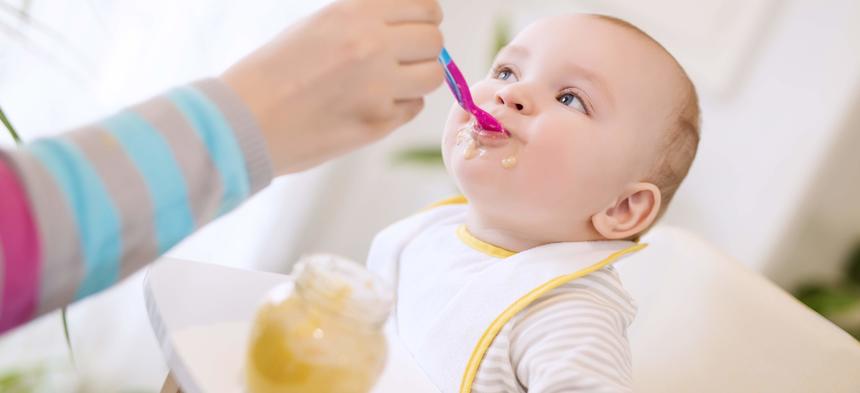 Following publication of the LEAP study in 2015, the American Academy of Pediatrics endorsed early peanut introduction in infants at high risk for peanut allergy. In 2017, the National Institute of Allergy and Infectious Diseases (NIAID), part of the National Institutes of Health, published new guidelines for introducing peanut foods to infants. These recommendations vary depending on a baby's risk of developing peanut allergy, which can be evaluated by the baby's primary care physician or by an allergist/immunologist. Here's how your family can put these recommendations into practice:
Evaluate Your Baby's Peanut Allergy Risk
Your baby's physician can help you evaluate baby's risk factors for peanut allergy. Research shows that the benefits of introducing peanut early are greatest for babies at high risk for peanut allergy, but these high-risk babies also benefit from careful evaluation. Strongly consider peanut allergy testing if your baby is at high risk. A blood test or skin prick test can show whether your baby is sensitized to peanut, that is, whether your baby makes allergy-related IgE antibodies that bind to peanut proteins. However, not all babies who are sensitized to peanut will have an allergic reaction if they eat peanut foods. If a blood tests or skin prick test indicates that your baby is allergic to peanut, work with your doctor to confirm the diagnosis and access specialist care. Babies who are allergic to peanut should not be given peanut foods.
Peanut Allergy Risk Assessment
Introduce Age-Appropriate Peanut Foods
Unless your child has been diagnosed with peanut allergy, don't delay giving your child peanut foods, but make sure the peanut foods you provide are age-appropriate. Whole peanuts and peanut butter are choking hazards for babies. Download this reference guide from NIAID for four baby-safe peanut food options that can be eaten starting aged 4-6 months. Each provides a 2-gram servings of peanut protein. Babies at high risk for peanut allergy should eat at least several of these servings per week. 
Download NIAID peanut introduction recipes
Introduce some other foods prior to introducing peanut to make sure your baby is ready to eat solid foods. Continue feeding your baby peanut foods, even if baby doesn't favor them at first. Many babies try new foods multiple times before developing a taste for them. Once peanut foods have been introduced and are tolerated, parents should make age-appropriate peanut foods part of baby's regular diet to reduce the likelihood of developing peanut allergy.