Breakfast Kabobs
Recipe by JUST Egg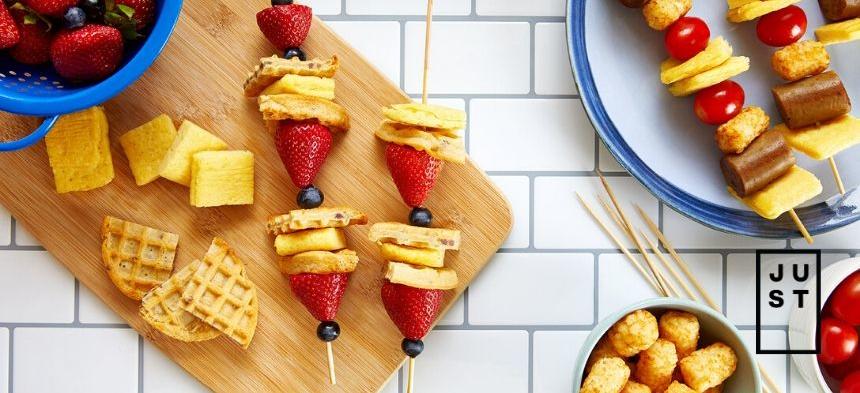 Serves 6-8 kabobs
Ingredients
Savory
10-12 tater tots
6-8 oz breakfast sausage
10-12 cherry tomatoes
Ketchup
Sweet
3-4 waffles, pancakes or French toast (store-bought or homemade)
1 heaping cup berries
1 large banana
Maple syrup
Instructions
Prep kabob ingredients. Set each ingredient aside in prep bowls or on a tray to make a kabob-assembly station.

Savory: Bake the tater tots in an oven or toaster oven, according to package directions. Cook the breakfast sausage (we used Field Roast) in a skillet until properly heated through and nicely browned, then cut into bite-sized pieces. Optional: roast the cherry tomatoes in a skillet or 425°F oven.
Sweet: Whether using store-bought or homemade, cook up the waffles, pancakes or French toast. Cut into roughly 2-inch pieces or cubes. If using pancakes, you can make them mini-sized or make them regular-size and cut into pieces. Wash and trim the berries. Slice the banana into bite-sized sections.

Heat the JUST Egg Folded. Heat the JUST Egg Folded in a toaster, skillet, oven or microwave, according to the box directions.
Assemble the kabobs. Stack the ingredients in desired pattern on wooden skewers. Dip the savory kabobs in ketchup or dash with hot sauce. Drizzle the sweet kabobs with maple syrup. Enjoy immediately!
While FARE does not endorse products, we support and appreciate enterprises and organizations that are committed to serving the food allergy community. FARE's ability to make an impact is strengthened by partnering with like-minded companies to help raise food allergy awareness and provide more options to all those living with food allergy.