Ten Food-Free Ways to Celebrate Mom at Home
As we navigate the coronavirus pandemic, Mother's Day may look different this year, but Mom deserves a safe, inclusive celebration more than ever.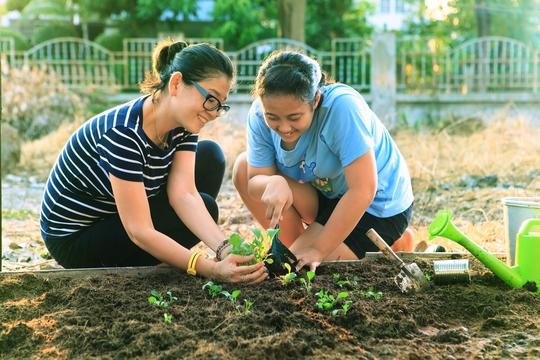 Whatever your Mother's Day traditions may be, this year will likely look different. Get-togethers and visits to a favorite brunch spot may be on hold as we continue to navigate the challenges of COVID-19. But now more than ever, Mom deserves a celebration.
For many of us, preparing allergy-friendly meals is a big part of holidays like Mother's Day, but there are many ways to show Mom your appreciation that don't involve food at all. Below are just some of our favorites. Some will work best if you're living with your Mom now, while others are compatible with social distancing, whether you live near Mom or far away. But all of them are sure to bring Mom joy.
1. Sidewalk Chalk Mother's Day Cards
Who doesn't love an afternoon of sidewalk chalking! As we're spending our days at home and the spring weather has arrived, now is the perfect time to color your world. Turn your driveway or walkways into a giant Mother's Day card that Mom will love to share across social media.
2. Home Spa Day
Put Mom in relaxation mode with a gift that's always at the top of her wish list. Plenty of retail options are offering safe shipping with discounted prices (or maybe your town has a shop that is doing contactless pick up so that you can support local business!). Alternatively, get creative and make her a candle she can use for a calming bath, or a face scrub and mask she can use before bed to cap off the special day.
3. Family Bike Ride
Exercise and fresh air (practiced safely) are more important than ever. After you have pampered Mom with a morning of gifts, take her out for an afternoon bike ride with the people she loves most. Enjoy riding through your neighborhood or pedaling farther afield.
4. Crafting a Present
A popular activity for any holiday, an afternoon full of arts and crafts allows you to flex your creative muscles while showing Mom what she means to you. Write her a poem or song, draw a scene from a favorite family trip, or make her a book mark – it's often the gifts we take the time to make ourselves that mean the most.
5. Plant a Garden
As we cook from home more often these days, why not grow your own backyard produce? If gardening supplies aren't readily available, deliver a plant that Mom can enjoy as the centerpiece of her table and then nurture outside as the weather warms.
6. Stretch Together
After a day filled with crafts, gifts and outdoor fun, wind things down with some late afternoon yoga. If it's a nice day outside, breathe your way through a sunset session in your front or backyard. And yoga is another way to keep everyone active!
7. Read Her a Story 
Having Mom read us stories is a treasured childhood memory. So let's return the favor. After you've tired Mom out with a day's worth of love, cap things off with some light reading. Does she have a favorite tale or storybook from her childhood? Make things extra special and read her your favorite story she used to share with you!
8. Living Room Theater
Put all those streaming services to use! Bring out the comfy blankets, dim the lights, check out what new movies are available – lots of services are offering movies that would typically be in theaters right now to be enjoyed from your living room. If you can't share the same space, you can host a virtual movie night and make Mom the guest of honor.
9. Record a Thank-You Video
It might seem better to say thank you in person, but getting to replay your words in the future will lift Mom's spirits when she needs it most. Weeks, months or even a year from now, hearing and seeing your gratitude will always bring a smile to her face.
10. Do Her Least Favorite Chore
It can't be all fun and games, right? If you want to score some serious brownie points, pick one of Mom's least-loved tasks to do for her. Clean a bathroom, take out the garbage or wash the car…without having to be asked! These may not seem like fun, but making Mom's life just a bit easier is something she is sure to appreciate.