Play It Safe: Four Ways to Take Extra Precautions During COVID-19
In New York, the epicenter of the coronavirus pandemic, avoiding severe reactions has never been more important. Sarah Ackerman of girlbehindthehive.com shares her tips for staying safe.
Guest post by Sarah Ackerman, @GirlBehindHive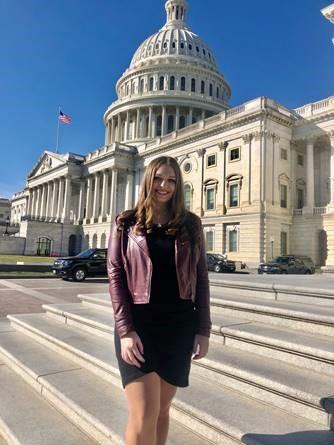 My name is Sarah. I'm twenty-four years old and live with a laundry list of food allergies. I've had anaphylactic food allergies throughout my life, and when I was growing up there were no resources to answer my "growing up with allergies" questions. I am passionate about our shared community of more than 32 million people who live with food allergies, and I hope to be a trusted source who can help the many who live just like me.
We're all talking about one thing these days: COVID-19. To put into context just how much our world has changed, the last time I left my home was to attend FARE'S Washington, D.C. fly-in, well over a month ago.
Living in New York, I have adjusted to the times. I attend virtual classes, try to walk almost every day, celebrate virtual holidays and birthdays with family and friends, and give my dogs more attention than they probably want.
More than ever, my food allergies impact how I live. With society seemingly changing by the minute, now is the time to assess how members of the food allergy community can take extra steps to stay safe amid this pandemic. I've compiled a few things to think about while dealing with food allergies and some personal thoughts about how to make adjustments amid this "new normal."
1. Weigh the Risks of a Trip to the ER
Emergency rooms aren't fun for anyone, especially those with food allergies. I have spent a lot of time thinking about what would happen if I were to have an anaphylactic reaction at this time. Hospitals have been turned into COVID-19 buildings, and the thought of even entering an emergency room is met with fear. While the virus is extremely contagious, having asthma makes me even more concerned for the potential "what ifs" of COVID-19. For this reason, I have been extremely careful about the products I consume and haven't ventured outside my comfort zone. Additionally, as it pertains to my asthma, I've tried to limit my exposure outdoors or to anything that may trigger respiratory fatigue.
2. Do Your Research
I'm someone who always calls a given food company to "double check," but lately I have spent more hours on the phone asking different manufacturing questions than I can count. Through this, I have made a not-so-shocking discovery: I'm not the only one! Call center workers at manufacturing plants have mentioned the influx of calls regarding labeling and manufacturing practices. Being extra vigilant during this time can't hurt, so it's an extra step I've been taking.
3. If You Have to Think About It, Don't Eat It
I have also avoided trying any new foods if possible, as I am an extremely reactive person. I'm very lucky to be home with my two favorite personal chefs, or mom and dad, as I like to refer to them. They fully understand my hesitance to try certain foods I haven't eaten in a while, or to cut out a food as we investigate my post-dinner hives. Right now, my family is willing to go the extra mile to exclude from meals any foods beyond my comfort level. At this time, it feels safer to avoid any possible issue than to eat a food that raises personal suspicion or extra stress.
4. Safely Access Home Grocery Deliveries
Being in the hotspot of New York, I have been avoiding grocery stores for a while now. Luckily, we have many companies and services that are able to deliver to our door. When we receive groceries, we wipe down all the packaging, not just for fear of the virus but to make sure that no potential allergen residue enters the house. Ordering from services has been great, but tough when there is only one brand you're comfortable eating. I'm certainly not hoarding food, but allergy families tend to stock up on safe and go-to foods anyway. If I find that a safe brand of gluten free bread is in stock, I might buy an extra loaf. This way, I am not stressed in between grocery deliveries worried that they have run out. Pro tip: when ordering from a grocery delivery service, make sure to check the box marked "do not substitute this item." That way, if they do not have the safe brand, you do not need to receive or pay for something you are not able to eat. 
I hope these recommendations will help you stay healthy and safe!