FARE Blog
December 12, 2022
Only Half of Adult Food Allergy Patients Surveyed Report Being Prescribed Epinephrine Auto-Injectors
At the 2022 American College of Allergy, Asthma and Immunology annual meeting, FARE and the Food Allergy Collaborative focus attention on barriers to epinephrine access.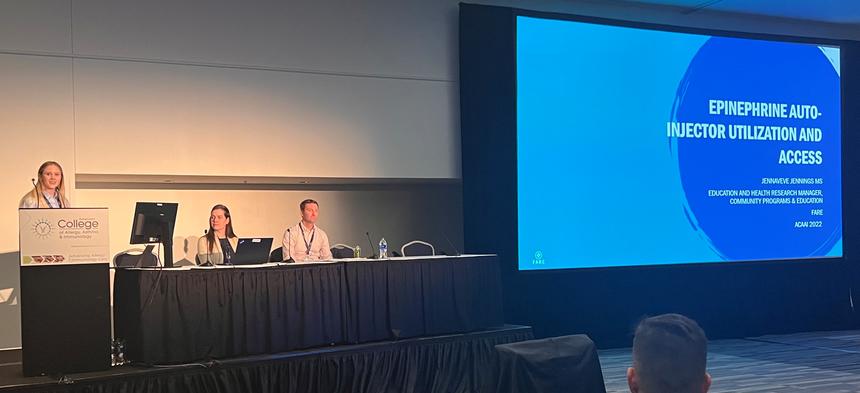 At this year's annual meeting of the American College of Allergy, Asthma and Immunology (ACAAI) in Louisville, Ky., FARE Health & Education Research Manager Jennaveve (Yost) Jennings, M.S., presented findings that detailed low rates of epinephrine ownership among adult food allergy patients with a history of severe food allergy reaction. 
Epinephrine is the first-line treatment for severe and potentially life-threatening allergic reactions. This safe and highly effective medication can reverse severe allergy symptoms. Despite the key role epinephrine plays in food allergy management, the survey results that Jennings reported at ACAAI 2022 indicate that most adults with food allergies do not have epinephrine readily available to treat a severe reaction: 
Only 52% of the adult food allergy patients said yes when asked if they had ever been prescribed an epinephrine auto-injector. 
Patients on public health insurance were significantly less likely to have ever been prescribed epinephrine compared to those with private health insurance. 
Other factors associated with not having a prescription included older age, lower income, food insecurity, and not reporting a history of anaphylaxis. 
Of the respondents who received a prescription, only 55% always had immediate access to epinephrine, that is, access within five minutes. 
Jennings points out that, "receiving a prescription doesn't necessarily mean patients have access to epinephrine auto-injectors." In fact, 2% reported not filling their prescription and 17% reported that their prescription is now expired.  
These results came from a broader survey conducted in partnership with the Food Allergy Collaborative, an alliance of advocacy organizations and those living with food allergies that is advancing effective, patient-centered initiatives in food allergy awareness, research, advocacy, and care. This survey supplements a Voice of the Patient report on food allergy resulting from a 2021 Externally-Led Patient-Focused Drug Development meeting with the U.S. Food and Drug Administration to document the daily impact of living with food allergy.  
The survey was developed collaboratively by a team of patient advocacy groups, physicians, patients, caregivers, and survey methodologists and distributed in May 2022 to a nationally representative sample of 1,006 adult food allergy patients in the U. S. To be included in the study, participants self-reported a food allergy and also reported a history of at least one allergic reaction that was triggered by a food and involved two or more body systems. Such multi-system allergic reactions can be severe and can potentially become life-threatening. 
"Many adult patients aren't emerging from their doctor's office with a clear understanding of how important it is to have and carry this medication." – Jenna (Yost) Jennings, FARE Health & Education Research Manager 
Given that nearly all respondents reported having been diagnosed with food allergy and a large majority had seen a health care professional for food allergy in the past year, researchers dug further to uncover why so many of these patients didn't have access to epinephrine. Patients who hadn't received a prescription or whose prescription had expired were asked why they didn't have epinephrine on hand. 
"We expected that cost or issues with insurance would rise to the top, because the average cost of a two-pack of epinephrine auto-injector is almost $500," explains Erin Malawer, senior author of the study, CEO of AllergyStrong and active member of the Food Allergy Collaborative. "However, while we did find cost to be a barrier to epinephrine access for many, the most frequently offered reasons were related to lack of recommendation by their doctor, education and misconceptions around epinephrine." 
Patients' most frequently reported reason for not having epinephrine was my doctor did not indicate it was really needed, and the second most frequently reported reason was I don't believe I need it. "Both of these statements suggest that there may be gaps in patient education – and possibly healthcare provider education as well – around the importance of epinephrine for those living with food allergies," notes Jennings.  
Because conversations between patient and provider may be the key to understanding these education gaps, researchers asked the patients if their doctors had inquired about epinephrine at their last appointment. Of the patients who had seen an allergist within the last year, only 29% reported being asked during their last appointment if they had epinephrine. Patients on Medicaid were significantly less likely to report being asked about their epinephrine status than patients covered by private insurance through an employer or by Medicare. Only one in seven, or 14%, indicated that their allergist had asked about whether they had epinephrine during their most recent visit. 
Additional research shows that fears around the safety of using epinephrine auto-injectors are very prevalent and represent a barrier to access and utilization. Therefore, innovations in epinephrine delivery, such as needle-free products, are needed to provide patients with options that may reduce fear and increase adherence. "Patients don't feel safe using the medication that is meant to save their lives, and we need to work with patients to directly address and dismantle these fears," notes Jennings.
Cost and insurance coverage are also important factors influencing whether patients acquire epinephrine auto-injectors, so lower prices and longer shelf life for epinephrine would further help to improve access. Finally, gaps in education about epinephrine must be addressed. 
"The underlying theme of our data is that, whether or not their allergist is discussing epinephrine at every appointment, many adult patients aren't emerging from their doctor's office with a clear understanding of how important it is to have and carry this medication." Jennings concluded. "More research is needed to shed light on how patients interpret the information they receive from providers, and to help providers communicate effectively with patients of all backgrounds to ensure that patients are internalizing the importance of having and carrying epinephrine."