FARE Blog
October 24, 2023
October 2023 Leadership Spotlight: Melissa Engel, FARE's Lead Programming Developer of Teen Outreach
Meet Teen Talk and Child Chat facilitator Melissa Engel and learn a little more about her!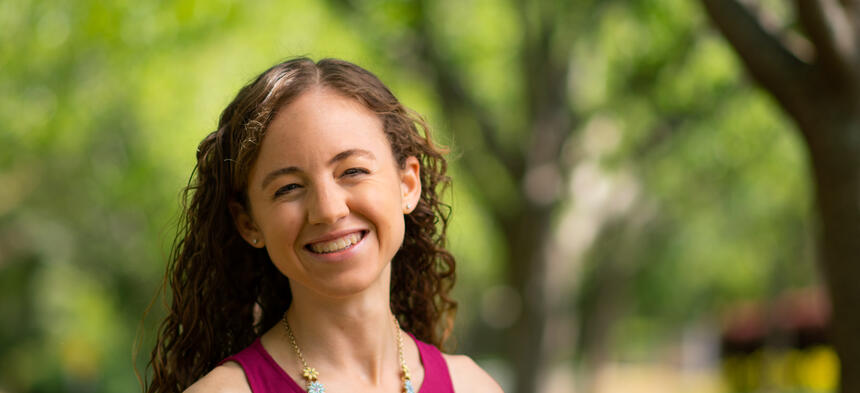 Melissa Engel is a doctoral candidate in the Clinical Psychology PhD program at Emory University and is currently completing her predoctoral psychology internship at Texas Children's Hospital/Baylor College of Medicine. Her research and clinical interests broadly focus on risk and resilience in youth with chronic medical conditions.
Melissa is especially interested in identifying and addressing the unique psychosocial challenges faced by adolescents with food allergies and collaborates on several projects with the Center for Food Allergy & Asthma Research at Northwestern University. She has severe food allergies herself and has been involved with the food allergy community for as long as she can remember.
Melissa serves as FARE's Lead Programming Developer of Teen Outreach, in which role which she developed and leads the monthly Teen Talk and Child Chat virtual programs. At the FARE 2023 Food Allergy Summit, held in Orlando, FL, earlier this month, FARE celebrated Melissa's contributions, honoring her with the Denise Bunning Community Leadership Award.
What's your name, where are you from, and what is your food allergy connection?
My name is Melissa Engel. I am from Chicago, spent several years in Atlanta, and recently moved to Houston to complete my PhD. I have many food allergy connections! My closest connection is personal, as I have lived with severe food allergies since infancy. Additionally, I have several professional connections to food allergy. Much of my graduate research is focused on psychosocial challenges among youth with food allergy, and I am gaining clinical experience working with patients with food allergy. My favorite food allergy connection, of course, is serving as FARE's Lead Programming Developer of Teen Outreach! I absolutely love leading monthly virtual programs, as well as a weekend full of interactive teen programs at the FARE Summit each year.
What drew you to FARE? How has your involvement with FARE evolved over time?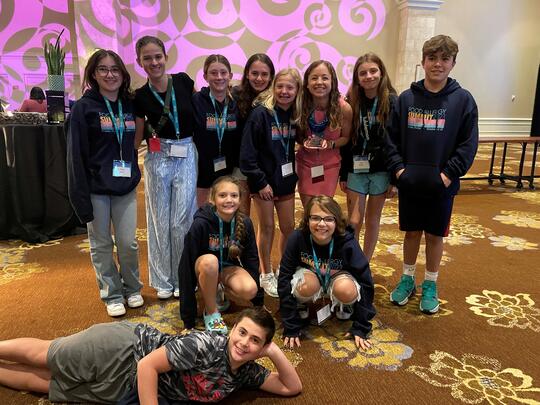 I am very fortunate to have parents who involved me in FARE before it was even FARE! Some of my favorite childhood memories include attending the Walks for Food Allergy, Teen Summits, and national conferences. I even got to meet then-Senator Barack Obama while lobbying for food allergy legislation at the Kids' Congress on Capitol Hill many years ago. Over time, my involvement with FARE has transformed from partaking in existing programs to developing and leading programs for children and teens with food allergy. For example, at the FARE Summit earlier this month, I spearheaded a FARE Feud gameshow, created an anaphylaxis fashion show, and led role-playing sessions of awkward social situations commonly faced by teens with food allergies. Facilitating connection and support among youth with food allergy could not make me happier!
What is one thing you would tell any food-allergic person or parent/guardian of a food-allergic person?
I would tell any food-allergic person to get involved with FARE! Navigating life with food allergy can be challenging, and it can be very empowering to connect with others and share experiences. There is not one "right" way to successfully manage food allergies, but there are several adaptive strategies. By connecting with others in the food allergy community, you can gain exposure to a wide variety of tips and tricks and choose the tools that work best for your unique situation.
What is the best food allergy advice you ever received?
The best food allergy advice I have ever received is to not let food allergies define me. Rather than trying to figure out how to safely navigate life with food allergies, I strive to first focus on what I want to do and then plan to manage my food allergies while doing so. For example, when choosing a college, I aimed to first decide what university I would like to attend and then go through the (often difficult, but always worth it!) process of figuring out how to best navigate my food allergies. Now that I am in the food allergy world professionally, I strive to help young people adapt a mindset in which their food allergies do not define them. It can be so easy to get caught up in all the restaurants that can't accommodate, people who don't "get it," and other hurdles of living with food allergies, especially as so much of society is centered around food. However, it is so much more helpful to devote that energy to focusing on what we CAN do as well-rounded individuals who also happen to live with food allergies.
Who can participate in Teen Talks or Child Chats? How many young people participate each month, and where are they located?
Teen Talks (ages 11-22) and Child Chats (ages 8-10) are open to all youth with food allergy. Each program is held monthly, one hour in length, and freely available! Child Chats are capped at 20 children each month. Teen Talks are much larger, with attendance ranging from 40 to more than 90 teens each month! This past weekend was our annual Teen Talk Halloween Party, with 56 teens present from all across the country. Due to the large size of Teen Talks, we spend some time in breakout rooms facilitated by members of FARE's Teen Advisory Group. Both programs are held virtually on Zoom. As attendance may suggest, these programs are SO much fun!
What is your favorite hobby or pastime?
I am a very active person and enjoy starting my days with Peloton classes! Cycling, strength, bootcamp, yoga—I love it all! The combination of vigorous movement, motivational instructors, and upbeat music brings such positive energy to my early mornings.
To learn more about Teen Talks, click here. To contact Melissa about Child Chats, click here.