New Publication Supports Shared Discussions Between Doctors and Patients Around Oral Immunotherapy
As food allergy patients consider whether to pursue an increasingly available treatment, a November 2019 summit spearheaded by FARE yields a consensus report to help physicians communicate with patients and support informed decisions.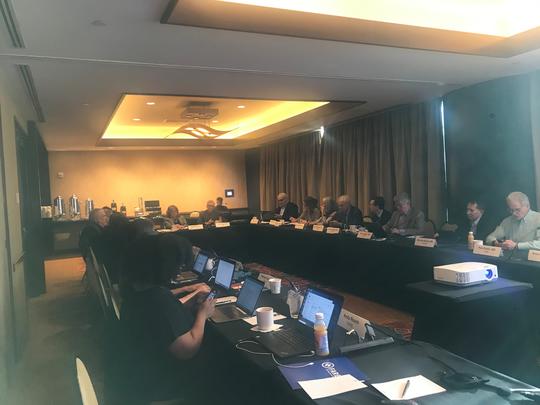 Did you know that for many of the 32 million Americans living with food allergy, oral immunotherapy (OIT) is a promising treatment option that can potentially improve their quality of life? If your first thought upon reading this question is, "What is OIT?" you're in good company. In a recent FARE-funded national survey of food allergy patients and caregivers, more than 7 in 10 respondents were unfamiliar or only slightly familiar with OIT.
Greater communication between food allergy patients and their doctors can help expand patient awareness of OIT and inform patient decisions about this treatment option. A paper recently published by the Journal of Allergy and Clinical Immunology is an important step toward this goal. Written by an expert panel that was convened by FARE in November 2019, "Consensus Report from the Food Allergy Research and Education (FARE) 2019 Oral Immunotherapy for Food Allergy Summit" is designed to help doctors and patients share discussions about OIT. You can read the paper here.
In recent years, OIT has been offered in a growing number of private practices as well as through clinical trials. Patients taking OIT eat doses of their allergen to retrain their immune system, typically starting with very small amounts and increasing the dose under medical supervision to increase the threshold amount of allergen they can tolerate without reacting. OIT can eventually allow many patients to eat a significant amount of their allergen without reacting, but it is not a cure: the benefits of OIT can be lost if the allergen is not eaten on an ongoing regular basis. Side effects, including upset stomach and allergic reactions, are common and can be serious.
The acute need for patient education around OIT became more urgent earlier this year, when Palforzia, a peanut-based OIT product developed by Aimmune Therapeutics, became the first food allergy treatment approved by the U.S. Food and Drug Administration. Having a standardized, FDA-approved, peanut-based drug to treat peanut allergy patients ages 4-17 is expected to increase the number of physicians offering OIT.
Anticipating the impact of FDA approval of Palforzia in expanding patient and physician interest in OIT, members of FARE leadership joined with health care providers, patient representatives, researchers, regulators, food allergy advocates, and leaders of professional societies representing allergists and immunologists for a summit held November 6, 2019, in Houston, Tex. Together, the panel worked to identify points of consensus that could serve as the basis for informing the food allergy patient and health care provider communities.
The new paper reports that OIT can be an effective treatment to raise a patient's tolerance for their allergen(s) and limit their risk of life-threatening reactions, but also notes that OIT carries risks and is not appropriate for all patients. Patients and their families must be able to follow strict adherence to office visits, prescribed dosing regimens and restrictions during dosing. The paper emphasizes the importance of informed and ongoing patient consent throughout the OIT process. In addition to highlighting areas where more OIT-related research is needed, the paper calls on health care providers, insurers and government agencies to work toward making OIT more accessible. 
Offering guidance to physicians to help them help their food allergy patients evaluate OIT – and, in the future, additional treatment options – is a vital step, but it's just a start. Stay tuned for additional resources and continued advocacy to support patients and families in their decisions about, and access to, new therapies to treat food allergy.