Navigating New Challenges to My "Typical" Grocery Store Visits
A "quick trip to the grocery store" will never be possible for me, as I must read every ingredient label.
Guest post by Annie Walsh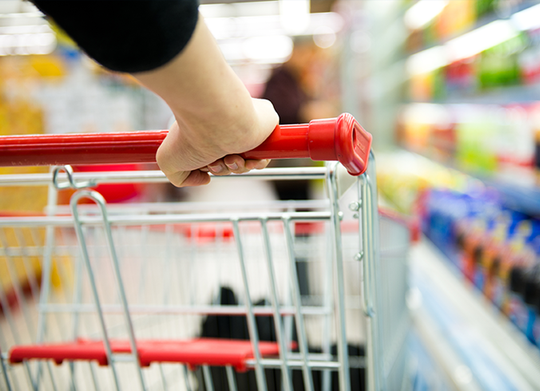 Annie Walsh recently finished her sophomore year of college. She was diagnosed with multiple food allergies after reacting to wheat in a hamburger bun when she was one year old. Annie has channeled her frustration with her limited diet into helping others with food allergies by starting her high school's Allergy Awareness Club and speaking at the 2017 FARE Teen Summit.
Lifting the cereal box in the crowded supermarket aisle, I began to silently read, "Oat flour, sugar, cinnamon, modified food starch… what is modified food starch?" I quickly put the cereal down, moving on to the box next to it, knowing that modified food starch may cause a reaction. Unfortunately, the second cereal lists pea flour, one of my allergens.
I gave up on cereal for the day and moved on to the frozen section, hoping that ice cream might cheer me up. "Whole milk, cane sugar, cocoa powder…", I read to myself. Optimistic, I continue reading, "Guar gum, egg whites… shoot! I am allergic to eggs! So much for eating this ice cream," I thought dejectedly.
Determined to find another treat to which I am not allergic, I immediately head to the chocolate aisle and grab an appealing chocolate bar. "Cocoa powder, sugar, cocoa butter, vanilla. I can eat chocolate! Yay!" Looking at the bottom of the package, I noticed a disclaimer that made my heart sink, "Made in a facility with peanuts and tree nuts." Cross-contact is a real risk for me and a chance I can't take. 
A "quick trip to the grocery store" will never be possible for me, as I must read every ingredient label. I am allergic to 16 foods, including wheat, eggs, peanuts, beef, beans, and sesame. I have been given life-saving epinephrine on 17 different occasions for anaphylactic reactions. When you're managing 16 severe food allergies, accurate ingredient labels are a matter of life or death, and I am unwilling to take a risk.
Following the recent U.S. Food and Drug Administration (FDA) labeling change, I'm giving food labels an even closer look. Under the guidance, food producers can substitute ingredients in their products without altering the ingredient label on their packaging, based on potential supply shortages as a result of the pandemic. This has led to concern from many like me, and our voice needs to be heard.
Since the guidance was issued, concern has led to action. FARE is working closely with the FDA and with leaders across the food industry to share these concerns, and I am hopeful their collaboration will ensure that any ingredient additions and substitutions be immediately and widely communicated to the food allergy community and all consumers. In response to advocacy to support our needs, the FDA has posted a Q&A to address concerns of the updated policy.
I am one of the more than 32 million Americans living with food allergies. The challenges of living with food allergies amid COVID-19 have, at times, created new hurdles in my access to safe foods. However, even in these stressful times, our community's efforts to push for what we need make me feel encouraged that my grocery store visits can still be safe.