FARE Blog
November 24, 2020
Food Allergies and Gratitude
This year it's easy to focus on the negatives, but here are some improvements we can celebrate.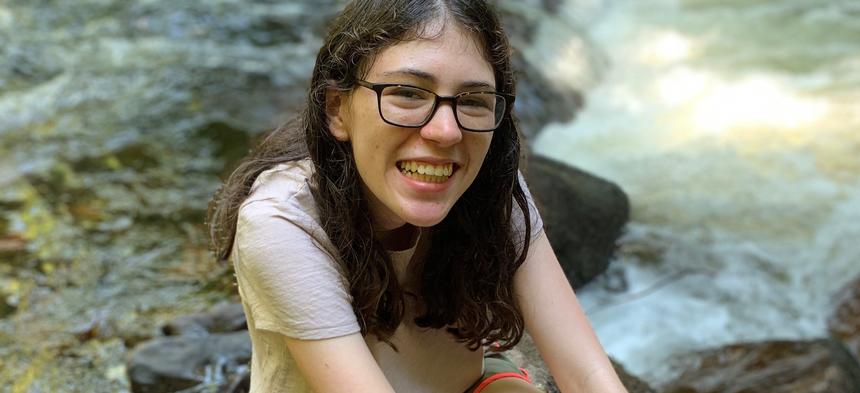 Guest post by Teen Advisory Group (TAG) member Sydney Hankin
Gratitude? You must think I'm joking. Gratitude regarding food allergies? For the allergies that make every dinner at a restaurant seem overwhelming, every grocery store trip a hassle? For the allergies that mean you are sometimes left out of activities at birthday parties, on overnight trips and at special events for school? For the allergies that mean blood tests, countless trips to allergists and oral immunotherapy treatments? For the allergies that make you explain them to a very kindhearted stranger who offers you food, because they just don't know? For the allergies that make you repeat that explanation a second time (a hundred times, a kazillion times) because the kindhearted stranger doesn't understand how someone could possibly be allergic to chocolate?
Yes, all those are true, but I promise I'm not joking about gratitude. I understand just as much as any of you that food allergies are rough. But – in the spirit of Thanksgiving – let's go over some of the positive changes that we should be proud of and celebrate.
New businesses and initiatives: I'm no expert, but even I know of so many new businesses and advocacy efforts that have popped up in the past few years. An egg-, nut-, and sesame-free ice cream shop named A La Mode has opened up in my hometown of New York City. A startup named Allergy Amulet is working to make portable food allergen detectors available possibly as soon as early 2021! The 501(c)(3) nonprofit Securing Safe Food has been partnering with brands to provide food pantries with over 20,000 allergy-friendly donations. The smartphone app Spokin makes it easy for individuals with food allergies to message each other and give recommendations and warnings. Businesses like these are all wonderful assets to the food allergy community, and none of them existed even a decade ago. We owe them all our thanks!
More accommodations in everyday life: Many schools have announced that they are now nut free and are committed to including students with food allergies, even in events such as difficult-to-manage overnight trips. Some summer camps have hired dedicated individuals to help manage meals for campers with food allergies. More and more restaurants are putting allergy warnings on menus or notices to inform your waiters about any food allergies you might have. Some airlines have transitioned over the past few years to handing out other snacks instead of nuts on flights. And the ones who have not, in my experience, have been getting better at acknowledging food allergies and taking precautions – such as making an announcement over the loudspeaker or coming to speak to those seated around you – to ensure that you have a safe flight. These are all experiences that seem of little significance to those without food allergies, but for those who have them, even these little accommodations can be life-changing.
Support from family and friends: Now, I know this bullet point isn't exactly a change. I hope all of your families and friends have always been understanding; I know mine have. But I felt it was necessary to include. After all, just think of all the little moments where your community has had your back. Before the pandemic, my family once went over to our friends' house for dinner one Friday night. Though they always make an amazing effort to include me by making sure that all of the food is nut- and sesame-free, this one evening, they went above and beyond by making an allergy-friendly cake for dessert in honor of my birthday that weekend. Whenever I go to another friend's house for a sleepover, her mom makes sure that they have a box of safe cereal available for me for breakfast. When I go to my grandparents' house, they always make sure to have safe ice cream I can eat to share in the festivities. It's incredible how many people will join together to make sure us food-allergic people are well-fed and included. Whether they are in your immediate family or people you barely know, take a minute to thank those who have really let you put your allergies to the side, even if only for a moment.
Along with all of these food allergy successes, the work continues each and every day. Research continues to uncover the science of food allergies and even potential treatments. FARE continues to advocate for sesame seeds to be included as one of the major allergens, meaning they would be subjected to the same laws as the top 8 food allergens. People continue to learn more about food allergies and become more aware.
Especially this year (#2020), it can be easy for us to focus on the negatives. And, let's be honest, dealing with food allergies is a pretty rough challenge! But…there have been so many improvements that are worth clapping for.
HAPPY THANKSGIVING!
While FARE does not endorse products, we support and appreciate enterprises and organizations that are committed to serving the food allergy community.