FARE Blog
December 01, 2020
From Fear to Freedom, an OIT Journey
"I peered down into the cup filled with a whole almond, half of a Brazil nut, a cashew, a hazelnut, a peanut, two pistachios, and half of a walnut. They seemed enormous and couldn't possibly be the right size."
Guest post by Teen Advisory Group (TAG) member Maddie Waldie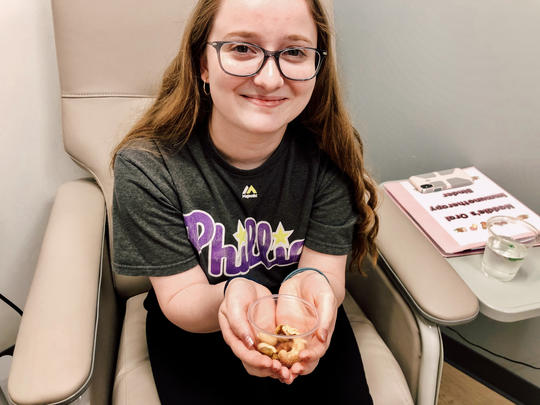 After a school day that seemed like it would never end, I sat in a room at the OIT (oral immunotherapy) clinic, talking excitedly with my parents as we waited for the doctor to enter. I had been to the clinic for many updoses before, but this one was special. I had officially reached my maintenance dose, the one that would finally enable me to tolerate cross-contact.
Throughout my OIT journey, I had been hearing success stories of patients whose lives were forever changed when they reached their maintenance dose. Now, I had reached that milestone myself. If all went well, I'd soon be enjoying foods at restaurants and eating things that were always off limits because they "may contain" my allergens or may come into contact with allergens at the manufacturing level – things that had triggered severe allergic reactions for me in the past.
I could hardly contain my excitement as the doctor walked in with a smile on her face and a small cup in her hand. My knee bounced nervously, and I couldn't stop smiling. I knew I had to maintain my composure, though. She placed the cup in front of me, sat down in a chair, and joined the audience of my parents and sister to watch as I took my dose.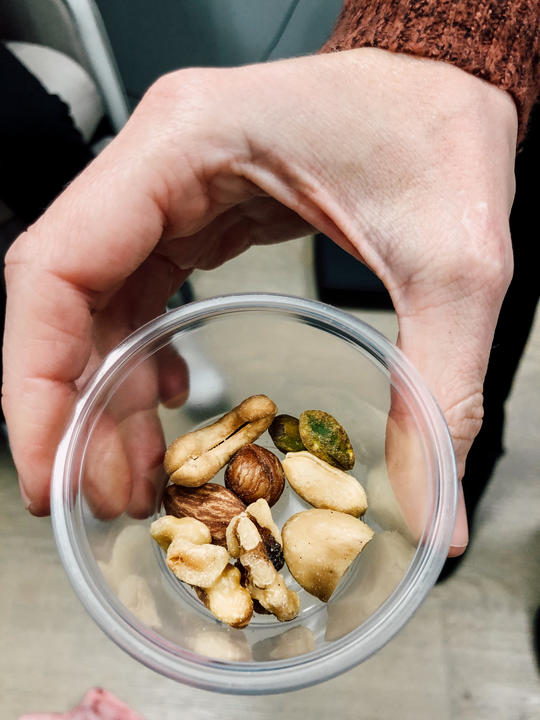 I peered down into the cup filled with a whole almond, half of a Brazil nut, a cashew, a hazelnut, a peanut, two pistachios, and half of a walnut. This was nothing like my previous doses, all of which had been nut flours mixed with ice cream. The cup contained the nuts, all by themselves. They seemed enormous and couldn't possibly be the right size. Realizing I had to eat all of this, I paused in apprehension and, yes, a bit of fear. At that moment, I thought back to seven months earlier, when I sat in the very same chair to receive my first-ever OIT dose, another life-changing moment.
During that first appointment, I started with just half a milligram of each nut protein and slowly worked my way up to slightly under 3 milligrams of protein for each nut. These amounts were tiny, but they were also the scariest thing in the world. For months prior, I had been in and out of the hospital due to nut exposure at school, experiencing dozens of reactions of varying degree, four of which were nearly fatal. Once, while attending a robotics competition several hours from home, I was whisked to the emergency room due to a severe reaction after the venue handed out pistachios as a "gift" to each team.
As a Black Belt in Tang Soo Do, I could neutralize an attacker double my size, but barely detectable nut crumbs or airborne particles were my kryptonite. Just being in the same room as someone eating pistachios sent me to the hospital on more than one occasion. How could I possibly eat that tiny amount of nut powder to start my OIT? Yet, despite my terror, I did take that first dose (disguised in ice cream, of course) and began my great adventure.
Now it was time to make another brave decision. Sitting there, staring at my maintenance dose, I realized that I had come further than I had ever thought possible. I went from being unable to be in the same room as my allergens to consuming them daily. Just being on OIT a few months had changed my life. I had gone back to school full time for the start of my senior year, stopped wearing gloves to school, and sat with friends at lunch. It's true, I had ups and downs, tolerating some updoses better than others, and I navigated some setbacks along the way. I juggled school, AP classes, college applications, robotics, doctor appointments, doses, rest periods and injections. And yet, this moment was my greatest challenge. Reaching maintenance would be the icing on the cake. My confidence returned.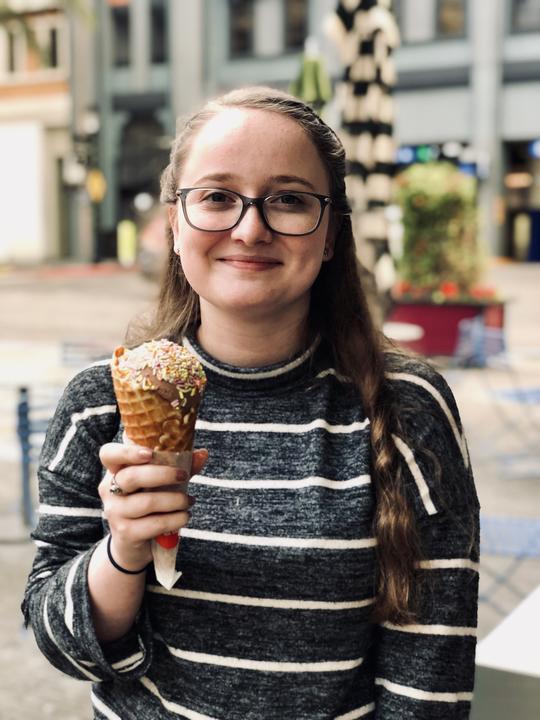 I grabbed a nut, closed my eyes, and shoved it in my mouth. I certainly didn't love the taste, but I finished the rest of my updose, and began the waiting period to be monitored for a reaction. None occurred. Excitement filled the room when the time was up. The doctors popped confetti, I received a certificate, and my parents took pictures. Just two days later, on my 18th birthday, I was able to get hand-dipped ice cream at an ice cream shop for the first time in my life.
It's now been almost a year since that day when I took my first maintenance dose, and I'm so grateful for how OIT has changed my life. Although I've spent the majority of that time sheltering in place due to a pandemic, I have the freedom of knowing it's not my allergy keeping me at home. Once the pandemic ends, I can resume doing things I could never do two years ago. While I still need to carefully follow my OIT protocols and be proactive to avoid eating nuts outside of my daily maintenance dose, I'll be able to go out with friends, live in a dorm room, and eat at restaurants without fear of cross-contact.
Madeleine (Maddie) Waldie is a freshman at Santa Clara University, studying Computer Science and Engineering. As a TAG member, Maddie hopes to be an advocate for herself and others, educating about the challenges of living with food allergies, being a change-maker in her community, and helping those with food allergies  find their voice.