FARE Blog
October 21, 2020
FARE Leadership Spotlight - October 2020
Meet Josh and Tara Geise, members of FARE's Board of National Ambassadors, and learn a little more about them!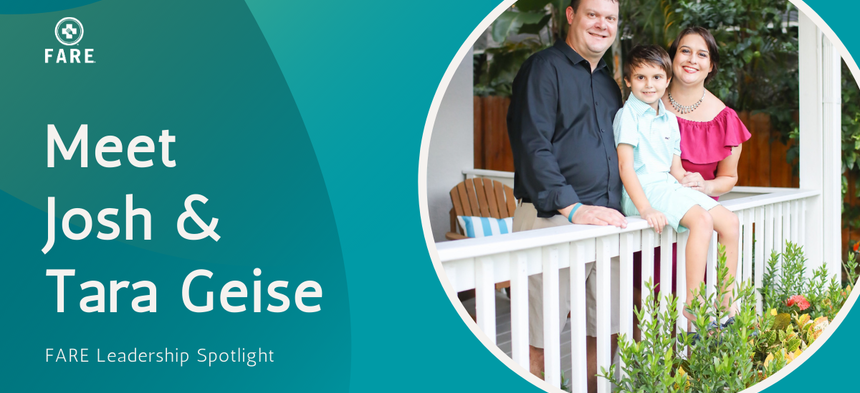 The latest installment in our Leadership Spotlight series introduces Josh and Tara Geise, who live in Tampa, Fla., and serve on FARE's Board of National Ambassadors. In this Q&A, Josh and Tara share their family's food allergy journey, explain what FARE means for them, and offer words of hope to the food allergy community.
What are your names, where are you from, and what is your food allergy connection?
We are Josh and Tara Geise and we live in Tampa, Florida. Our son, Cody, is allergic to peanuts, eggs, cow's milk, chicken, sesame seeds, sunflower seeds and wheat. Tara is allergic to fish and tree nuts, and Josh has oral allergy syndrome.
What drew you to FARE? Why do you support FARE?
When our son was diagnosed with multiple, severe food allergies as a baby we wanted to learn all we could. We found FARE. They had so much information and so many resources that we have found invaluable over the years: emergency care plans, help with school and 504 plans, ways to advocate. When we felt helpless, FARE gave us something to do about it. It was a lifeline.
When you think of FARE, what first comes to mind?
Hope and help for food allergies.
What is one thing you would tell any food-allergic person or parent/guardian of a food-allergic person?
Find your people. We're here to support each other. Don't go through this alone.
What is the best food allergy advice you ever received?
From our current allergist: "I promise this will get better. It seems overwhelming now, but it will get easier to manage."
FARE's Teal Pumpkin Project is a worldwide movement to create a safer, happier Halloween for all kid. Do you have any allergy-friendly Halloween traditions in your family?
Yes, we love Halloween! We set up a table outside with teal pumpkins and signage. We offer both non-food treats and allergy-friendly candy. We do trade-or-treat with Cody. He picks something special he wants and gets to trade in his Halloween candy for his gift. He loves it and still gets to participate in the fun of trick-or-treating. Our support group does an annual Teal-o-Ween party where the kids can decorate teal pumpkins and trick-or-treat for non-food items.
What is your favorite hobby or pastime?
Before COVID, we loved going to hockey and baseball games. Josh is also Cody's Little League baseball coach. Cody and Tara love to cook together. He calls himself a chef, which we love. We make allergy-friendly baked goods and meals. It empowers him to take control of understanding and making his own food.