FARE Blog
November 17, 2022
FARE Leadership Spotlight – November 2022
Meet Teen Advisory Group member and 2022 #GivingTuesday Champion Elise Buellesbach and learn a little more about her!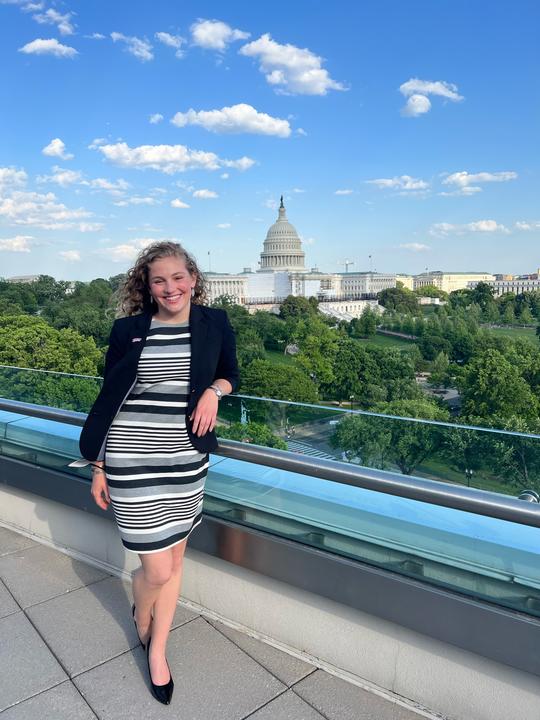 Teen Advisory Group member Elise Buellesbach is a sophomore studying public policy at American University in Washington, D.C. Her internships at FARE included invaluable assistance to the virtual Courage at Congress 2022 legislative advocacy event. Earlier this year at the FARE Food Allergy Summit, Elise became the first person to receive FARE's Young Leader award. Learn why Elise is FARE's 2022 #GivingTuesday Champion.
When did you first get diagnosed with food allergies?
I was diagnosed with an egg allergy upon first introduction. I have no recollection of a world with eggs in it. I was diagnosed with celiac disease at the age of 5. Finally, I was diagnosed with my chicken and turkey allergies when I was older.
Growing up, my mom always encouraged me to try chicken, but as an 8-year-old with some serious sass, I refused. My mom explained that egg and chicken have different proteins and thus just because I am allergic to one does not mean I will be allergic to the other. But, I mean, chickens and eggs go together, so I went on ignoring my mom's (scientifically correct) assessment of the situation. One day, I mentioned this to my allergist, and she suggested a skin test. Lo and behold I was correct about my belief that chicken was dangerous.
How were you introduced to FARE?
I am certain that I went to FARE events as a kid. I remember attending food allergy conferences and the great joy of wandering through the vendors; I grabbed every sample available because I could actually participate. That being said, the first time I specifically remember engaging with FARE came during 2019. I joined TAG (Teen Advisory Group) that year and through that experience I learned about the FASTER Act. At the same time, I was a junior in high school taking AP Government. As we discussed passing legislation in this class, I fell in love with the processes of government participation to create change. This class inspired me to take on advocating for the FASTER Act.
I signed up for a lobbying meeting with my local representative (Rep. Anna Eshoo, CA-18) and worked to prepare my story. At this meeting, I expected to discuss food labeling with a staff member, however, when I arrived Rep. Eshoo was taking meetings. I sat down for my first lobbying meeting with the Representative. During this conversation I pulled out food labels that contained sesame but were unclear in their labeling; I told my story to Rep. Eshoo and her staff member. The most impactful part of this conversation came when the staff member, who was eating lunch, looked up from her soup and said "Wait, you mean you can't just go to the local deli and grab lunch?" "Exactly!" I responded, and I saw the lightbulb go off in her head as she discovered a little bit of what food allergy means. This experience, in tandem with the government class, hooked me.
I absolutely love studying government and the power that the government has to create lasting impacts for everyday people. But in that moment, I realized, too, how much I rely on the government. I would not have safe food if the government did not step up and regulate labels. This simple action changed my life. FASTER continues to change people's lives for the better. That ability to change a person's life is why I continue to love working with FARE.
How has FARE helped you and your family manage your disease?
Growing up I thought I was alone in my food allergies. I was the food allergy kid at a school that served shared food for snack every single day. I clung to images of Dana Vollmer (Olympic swimmer) because she is also a swimmer and has food allergies. As a kid I went to Celiac Camp, a space that was just for people with celiac disease. And yet, even there I stood out and needed to bring my own food. I found myself desperate for a community and for people who understand at a core level what living with food allergies entails.
So often, the only conversation people have relating to food allergies is about label reading. We often don't discuss the emotional and social impact of having food allergies. But discovering FARE unlocked a whole new world for me. I found other people like me. I found a community that deeply understands what I go through. I found other people who also experience a deep-seated fear of food and who never leave home without their lunchboxes. For example, this year, walking into the FARE Food Allergy Summit felt like a weight was lifted off my shoulders. Even when I spoke with people I just met, we already shared a common understanding. I left the Summit feeling whole and empowered because of this community.
On a different note, FARE offers me resources to share with others. To this day, I send everyone in FARE's direction for more information. For example, I have a professor this semester who was insistent on using food in class labs. I explained to him why this doesn't work, and I was able to share FARE resources as well. A few weeks later we got the opportunity to discuss food allergies as a class and foster some of that conversation.
What do you want for the future – both personally and for the food allergy community?
I tried OIT a few years ago. As an adult with an egg allergy, this was wild and unimaginable. I never thought that I would have had the opportunity to even try OIT. My goal was to get to 2,000 mg of egg (⅓ of an egg) in 8 months. After a year of constant low-level reactions and an all-around miserable experience, I made it to an entire 100 mg. I like to joke that I am on the 20-year plan; it is safe to say that I am no longer participating in OIT. But I got to try OIT (which still blows my mind!). A world where I am not plagued by my fear is unimaginable. If I didn't have to worry about cross-contact, it would mean that I could go out with friends, eat out, let go a little bit. I don't think I would ever actually eat eggs, but to live freely would be a game changer. A cure would mean a little less panic and crippling anxiety, and a little more joy.
For me, I would love to see more work in the advocacy world. I'll admit I'm biased in this sense as a political scientist. However, research is a slow, painstaking process and I would love to see some tangible change in the meantime. As a result, I see a large group of people with food allergies who do not have the opportunity to try OIT right now, for economic, logistical, or practical reasons). However, being a part of passing the FASTER act showed me the direct impact of better legislation. Next year, sesame will be labeled. This will make a difference in 1.6 million lives, and that is huge! Acknowledging how much work went into passing the FASTER Act and that policy isn't easy or fast, I still think about all the simple policy changes that could improve lives, and even save lives, such as stock epinephrine requirements, medication labeling, clear precautionary labeling, and more. In the future I want to see a greater emphasis on these tangible changes that work for everyone. Let's not just wait for a cure but instead work towards a better today and tomorrow while the research continues to develop.
I also want to have more conversations about food allergies. When I tell people I have food allergies, they immediately say "So you don't eat peanuts?" or "What do you eat? Cardboard?" And to that I say, "Do you eat cardboard?" But in all seriousness, food allergies are so prevalent but so poorly understood. I see systems that are not set up to accommodate people with food-related disabilities. Counting the 32 million Americans with food allergies, plus those with food intolerances, autoimmune disorders, and more, there is a vast and powerful community of people with food restrictions, and yet we live in a society centered around food. We need to have more conversations about the reality of food allergies. It is a physical disability, yes; but it is also emotional and social.
Why are you participating in FARE's #GivingTuesday campaign this year?
Supporting FARE means research so that therapies and cures can become accessible and feasible for everyone. It means living freely and boldy. It means enabling legislation that changes lives, and it means continuing to build a space for conversations around food allergies. I'm FARE's #GivingTuesday Champion this year because donating to FARE can change lives.