FARE Blog
November 16, 2021
FARE Leadership Spotlight - November 2021
Meet FARE Board of National Ambassadors member Jenny Andjelkovic, and learn a little more about her!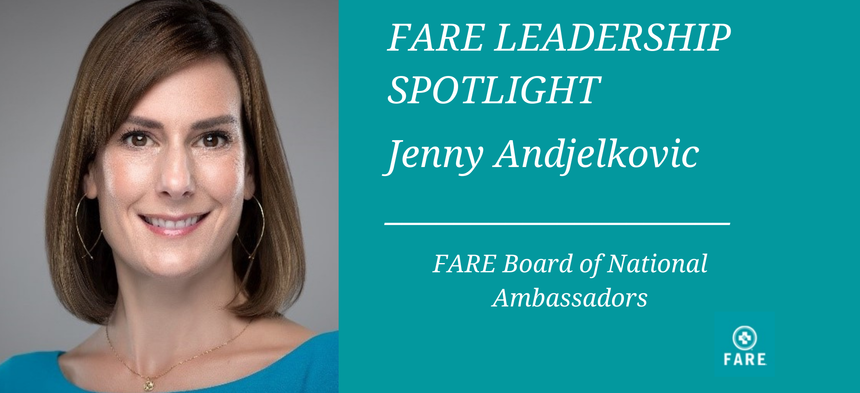 What is your name, where do you call home, and what is your food allergy connection?
My name is Jenny Andjelkovic and I live in Wilton, Connecticut. I love the East for a million reasons but I will always be a West Coast girl at heart. I have deep roots in my hometown of Seattle where I was born and raised. I'm a food allergy mama – all three of my teen-agers have had severe and complicated food allergies since birth. Bella (17) is allergic to peanuts and all tree nuts, Luka (15) is allergic to peanuts, tree nuts and kiwi fruit and Maia (13) has food protein-induced enterocolitis syndrome (FPIES).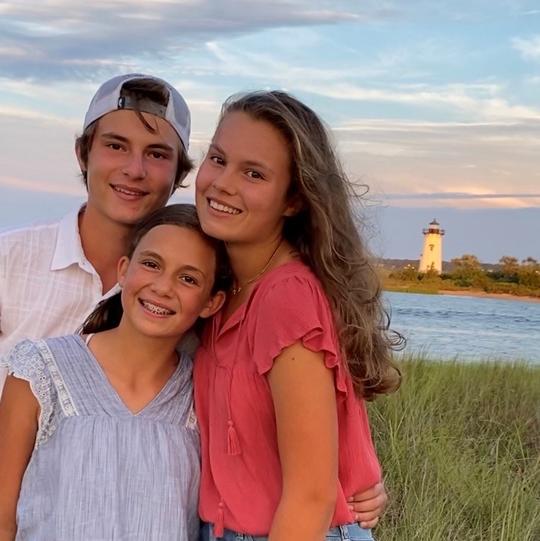 What drew you to FARE? Why do you support FARE?
When my oldest was 5 she had a life-threatening anaphylactic reaction after eating a mis-labeled cookie. Her reaction seemed so different from reactions she'd had before so I went into total denial in the moment. I thought she had a tummy bug and put her to bed, nearly missing the window to save her. Our whole family suffered from PTSD, and it felt like fear took over every aspect of our lives. I was getting ready to send her to kindergarten and learned that bus drivers were not trained or even allowed to administer epinephrine. I felt there was so much work to do to protect kids with food allergies and didn't want others to make the same mistakes I had. In 2009, I started attending local support group meetings and events sponsored by Food Allergy Initiative before FAI merged to become FARE. This group of amazing Connecticut moms slowly gave me hope again and encouraged me to get involved in fundraising, advocacy and ultimately moderating our support group. FARE saved our lives and gives us so much hope every day through the diligent work they do to support important research, to provide pathways and tools to affect real change and to supply important resources. We support FARE because FARE has loyally and lovingly supported US!
When you think of FARE, what first comes to mind?
Empowerment!  Working to advocate to actually change laws, educate others, fundraise and promote awareness has helped us turn our fear into action.  There is still work to do!  Our whole family and many other families like ours are empowered by FARE every day to move forward with this work. My daughter Bella is a member of the Teen Advisory Group and runs her own food allergy support group in Fairfield County now. She hosts fundraisers and food drives with food allergy-friendly items and makes pamphlets with allergy and anaphylaxis information translated into Spanish. My son Luka and youngest daughter Maia have talked to legislators locally and in D.C. with me. These opportunities have all been inspired and made possible by FARE connections.
What is one thing you would tell any food-allergic person or parent/guardian of a food-allergic person?
Let go while your kiddos are still with you! When making decisions about where or what to eat, think about what you want your children to do when they are not with you when it comes to their food allergies. Create some family rules and a strict plan that make sense for their allergies and stick with it. Model it for them, then…let go! I stopped carrying medication for my kids when they turned 12. They are responsible for carrying their own epinephrine. If they forget it or lose it, they don't eat. Period. I don't advocate for them any longer at restaurants or dinner parties, but I watch them carefully to make sure they ALWAYS advocate for themselves and avoid risk.
What is the best food allergy advice you ever received?
Educate others without anger and from a place of understanding. It's easy to get mad or frustrated because this is life or death stuff. But people who just may not know any better will remain open and learn so much more from you if you are kind and gentle in your approach.
What is your favorite hobby or pastime?
Eating Haribo gummy bears and watching classic movies. I love to read mysteries and cook, paint with acrylics, and walk my dog for miles with a good friend or a fun podcast too!
What is your favorite allergy-friendly dish to make on Thanksgiving?
Sweet potato pie! Well…and stuffing! Growing up, Thanksgiving was a holiday filled with nuts for my family – from the stuffing to the pie. One of my sisters can't have gluten and the other can't have dairy, so I love taking on the challenge of making a delicious nut-free, dairy-free, gluten-free stuffing that tastes just like the traditional stuffing we all loved and remember from when we were kids!