FARE Blog
January 27, 2021
FARE Leadership Spotlight - January 2021
Meet Julie Karish, a member of FARE's Board of National Ambassadors, and learn a little more about her!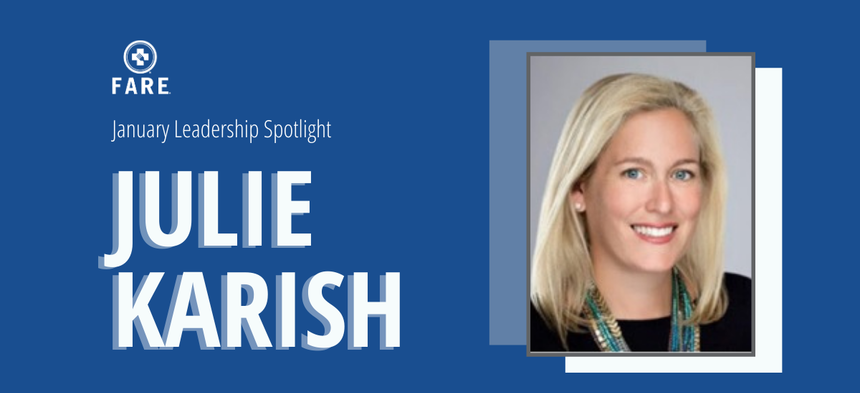 Our debut post in this year's FARE Leadership Spotlight series introduces Julie Karish, a food allergy mom who serves on FARE's Board of National Ambassadors. In this Q&A, find out what FARE means to her, hear her best food allergy advice, and learn how her family makes Fridays special.
What's your name, where are you from, and what is your food allergy connection?
My name is Julie Karish and I am from Riverside, Connecticut. I am a food allergy mom - my daughter, Mia, is allergic to peanuts, tree nuts, shellfish and penicillin.
What drew you to FARE? Why do you support FARE?
I found FARE through a flyer in my pediatrician's office for a regional walk. At the time, my daughter was 3 and my food allergy network was very small. Attending my first FARE walk was like opening the door into a world of opportunity. I met so many other parents going through or having been through many of the decisions/scenarios I was facing as a food allergy mom. AND I discovered the FARE website, which has become my number one resource for all things allergies.
I support FARE because they support every aspect of the allergy journey from ground-breaking research for every generation, to the emotional well-being of everyone involved in the fight against food allergies, to being our number one advocates in Washington and beyond.
When you think of FARE, what first comes to mind?
Supportive family. My connections from FARE have become my food allergy family and are always there to support me.
What is one thing you would tell any food-allergic person or parent/guardian of a food-allergic person?
You are your own (or your child's) best advocate. Trust your gut and fight for what is right for your/their safety.
What is the best food allergy advice you ever received?
Don't settle when it comes to your allergist. If you're not feeling the fit, try someone else. This is one of the most important relationships in your life - treat it that way.
What is your favorite hobby or pastime?
We have a family tradition that we try to do every week called Fun Friday. It's one of my favorite parts of the week. Either we order from our favorite allergy-friendly restaurants or the kids cook with my husband, and we picnic in our family room and watch a movie.