FARE Blog
August 24, 2022
FARE Leadership Spotlight - August 2022
Meet Noelle Nelson, a member of FARE's Teen Advisory Group, and learn about Teach Teal: Food Allergy Awareness, a curriculum for teaching fourth graders about food allergies that Noelle developed as her Girl Scouts Gold Award Project.
Guest post by Teen Advisory Group (TAG) member Noelle Nelson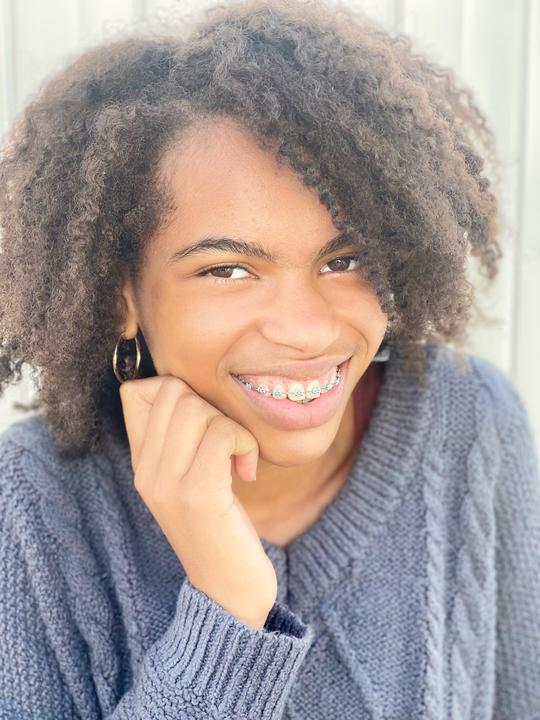 Hi, my name is Noelle Nelson. I'm sixteen years old and a member of the Teen Advisory Group (TAG) for FARE. I am allergic to dairy, peanuts, tree nuts, and all cephalosporin antibiotics. I am also a Girl Scout Ambassador who created my Girl Scout Gold Award Project, Teach Teal: Food Allergy Awareness, during my sophomore year of high school in hopes of spreading food allergy awareness in schools. Check out the project here, including the curriculum, Teacher's Guide video, and additional resources for people of all ages, with and without food allergies.  
The goal of Teach Teal: Food Allergy Awareness is to teach fourth grade students all about food allergies in just three days, including what food allergies are, the top nine allergens, allergic reactions, food allergy bullying, media misrepresentation of food allergies and more. In addition to this information, students also learn about empathy, compassion, and respect throughout this program.
If you have food allergies or have a child with food allergies, you know that food allergies affect so many people yet are not often taught in schools. More people need to be aware of what they can do to help, include, and support a person with food allergies, and this education needs to start while children are young. For these reasons, I created an accessible, easy-to-use curriculum for implementation in schools everywhere.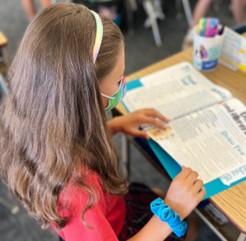 The entire program is free and compiled onto one website that includes all of the curriculum resources designed to teach students, including activities, digital textbooks, the Teacher's Guide video and more. Also, the website includes stories from students with food allergies. Children everywhere with food allergies can see young people like them, of all ages (second graders to rising college students), featured on the Teach Teal website and in the curriculum!
When creating Teach Teal: Food Allergy Awareness, I wanted to make a program that would be engaging and fun despite the large amount of information and hard-to-hear topics such as anaphylaxis. That is why Teach Teal includes a multitude of fun activities and games throughout the program.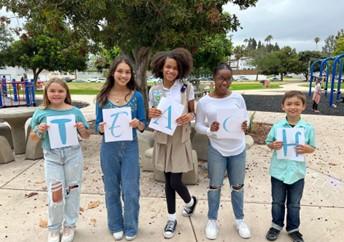 As a part of my project, I shared my curriculum with my non-profit community partner school. The students loved all of the fun activities and they especially enjoyed hearing stories about other students with food allergies. All of the fourth grade students who participated using my curriculum learned a lot about food allergies. They now know valuable information that can save lives such as the importance of reading ingredient labels, not sharing food, and refraining from bullying those with food allergies. 
Teach Teal is very easy to use for teachers, homeschool families, and others. There is an easy-to-follow Teacher's Guide book and a video (found on the website) that gives teachers an overview of food allergies and also explains a little about the Teach Teal: Food Allergy Awareness program. Additionally, the Teach Teal program is for students with and without food allergies! Students with food allergies are given advice throughout the lessons and will read stories they can connect to from other students with food allergies. 
I hope that everyone will consider sharing the Teach Teal Program with their local school district, with a friend in education, or even with their own school. If you are a parent, you can share a link to the Teach Teal website with your child's teacher. If you are a teacher, please look into Teach Teal: Food Allergy Awareness for your school community or classroom! Not only will the Teach Teal Program build awareness of food allergies amongst students, it could save a life through teaching valuable information about allergic reactions and food allergy bullying.
Thank you to everyone who helped me create my Girl Scout Gold Award Project, Teach Teal: Food Allergy Awareness. I hope this program inspires you to spread food allergy awareness today!
Teach Teal: Food Allergy Awareness is at https://teachtealfoodallergyawareness.weebly.com.
Please let Noelle know through the Contact Form on the About page if you are using Teach Teal in your classroom!
While FARE does not endorse products, we support and appreciate enterprises and organizations that are committed to serving the food allergy community.