Changes to WIC Food Packages Can Promote Food Allergy Prevention Among Infants
FARE encourages the U.S. Department of Agriculture to make early food allergen introduction accessible to infants and provide a range of safe food substitutions to children and women managing existing food allergies.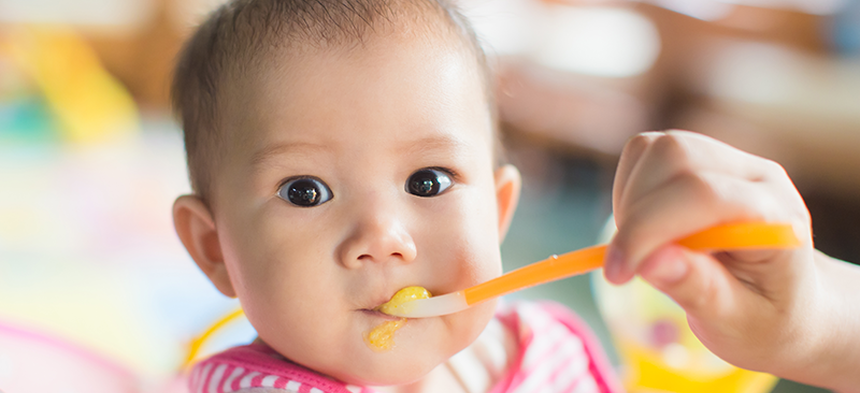 By Robert Earl, MPH RDN FAND, Vice President of Regulatory Affairs
WIC, the Special Supplemental Nutrition Program for Women, Infants, and Children, serves about half of all infants born in the U.S. Administered by the U.S. Department of Agriculture's Food and Nutrition Service (USDA FNS), WIC provides federal grants to states for supplemental foods, health care referrals, and nutrition education for low-income pregnant, breastfeeding, and non-breastfeeding postpartum women, and to infants and children up to age 5 who are found to be at nutritional risk.
On February 21, 2023, in response to a proposed rule by USDA FNS to revise and update food packages in the WIC program, FARE submitted comments recommending (1) inclusion of food allergens (at minimum, peanut) in the infant food package to support early introduction and regular consumption of food allergens to reduce the risk of developing food allergy, and (2) greater flexibility in food packages for children and women to provide substitutions for those with food allergies.
Infants who eat common food allergens early and regularly are less likely to develop allergies to peanut, egg, and quite likely, other food allergens. FARE has asked WIC to incorporate early introduction into its food options for infants, consistent with evidence-based recommendations included in the 2020-2025 Dietary Guidelines for Americans. FARE's comment also encouraged USDA to develop a pathway to add additional food allergens to the infant food packages as early introduction science evolves, and to offer all WIC participants education about food allergy basics, management of the disease, and early introduction of allergenic foods.
For women and children with food allergies, FARE proposed broader food options and package sizes to better accommodate safe substitutions for allergenic foods. This included a recommendation to develop a "mix and match" approach to providing comparable nutrition through appropriate substitutions tailored to a WIC participant's specific food allergies. FARE also spotlighted the need to identify substitutions for sesame in WIC food packages for children and women with sesame allergy, which earlier this year became the ninth food allergen that must be labeled on packaged foods.
In presenting the case for revisions to WIC food packages, FARE noted that early introduction is consistent with a key recommendation of the current Dietary Guidelines for Americans. Food allergy is a dangerous, chronic, and often life-long disease that imposes heavy burdens on individuals and families. USDA can make early allergen introduction widely available to U.S. infants by, at minimum, including in WIC infant food packages creamy peanut butter that can be thinned to an age-appropriate texture and added to an infant's diet beginning at 4-6 months of age, when other complementary foods are introduced. Early introduction of thinned peanut butter to prevent the burden of managing a peanut allergy is estimated to cost less than $0.10 per year over a lifetime. Preventing food allergy during infancy also would reduce the later need for more costly substitutions in WIC program food packages for children and women.
FARE has been joined by more than 35 individual comments to USDA in calling for WIC food packages to support early food allergen introduction for infants. Expanding opportunities for early introduction will generate profound benefits for health and wellbeing while limiting the healthcare and opportunity costs associated with food allergy. This important intervention can make a huge difference in the lives of children and their families. Early introduction of food allergens has the potential to dramatically reduce food allergy prevalence in one generation.
Click to read FARE's full February 21, 2023 comment to USDA or learn about how you can become part of FARE's grassroots advocacy team.