FARE Blog
September 08, 2022
Avoiding Egg in Paradise: Adventures in Eating on the Island of O'ahu
Life in Hawai'i tastes delicious, and there's something on the menu for everyone.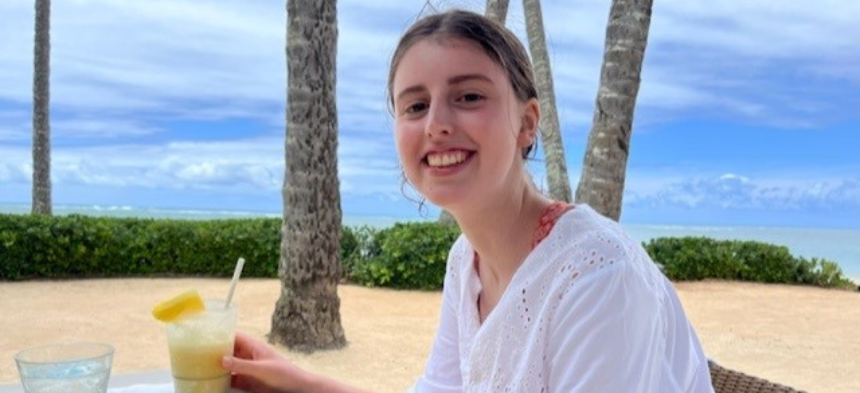 Guest post by Teen Advisory Group (TAG) member Kealani Nickles
Hello, my name is Kealani Nickles. I am a member of TAG, the Teen Advisory Group, at FARE. I have an egg allergy but I don't react to cross-contact. I spent part of my childhood on the Island of O'ahu, Hawai'i, so I was very excited to visit recently and eat at all my favorite places as well as some new restaurants! Here are some highlights from my recent stay.
The KCC Farmers Market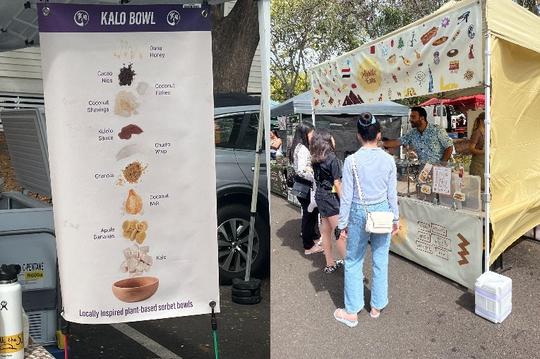 "Going vegan" is often easier for me in these street food situations. With an egg allergy, veganism covers my allergy and gives me an easier, more seamless experience at the legendary KCC Farmers Market, at Kapi'olani Community College near Diamond Head. In previous years the Farmer's Market had a scarcity of vegan options. Coming back this year, I noticed a good number of stalls that were 100% vegan as well as stalls that had vegan options. Some stalls weren't vegan but provided ingredient lists for all of their products.
One standout stall was Li'ili'i Donuts, which had a variety of vegan donuts. My favorite stall as a little kid sold oatcakes, and was one of the OG stalls that included whether or not the product contained eggs. Another popular stall that is vegan is Middle Eats, a Middle Eastern food stall. There's also the taro option at Luau Bombs (they were unfortunately sold out when I went there).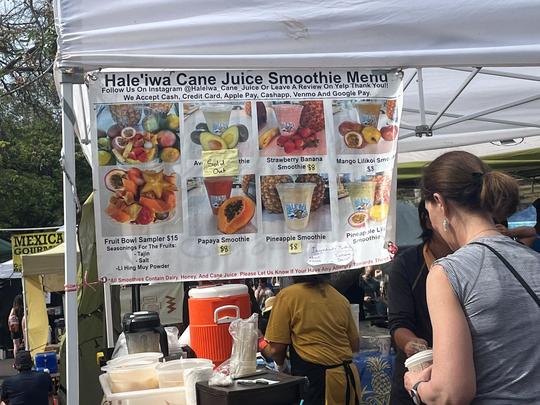 Overall, I recommend getting prepared food that is vegan or has labeled ingredients as the Farmer's Market is very crowded, sometimes hard to hear and hectic. Bonus: Take your vegan donuts and enjoy the view in the parking lot (only in Hawai'i!).
Supermarkets on O'ahu
How do I know I'm in Hawai'i? GUAVA JUICE. There are so many special juices and fruits that can't be found in Mainland grocery stores. It's important to be aware of these options before going since you want to make sure that it's safe for you to have them before you buy them in Hawai'i. Hawaiian Sun and Aloha Maid brands have many delectable drink flavors such as passion fruit, guava and POG. What's POG, you ask? No, it's not that Star Wars character, it's passion orange guava. These sweet non-carbonated juice drinks are extremely popular in Hawai'i.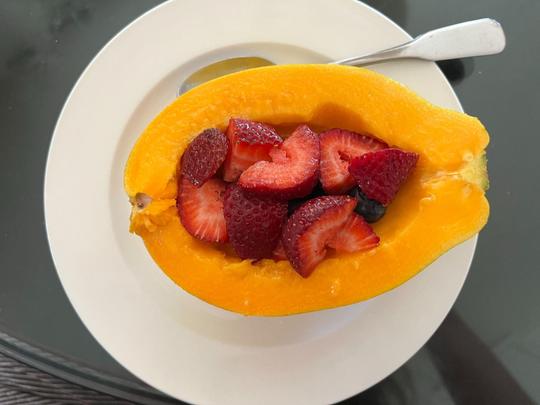 You can also get papayas galore! These make a wonderful, unique breakfast (I had them every day). I also had vegan croissants and vegan muffins from Whole Foods. And dessert, we have that too! Perhaps my favorite dessert ever is Roselani's Kona Mud Pie ice cream. Just thinking about it makes me want to book a ticket to Honolulu. Rosalani's is not available in Whole Foods but can be found in Longs Drugs, which is the local general pharmacy in the vein of CVS. Also wonderful as a snack or accompaniment to poke (which we'll discuss next) are the Maui Style chips. (Different Maui Style chip flavors have different allergens, so always check the label!)
Sushi and Poke
You're in the right place. Sushi and poke (pronounced POH-kay) are generally really good at any grocery or convenience store, and I've heard they're even decent at gas stations. The places I can report on include a tried-and-true classic and an unexpected gem.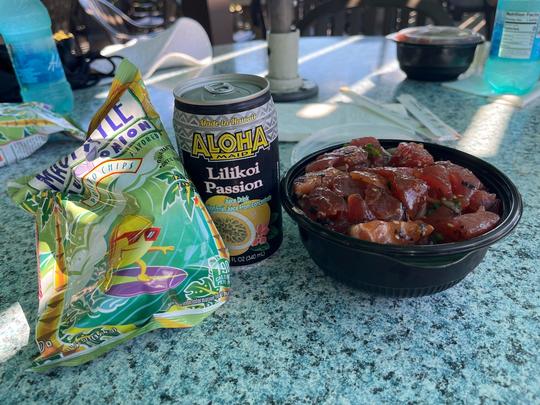 I'll start with Nico's Pier 38. When a restaurant doubles as a fish market, you know the poke will be fresh! Poke means "cut into chunks" in Hawaiian. There are many different types and beware that some types contain mayo, though the typical local style does not. My favorite style and what seems to be the most common comes with raw salmon or tuna, served with white rice with sesame seeds and bits of seaweed, shoyu (soy sauce, which also contains wheat) and optional other types of seaweed that taste more briny. I noticed that white rice as a side in Hawai'i almost always comes with sesame seeds and seaweed, so please be aware of this if you are allergic to sesame, fish or shellfish.
If you go to Nico's, make sure to go to the takeout section if you want poke. You can get up to three types of fish. The spicy ones all contain egg, though, so I ended up getting the super fresh, ahi deluxe and ultimate ahi options and they were all delish. They pack in a ton of fish so you'll probably have enough for dinner (or lunch the next day lol). The workers were very friendly and answered all of my questions about my egg allergy. I took my poke and sat on the beautiful patio!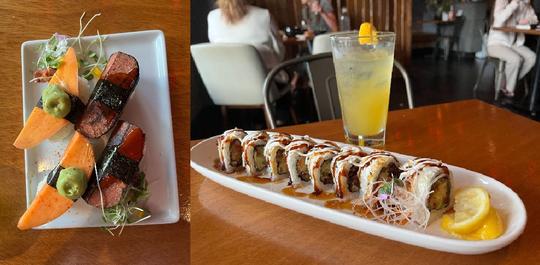 Okay...this isn't sushi in the traditional sense but stick with me, drumroll please...vegan sushi!!! Tane Vegan Izakaya is a vegan sushi and ramen restaurant and everyone eating and working at this restaurant was SO cool. The food was really creative and 100% vegan. For example, the bean curd nigiri tasted exactly like pork. The mango nigiri was super refreshing. They also have a really great collection of specialty rolls and for people like me with egg allergies being able to have a spicy mayo on my sushi was so exciting. Some of the standouts include The Wedge and Pacifica rolls, but I don't think you can go wrong. (I got FOMO from the guy who ordered the vegan ramen a table over.)
I had a great time and can't wait to return. A hui hou, O'ahu! Until we meet again!