FARE Blog
February 24, 2020
"The Anxiety We Feel After a Reaction Is Real and Needs to Be Addressed"
Lots of energy is put into avoiding a reaction or minimizing a reaction, but I believe more focus should be placed on the aftermath of a reaction.
Guest post by Zidaan Kapoor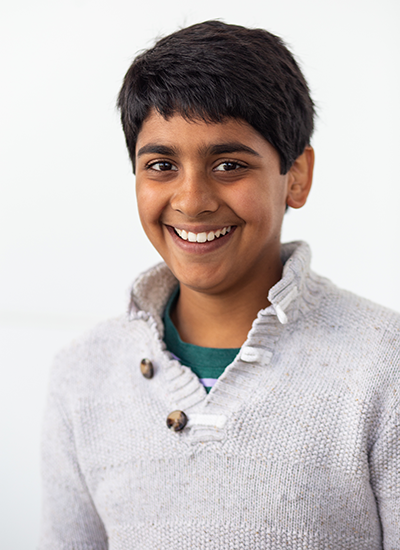 My name is Zidaan Kapoor, and I have life-threatening allergies to eggs, peanuts, tree nuts, and all seafood. After I was diagnosed, my family's life changed dramatically. I was a toddler, too young to understand, but my older sister remembers going through box after box in the kitchen, throwing away any food with my allergens. My mother remembers giving serious talks to waiters at any restaurant that we went to. My father remembers completely changing his repertoire of cooking. This intense effort to avoid my allergens has continued into my tween years. It's a constant part of our everyday lives.
There are 32 million people like me living with food allergies in the U.S. I don't want food allergies to hold me down. Sure, if I had a chance to relive my life without allergies, I would. But everyone lives life with a challenge. When I get questions about my medications, such as my inhaler or EpiPen, I don't launch into complex explanations of my reactions, which often include gruesome details. Instead, I make light of the situation. "Oh, this? It's my epinephrine auto-injector." or, "That's my albuterol sulfate inhalation device." I don't want to dwell on my allergies my whole life or it will completely take away any other value I live with.
But then it happened again.
In October 2019, I had a severe allergic reaction to almond milk at a restaurant. My family rushed me to the hospital and I stayed there for most of the night until I went home. The next day, I felt nauseous, tired and extremely unwell. I spent most of the day watching TV, reading books and playing games with my sister. Nobody wants to have an allergic reaction, especially if they know what it can be like if they have had one before.
For months after my reaction, I struggled to trust restaurants, labels and even my family. I felt frustrated at times and traumatized. I was so scared that I might have another allergic reaction that for a while, I found it hard to concentrate during any meal times, and I had to have my EpiPen held tightly in my hand.
My reaction did not scare me away from helping those with food allergies. Instead, it pushed me forward. After attending the Contains: Courage FARE Summit last November in Washington, D.C., my perspective on life changed completely. I made many new friends, ate a lot of food, and saw the Innovation Tank unfold with many new ideas since my sister and I won in 2018 for a prototype designed to improve the lives of people with food allergies. I continue to help push for innovation, raise money and support the search for a cure for this disease. I still sell my photographs through my website revelinlight.com, where I sell photographs with 100 percent of the proceeds donated to FARE. I have filed a patent for our winning prototype, EpiMagnet, an accessory that allows you to wear an EpiPen discreetly at the waistband. I also pursue innovation through FARE's Teen Advisory Group, where I have worked on an idea to have a dedicated, allergen-free aisle in grocery stores.
I have tried to start feeling normal again. I still feel that nervousness when I go out to eat, but I'm less worried during mealtimes at home. I'm trusting my family's decisions, and I don't need my EpiPen in my hand at all times. I know many other people who have double or triple the amount of allergies that I have, which can be much scarier, especially after a reaction. I believe this is something we must focus on.
Lots of energy is put into avoiding a reaction or minimizing a reaction, but I believe more focus should be placed on the aftermath of a reaction. The psychological effects of having allergies can be detrimental to one's daily life, and the anxiety we feel after a reaction is real and needs to be addressed. Communication between teens with allergies can help release these stressed and worried feelings. This can be achieved through support groups and other community-building initiatives. I would also like to see some seminars on this topic at future Contains: Courage FARE Summits. In these seminars, there could be conversations about who to trust and rely on, plus helpful hints on how to deal with the emotional effects. I know that I am not the only one facing this issue. Please help me and millions of others out there in bringing awareness and support to the emotional after-effects of food allergies.