AAAAI Virtual Annual Meeting 2021: Development of the FARE Data Commons
FARE's partners at Northwestern University report on the early progress in creating a global platform for data sharing among food allergy clinicians, researchers and patients.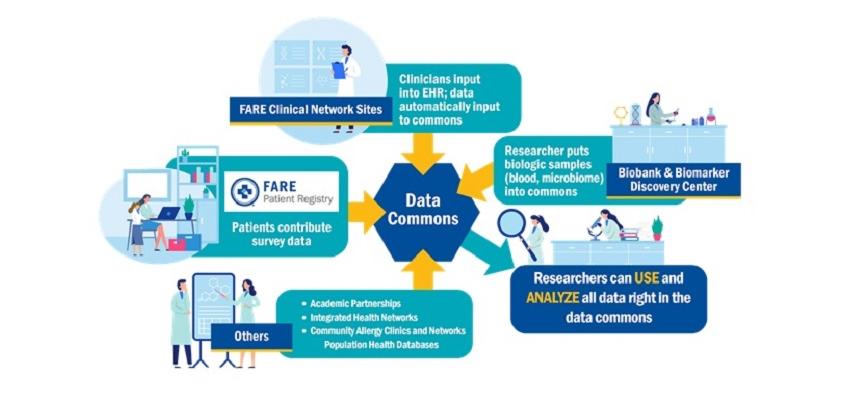 The American Academy of Allergy, Asthma & Immunology (AAAAI) held its annual meeting as a virtual event from February 26 to March 1. We are encouraged by the scientific progress made in the face of the past year's challenges and are proud to showcase standout examples of FARE-driven research presented at AAAAI 2021.
In partnership with FARE, researchers from Northwestern University have taken key steps to establish the FARE Data Commons, a comprehensive online platform through which data from clinics, patients, and investigators around the globe can be shared, analyzed and harnessed to drive breakthroughs in food allergy research. Two important milestones in developing the data commons were reported at the AAAAI 2021 meeting: (1) the development of a data dictionary (Abstract #374) and (2) the mapping of that data dictionary onto a standard data model (Abstract #372).
Before diverse sources of food allergy data can be combined in useful ways, researchers must identify important concepts and categories within food allergy science and care, determine how these concepts and categories relate to each other, and define them using a commonly agreed-upon vocabulary. This process established the data dictionary for the FARE Data Commons. This data dictionary has also been incorporated into a common data model in which information from diverse healthcare databases can be organized in a consistent way for ease of data analysis.
The FARE Data Commons will unify an extraordinary wealth of knowledge held worldwide in individual patient histories, clinical trial results, biospecimen collections and FARE Patient Registry survey responses, making all of this data accessible to the research community. This very large data set can shed light on aspects of food allergy onset, progression, prognosis and outcomes that remain hidden when smaller data sets are analyzed. We are on the cusp of a revolution in food allergy research – and your story can help bring that revolution closer.
You can strengthen the FARE Data Commons by joining the FARE Patient Registry. The Registry's privacy-protected surveys generate a detailed food allergy history for you or your child, a record of each food allergy reaction, and a summary of food allergy's psychosocial impacts. These surveys inform clinicians, researchers and patient advocates about needs within the food allergy community and will become part of the FARE Data Commons, where your responses can help researchers search for significant patterns, similarities and differences within food allergy diagnosis, management, treatment, and prevention.
As a member of the Registry, you can view Registry data in graphs that compare your answers to answers from thousands of fellow participants. And you'll be able to see your impact on research firsthand in study summaries posted on FARERegistry.org. and foodallergy.org. Learn more about the FARE Patient Registry and join today.