Living Teal™ Global Summit
On Oct. 1-3, 2020, the virtual Living Teal Global Summit brought together experts, advocates, and members of the food allergy community from across the globe.
The 2020 Living Teal™ Global Summit is going virtual!
This year's summit is jam-packed with your favorite stars, fun and engaging lifestyle panels, videos, networking, games and more. We will also be offering a deep dive into the latest research, educational programming, and ways to become advocates for change.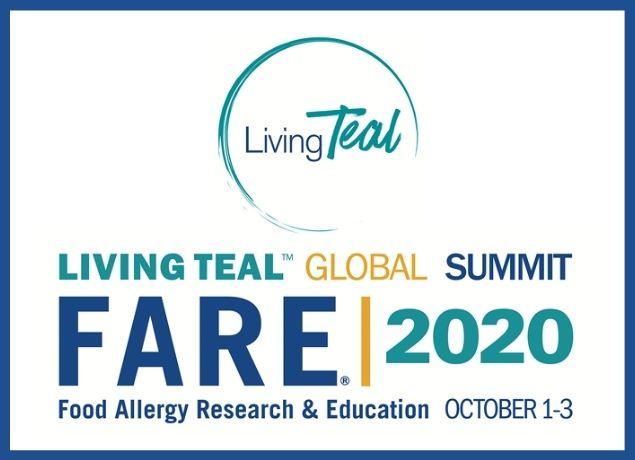 Visit the Living Teal™ Channel to watch sessions you may have missed!
Some of our Amazing Speakers
These are just a few of the speakers we have lined up for you, and there are MORE TO COME!
MORE SPEAKERS
The Agenda 
We have an abundance of informative, interactive and entertaining events planned for you! Here are some of the highlights, with much more to come:
Recipe Swaps and Cooking Ideas
Cooking Demos
Fireside Chats with Star Athletes
Contains: Courage® Panel
Advocacy Panel
Networking Events
Baby's First Q&A
Treatment Series
College Series
And much more! Click here to view the full agenda. 
---
As we continue to bring everyone to the table when talking about food allergies, we are thrilled to announce that all general sessions are free of charge* to the public.
For those looking to explore all the summit has to offer, you can purchase a Premium Registration that gives you access to all general and private sessions, chats, one-on-ones with leading experts as well as celebrity guests. Premium Registration - $150.00 per person.
*General Registration is free of charge but a donation made to FARE, as a way to help us continue the research and innovation around food allergies, is strongly encouraged and appreciated.
Living Teal™ Global Summit Resources
Helpful tips, tricks and guidance to ensure you feel comfortable accessing the virtual Summit and are well-prepared for October 1 – 3, 2020.
See a Preview of the virtual environment where the Living Teal™ Global Summit will take place.
Thank You to Our Partners
FARE extends our deepest appreciation to the following partners for their commitment to the FARE mission. We also want to acknowledge partners such as DBV, Genentech and YumEarth, with multi-year commitments which help ensure continuity of our work on behalf of the food allergy community.