Protect Students With Food Allergies When Classrooms Reopen
Please help protect the health and safety of our children when schools reopen this fall.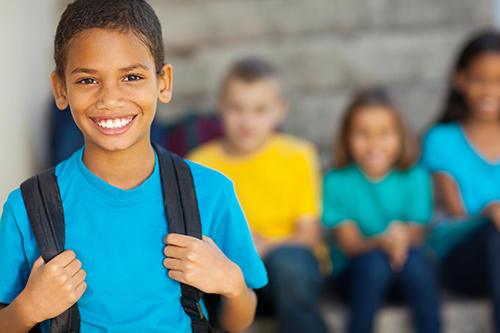 FARE recently led an effort of food allergy and school health organizations to successfully convince the Centers for Disease Control and Prevention (CDC) to address the needs of children with food allergies in the agency's guidance for reopening schools, camps and childcare programs. While we celebrate this tremendous win, we also know that CDC's guidance is voluntary. We need your help in partnering with state and local officials to help shape how they navigate opening their school districts in the fall. Please consider:
One in every 13 children has a food allergy; that's about two in every classroom.
CDC's Voluntary Guidelines for Managing Food Allergies In Schools and Early Care and Education Programs, which are now included in the interim guidance for reopening schools, reports that 25 percent of severe reactions experienced at school involve children who have no previous diagnosis of food allergy.
Food allergy patients and families must think about every bite of every meal, every day. A single mistake, such as ingesting the residue from food left on a desk, can cause severe illness or even death. 
We know administrators and teachers will play vital roles in reopening schools that are safe for all to attend. 
Here are ways you can lend your voice and represent the 5.6 million children affected by food allergies.
Take a few minutes to send an email to your state's Superintendent of Education or top education official by following the instruction in the action alert below. 
Reach out to your state official and/or Department of Education through social media by tweeting them or messaging their Facebook page.
Contact your local school, local school district, and mayor in person, by phone, or by email.